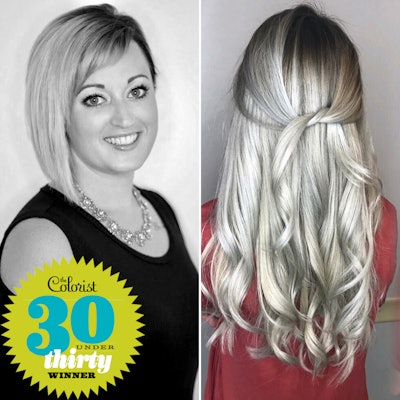 Every year, we honor 30 young colorists under 30 to find out what makes them so talented and successful. Get to know 2017 honoree Megan Porter in our interview with her:
Name: Megan Porter
Age: 24
Salon/company name; location: 17 West Beauty, Dryden, NY
Title: Co-owner/ operator
Instagram: @17WestHair
Primary color line used: Aloxxi
Beauty school/location: TST BOCES Ithaca, NY
What inspired you to become a colorist? 
When I was new to the industry, I felt most inspired by the clients who confided in me to change their appearance with no guidelines. That freedom to use my creative judgment to change someone's life, in a sense, is still one of the most honorable feelings.
One of my favorite quotes reflects perfectly the way that I look at being a colorist is by Pablo Picasso: "Everything you can imagine is real."
What are your goals? 
I am a very goal-oriented person, so goal setting is customary to me. My short-term goal right now is to network with and learn from as many other colorists as possible. Another one of my goals is to grow to new heights within my Aloxxi career. My ultimate goal would be to one day have a beauty school of my own, so that I can make hair and education a part of my legacy.
Any accomplishments so far in your career that you're particularly proud of? 
In 2011, I became a NYS licensed cosmetologist. My first job in the industry was a booth rental in my hometown. In 2013, I decided to take a leap of faith and open a studio-style salon as the only stylist in partnership with a fellow nail technician. In 2016, my salon was reaching new heights when a confidant/direct-sales consultant asked me if I would be interested in educating for a color company. In April 2016, I traveled to LA for a "Train the Trainer" training after which I became a creative advisor for Aloxxi International. I now have a booming clientele with clients from far and wide, as well as a career with the most-incredible color company. My work allows me to travel, learn about and share what I love most.
What are your hair color specialties? 
I find myself specializing in healthy blondes and perfectly-blended balayage. Blonding makes me feel like I can do the impossible: break the stigma of damaged blonde hair. Balayage makes me feel like a real artist.
What do you love most about being a colorist? 
I have always had a limitless personality and a free spirit. When I imagine working with hair color, I feel the freedom to create without boundaries. The feeling that comes over me when I reveal someone's new "look" to them and they overflow with excitement and joy will never get old. I have a job that delivers happiness on a regular basis and nothing is more contagious than happiness.
Who would you consider to be your mentors/role models, and why? 
I would consider my role models to be George Schaeffer and Larisa Love. George has mentored me with his utmost support of the industry and that he make sure his company, Aloxxi, stands for all the right things. Larisa inspires me with her show of passion, hard work and dedication and ultimately her great success. She has an admirable social-media following and all of her work shows just how much she loves what she does and supports the hair industry. 
Please share a hair color, prep or color care tip.
The key to keeping my colors rich and shiny from appointment to appointment is that I never shampoo out my colors. In place of using shampoo, I use Aloxxi Colour Lock at the sink. Colour Lock is designed to cleanse and condition the hair, close the cuticle, balance the pH and neutralize the residual peroxide. It also has after benefits such as restoring depleted proteins and protecting the hair from harmful UVA/UVB rays to keep my clients hair looking young and vibrant. 
What is your favorite color trend/technique of the moment? 
I love that society is becoming more accepting of bold colors. which encourages people to be more expressive through using vibrant colors in their hair. There is nothing more appeasing than seeing a successful and career-oriented individual with some awesome unicorn hair.