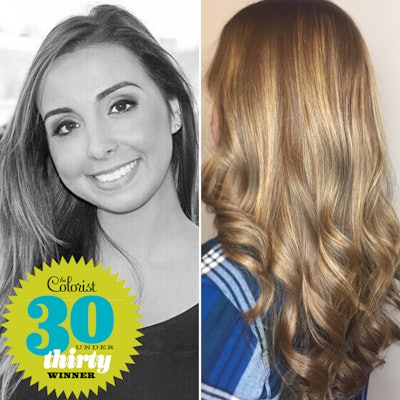 Every year, we honor 30 young colorists under 30 to find out what makes them so talented and successful. Get to know 2017 honoree Christen Papasso in our interview with her:
Name: Christen Papasso
Age: 26
Salon/company/location: Grow - Organic Hair Salon / Spring Lake, NJ
Instagram: grow_organichairsalon
Primary color line used: Oway Hcolor
Beauty school/location: Monmouth County Vicational/ Ocean NJ

Tell me a little bit about yourself.
I have been in the hair industry for eight years, and I am the owner of Grow - Organic Hair Salon in Spring Lake, New Jersey. I love spending time with the people and puppies I care about. I'm always keeping the salon a fun and exciting place to be. My love for the environment, health and protection of animals are a few of the many reasons why I love using Oway's organic and cruelty free products in the salon and at home. My goal in life is to be a positive influence in the world and do a lot of little things with great love.
What inspired you to become a colorist?
Since I started doing hair I always had so much fun with color. I was always the one coloring my hair pink one day and purple the next. The excitement and confidence you see on the client's face when their hair is done is what made doing color something I always had a passion for. I love transforming something from dull to fresh and beautiful. Making people feel beautiful is the best feeling.
What are your goals?
My goals in my career are to continue to grow at my salon, and have my coworkers grow along with me so that we can eventually open more locations. Another would be to to make each and every client feel special and leave with beautiful hair. In life I strive to make sure myself and the ones I love are always healthy and happy, and to help people and animals in need in whatever way I possibly can.
Any accomplishments so far in your career that you're particularly proud of?
I am so proud of opening my salon this past November. It is truly a dream come true to be able to do what I love everyday, in a space that I love, with great people and amazing products.
What are your hair color specialties?
I specialize in balayage, but love when clients give me freedom to try fun colors. It's always something different.
What do you love most about being a colorist?
I love being able to get creative and make the client fall in love with their hair.
Who would you consider to be your mentors/role models, and why?
There are multiple people I've looked up to throughout my life and my career that have made me who I am today. I was always pushed in the right direction and am constantly inspired by the people I love.
Please share a hair color, prep or color care tip.
My favorite basic color protection tip is to wash reds or vibrant colors with cold water to keep the hair cuticle smooth and sealed from releasing the color. It results in longer-lasting color. Many people know this trick, but are not a fan of the ice cold water on their head.
What is your favorite color trend/technique of the moment?
My favorite technique is definitely balayage—it allows me to create so many different looks on any hair. From natural blondes to pretty pastels or bright pinks, the outcomes are endless. It's so much fun to be able to use someone hair as a canvas to paint away on and create something beautiful.