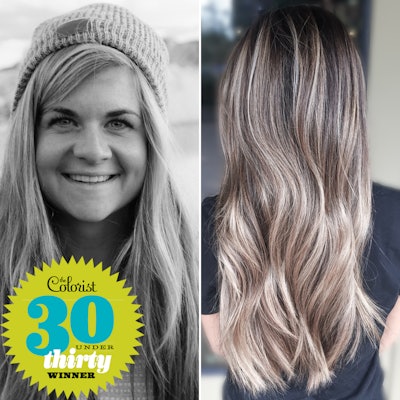 Every year, we honor 30 young colorists under 30 to find out what makes them so talented and successful. Get to know 2017 honoree Carissa Buhl in our interview with her:
Name: Carissa Buhl
Age: 24
Salon: Roots Beauty Studio, Fort Collins, CO
Title: Stylist, Colorist, Updo Artist, Day Maker
Instagram: @carissabuhl_surfaceartist
Primary Color Line: Surface Pure Color and Surface Pure Blonde Lightener
Beauty School: Regency Beauty Institute, Grand Rapids, MI
What inspired you to become a colorist?
I took art classes when I was young; I've always loved to paint. I absolutely loved creating art of any form, so when I was 14, I had the privilege of being introduced to the art of hair from my mentor Kallie Kirby, a hairdresser in my hometown. Kallie came over every week for a year and taught me how to cut, color and style updos. From that point on, I believed I could use my God-given creativity to craft art every day. At 15, I was introduced to Surface Hair; a product line that completely respects personal health and the earth. I didn't know too much about hair, but I knew without a doubt I loved Surface and what they stood for. When Surface came out with their Surface Pure Color line, my passion for color went through the roof, because I could finally get on-tone lift, shine, and moisture while leaving my guests'hair in wonderful condition.
What are your goals?
My two passions are doing hair and being the mountains, which is where my creativity is derived from. I have been the creative force and hands behind two videos called Mountain Hair. These videos are where my passions of hair and the mountains collide by upstyling in the mountains. The next step I want to take in these short films is using Surface Pure Color and making a Mountain Hair video featuring hair coloring in the wilderness.  
Any accomplishments so far in your career that you're particularly proud of?
Looking back on the past 10 years—where I started and every opportunity that came my way, I am thankful to say a lot of dreams have come true. Becoming a Surface Core Artist, teaching beside Wayne Grund on stage, being flown to Iceland to color and style for a 12-day photo shoot, the opportunity to be the stylist for Allison Williams' guests at her wedding, and last, but not least, making my dream of doing bridal hair in the mountains a reality. 
What are your hair color specialties?
Hair painting for sure—I absolutely love getting out my bowl and brush and painting away.
What do you love most about being a colorist?
I love enhancing a natural look. I have been able to be the colorist for many ladies in my city that never thought they would ever want their hair colored. Now they trust me enough to enhance their natural beauty. The most rewarding thing is when they say "Wow, I never knew I could love my hair this much!"
Who would you consider to be your mentors/role models, and why?
I have had so many incredible mentors in the past 10 years. Kallie Kirby was the first. She sparked my passion and gave me the confidence to believe I had a talent and needed to pursue it. Secondly, Kelly Vanderwier has been my mentor in becoming a Surface artist. I remember seeing her teach up on stage. I wanted to be just like her. Kelly took me under her wing and let me shadow her as she traveled around Michigan. She taught me how to educate and inspire stylists about Surface Hair.
Please share a hair color, prep or color care tip.
My favorite overlay for my white blondes is Surface Pure Color 10 grams 9V Violet/10grams 7B Denim/ 20grams 00 Clear Bassu Shine with 40 grams 7 volume Enzyme Cream Activator.
What is your favorite color trend/technique of the moment?
I find it so fun to have an all-natural brunette in my chair who never thought they would want color and painting Surface Pure Blonde Lightener with 7 volume Enzyme Cream Activator throughout their hair. The tone it pulls is flawless with no brass and captures the naturally enhanced look.