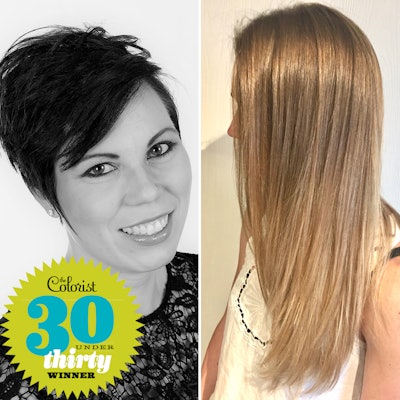 Every year, we honor 30 young colorists under 30 to find out what makes them so talented and successful. Get to know 2017 honoree Brittany Newby in our interview with her:
Name: Brittany Newby
Age: 29
Salon/company name; location: Brit. The Salon St. Albert Alberta Canada
Title: Owner, Artistic Leader, Hairdresser Extraordinaire
Instagram: @brittanyhair1
Primary color line used: Eufora Color
Beauty school/location: Est-Elle Academy of Hair Design
What inspired you to become a colorist?
I love puzzles and problem solving, and that is what coloring is. You have to take a variety of variables to create your formula and then fit that onto your structure (the haircut). It combines science with art, and I love that you can 'geek out,' because being a colorist is extremely technical work.
What are your goals?
I love teaching color and would love to really expand our industry's knowledge on all things color—the why behind the methods. I also intend to continue my color journey and would love to understand the chemistry and development of color on a deeper level. I'd love to work as a technician and developer.
Any accomplishments so far in your career that you're particularly proud of?
In 2013, I moved over to the UK and helped set up and run a hairdressing academy. In two years we were named a 'centre of excellence,' which is a top designation for the quality of hairdressers we were producing. In this time, I was also a member of the Eufora UK Editorial Team, which allowed me to expand my knowledge and skills on photo shoot, stage work and all things hair.
What are your hair color specialties?
Free-hand color work and color correction, both ideally without the use of pre-lighteners. These methods allow you too really explore your color line and use it to its full capacity. It is also a gentler method for the hair, allowing you to have more freedom with color work in the future and finally, generates less waste through the absence of foils.
What do you love most about being a colorist?
The ability to make your guest look 10 years younger. Or more! If you find the correct tones for their skin, it can completely change and even out their complexion. I also love that color enhances a haircut and can be used as an illusion for styling.
Who would you consider to be your mentors/role models, and why?
Two of my main mentors/ role models in this industry are Debbie Digby Smith and Joanne Remple. Debbie has challenged me to gain in-depth knowledge into every aspect of the hairdressing industry. She has more passion for hairdressers' success than anyone I have ever met. Her drive, integrity and intellect is inspiring. She makes you want to be your best self when you work with her.
Joanne has been a mentor of mine from the very beginning of my journey with Eufora. She has helped me define the path I have taken in this industry. In recent years, she has had a strong hand in developing Eufora Color, so our paths have intertwined again. She has an amazing ability to develop curriculum for colour that is simple and easy to communicate. She has a passion for colour and the growth of the colour industry that is exciting and is takes all of our core values at Eufora and projects it out through a beautiful rainbow. 
Please share a hair color, prep or color care tip.
It is all about prevention! A thorough dry consultation, testing and use of prep products such as Urgent Repair Treatment, Eufora's Color Prep Spray, and Color Elixir in your color are the most integral parts to any successful color service. These steps help control more variables in the color service, and we must always be mindful that we are creating controlled chemical reactions when coloring.
What is your favorite color trend/technique of the moment?
I love that at the moment anything goes with color. We are starting to see a full kaleidoscope in both professional and non-professional settings, and in all ages. Color is an expression that shows off your personality. Even if you may be too shy to shout it out, it does the talking for you.