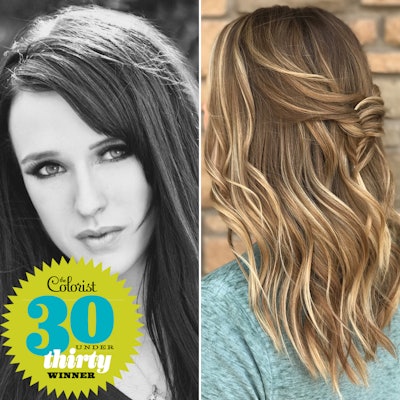 Every year, we honor 30 young colorists under 30 to find out what makes them so talented and successful. Get to know 2017 honoree Audrey Rodela in our interview with her:
Name: Audrey Rodela
Age: 25
Salon/company name; location: Audrey Denae Artistry/Kenra Professional; Southlake, TX
Title: Texas Brand Ambassador/Salon Owner
Instagram: @audreydenaeartistry
Primary color line used: Kenra Color
Beauty school/location: Toni & Guy / Keller,TX
Tell me a little bit about yourself:
In addition to being a stylist and educator, I'm also a crossfit coach. I thrive on challenges and am constantly striving to learn and grow and help others to do the same.
What inspired you to become a colorist?
I grew up doing all my family and friends' hair, because I loved the creativity and seemed to have a natural knack for it. I lived in a small town where a career as a hairstylist wasn't really an option. I was going to school to be an anesthesiologist and taking advanced chemistry classes when my mom pulled me aside and encouraged me to give doing hair a real try in a big city. So, I moved, started at Toni & Guy and knew I had found my calling.
What are your goals?
I would love to further my career with Kenra Professional as a full-time educator and platform artist. It's so gratifying helping other stylists grow and learn while I am too. Education is everything in this industry. Eventually, I would love to become a wife and mother as well.
Any accomplishments so far in your career that you're particularly proud of?
I've always been ruthlessly ambitious. Regardless of reservations or fears, I started my salon business on my own at 20 years old, and it has flourished. Taking risks definitely has its perks and can be very rewarding.
What are your hair color specialties?
My specialties consist of balayage, colormelting, foiling, and color corrections. I love how every canvas is a unique masterpiece and offers opportunities to explore new techniques and perfect old ones.
What do you love most about being a colorist?
First and foremost, I adore making people feel confident and beautiful. Every creation is completely different and challenges me to apply what I know and improve in areas I may be weaker in. You have to be able to constantly grow and adapt in this industry, so if you want to fail, be complacent. I also love how color theory never changes, so once you have that down to literally a science, the sky is the limit.
Who would you consider to be your mentors/role models, and why?
I'm a firm believer that we each have something to learn from one another. Iron sharpens iron. I'm surrounded by individuals with so much talent and character, so I have many role models and mentors amongst them. Two in particular: my parents. Both are avid perfectionists. My dad is a big DIY'er. He will research and obsess over things until he learns to do the hardest, most impressive tasks. My mother is the hardest worker I know. She takes so much pride in whatever job she's doing, no matter how small or large. She taught me, "Everything you touch has your name on it, make sure you're proud of it."
Please share a hair color, prep or color care tip,
Use Glad Press N' Seal instead of cling wrap when separating the hair for free handing color. It's reliable, cheap and headache-free.
What is your favorite color trend/technique of the moment?
My favorite color trend at the moment is definitely the "lived in look". I love how low maintenance it can be, the versatility, and how amazing it looks with every color palette. It holds limitless possibilities to creativity.