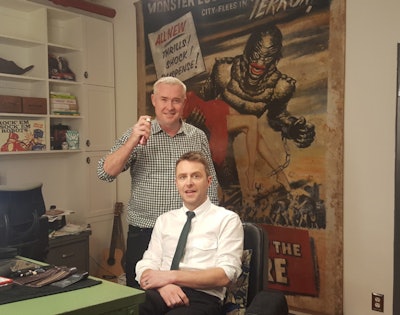 Sean James dishes on what it's like to style hair on a popular television show and shares his top tips for working with on-camera personalities.

Tell us about how you first got into celebrity styling?
The first time I got into celebrity styling was I would say was in Australia when I was working for a company called Jon Lee and a guy from in London had joined the company named Oscar Cullinan. He is one of Australia's leading hairstylists which is funny because he's an Irishman. He told me I should move to Los Angeles and that was the city for me, so I moved here. In my second week of here I got a job working for a film production company and we did a South African film called "Look What We've Done." It was nominated for an Oscar and that's when I was hooked. I worked with a supermodel named Beverly Johnson at an LA fashion week event. She told me I did pretty good hair for a white boy and that gave me some confidence. I was working with a lot of rockstars in the 90's included Rufus Wainwright, Teddy Thompson, Courtney Love and Leonard Cohen. And one day when I was working at Fred Segal salon, Jamie Lee Curtis walked in and changed my life forever. She told me everything I know in the celebrity world about loyalty, commitment and how to show up how to be involved. We have done a lot of work together over the years on many films, television, commercials, special appearances, book signings magazine covers etc. 

 How long have you been working with Chris Hardwick?
I've been working for Chris Hardwick for about 20 years. I worked with him when he wasn't working and we created many looks for him over the years. I think the best look for him is right now is with his beard. I think he looks very handsome, and it's a classic look.

What are your tips for working with on-camera personalities on a live set?
My best tips for working on-camera would be always show up 15 minutes early. I like to set my watch to what I call Jamie Lee Curtis time which is 15 minutes ahead of everybody. She told me that early on and you will never be late if you do so.
Always look professional. Dress for success; your appearance will attract and tell a story. If you dress like a boss, you will be one.
When you receive a call sheet make sure you look over everybody on the call sheet. And know who people are! The chain of command is very important.
Always stay in your lane. If you are there to do hair, don't be giving tips on makeup. If you are there as a makeup artist, don't be offering your opinion on how the styling or clothing looks. Know what you are in the room to do. Know what's going on in the runways, and around the world.
What advice do you have for hair/makeup artists who want to break into working in film/tv?
My advice for people wanting to break into the business is to make sure you have the correct training. Train under someone who is already in the business and learn from them. Navigate up on your dream. If you have a vision for your life, you can take steps to make it unfold. Let people know what you would like to do because you never know who you're talking to.

What's next for you?
What's next for me? I have a lot going on. I'm working on a deal with the new product company, and I also am working on Talking Dead with Chis Hardwick, Talking Saul and Talking Preacher all on AMC. Early next year we will be doing a new show on NBC called The Awesome Show with Chris Hardwick.
I am working with Jennifer Love Hewitt at the moment, "Weird Al" Yankovic on a new children's series, and also we have a new Halloween movie with Jamie Lee Curtis which comes out next year in October. It is super exciting! We just shot the announcement with Andrew Eccles, an amazing photographer from New York. I am also at Matthew Preece salon Santa Monica as a senior stylist, colorist and educator for FHI and represented by Armando Daniel at PhotoGenics Army. Who knows what else is in store? I'm so excited about what is on the horizon!
Create a vision board. Put pictures on there of the life that you would like to live and the things you would like to achieve. This will keep you focused and productive in times of uncertainty. Everything will unfold in its own time. Keep your fears at bay and think and dream of success. For me I enjoy meditation, it helps clear my mind.
Launchpad had the chance to go backstage at @Midnight! Check out the interview with Sean James and the @Midnight hair and makeup team!