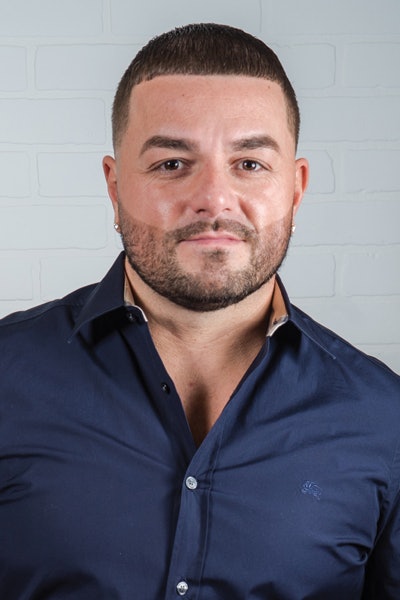 MAN chats with the founder of the Connecticut Barber Expo and owner of Major League Barbershop and Academy. 
How did you get your start in the hair industry?
When I was a kid, the local barbershop was owned by an Italian barber. I was intrigued by the atmosphere and camaraderie, so I swept the floor in exchange for haircuts. I had some trouble in my adolescent years, and I started cutting hair in the neighborhood to make ends meet. I received a scholarship from the Connecticut Institute of Hair Design, and I officially earned my barber and cosmetology license in 2004. 
VIDEO: Irish Barber Documentary 'GRUAIG' Trailer Debuts Online
Why did you start the CT Barber Expo?
The first Expo was seven years ago. I wanted to get barbers together to see who was the best. Not one company wanted to sponsor it. Ivan Zoot was the only one who supported the show by providing Andis clippers as prizes. The following year, more people wanted to be involved and each year since, attendance and sponsorship have grown.
How do you feel about stylists and barbers working together?
I think it's great, and it provides an opportunity to learn from one another. Barbers are learning longer hair techniques with finishing and styling, and stylists are learning more skin fades and proper hairline edging. Statistically, stylists charge more than barbers, even if performing the same service. Barbers in a salon atmosphere are learning to charge more for the same quality of work.
RELATED: MITCH Wants To Send You To England to Attend an English Premier League Game
Where did you get the moniker "Majors"?
I'm an extremist; it's all or nothing. Everything I do is a major production because I want it to be the best. Nothing is subtle. 
What would surprise people about you?
Each time I go on stage at an event, I'm wearing a new outfit. It may just be a black T-shirt, but it's a brand new black T-shirt.
What's on your playlist?
1990s hip hop and motivational speakers like Les Brown.
Any superstitions?
I'm a big believer of karma. You reap what you sow. 
[Images: Courtesy of Jay "Majors" Roposo