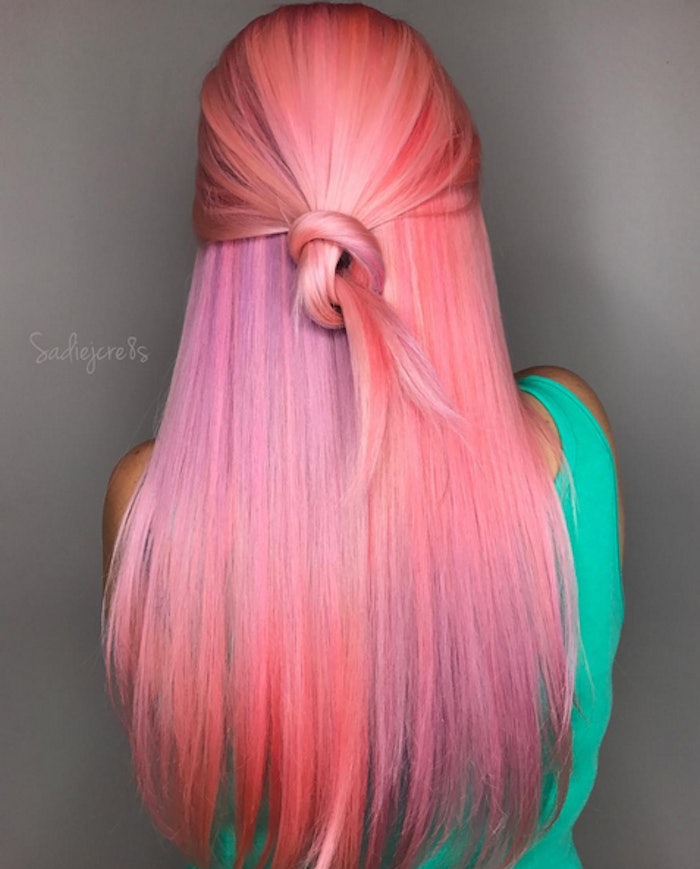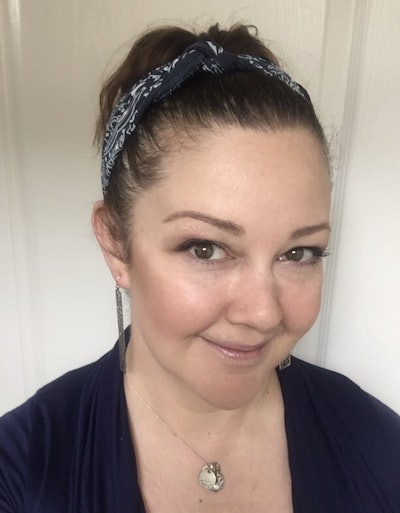 Sadie Gray is a Northern California-based stylist and balayage educator who has been working in the industry for more than 20 years. Her color creations have propelled her to more than 40 thousand followers on Instagram, and after scrolling hers for just a minute, it's not hard to see why.
LAUNCHPAD: Tell us a little about yourself. How did you get into the industry? 
I just celebrated the 11th year anniversary of my 30th birthday... and shhhh, don't tell anyone, I constantly worry that I'm not good enough. In every one of those moments, I also experience extreme joy in what I'm creating. It's like a constant teeter-totter. I got into this industry because I loved styling hair! I was always the friend that was doing all of my friends' hair for homecoming, prom, turnabout, etc. Who needed to hire a stylist when Sadie was your friend?
Then about 15 years into my career, I was painting someone's hair and learning the balayage technique, all the while experimenting with this whole "fashion color stuff." I literally said out loud, "OMG I'm painting! Like when I was a kid! OMG this is art!" And from that moment on, my career changed as I became a Hair Artist.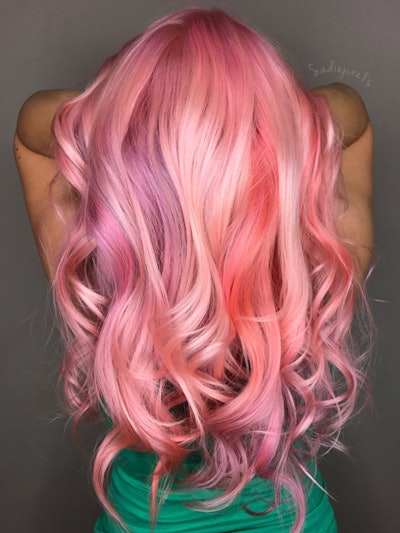 LAUNCHPAD: We love your pink creations! Can you tell us a little about the recent pink do you created on @thekristenbringhurst (above)? What products did you use to create the look?
Thank you for expressing interest in my pink creation that I called "sexpot". That is my client, and now friend, Kristen. She is a mommy of 3 girls, all under the age of 5, and dammit, we mamas need to feel sexy! She asked for "bubblegum" pink and told me that she also loved coral, peach and lavender, and that I could do whatever I wanted with those colors.
It's hard to explain what my method was to my madness. I literally don't usually have a plan 90% of the time. For Kristen, I couldn't decide whether I wanted the peach to fade into lavender, or for the lavender to fade into the peach. So I made an executive decision to have one fade into the other on the left side and switch the roles for the right side.
To ensure that she still felt "pink all over".... I sectioned out her hairline and the top Mohawk section and made sure that all of that was pink.
Here's the formula for that look. All colors are from the PulpRiot Neons collection:
Well, first I must tell you my secret weapon: it's called Moringaplex. I use it to prep the hair for even porosity and to allow for brush ability on newly lightened hair. It's essential to me for all vivid/fashion colors.
For the lavender: I used Mercury, Candy+ Nirvana.
For the bubblegum pink: I used TON of Clear and a little 'Candy' until I liked the color.
For the peach: I used a TON of Clear, + 3 pea sizes of Lemon and 1 pinkie nail size of Fireball.
To All of this I added 1/4oz of B3 from Brazilian Bond Builder. THAT is my absolute staple in all things color. I use this because it adds shine and helps for longevity of the color; especially because pastel colors can fade within a wash or two!! And I can tell you than hers is still barely there and it's now been almost a month!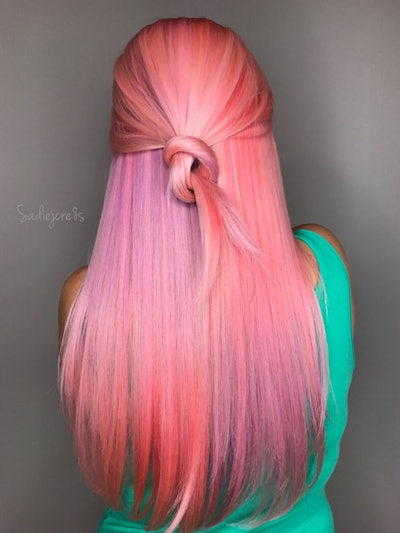 LAUNCHPAD: What tips do you have for finding or creating the right pink for the client?
This is SO dependent on the client, first off, but even more so, in what your starting canvas is. For example: If your guest has platinum hair, and she wants to go rose gold, you need to explain to her that if you put light pink on her hair, it will turn a bubblegum pink, NOT rose gold. In order to create that rose-gold look, you must first make her hair light gold, then apply rose.
The key to a beautiful pink color is to first examine the canvas. Whatever color the canvas is; when you lay light pink over it, you must picture those two colors mixed together and that's what you'll have. That's the key. The same goes for someone that has a lot of gold in their hair. If you slap a pastel pink over that, it's simply going to neutralize and disappear. It'll be beautiful, but it won't be pink. In that case you'd have to make the pink a bit deeper by adding some Magenta to the mix. And test it on a paper towel. If it seems a bit too pink, then it's probably the right shade. And when it doubt: STRAND TEST.
Picking out the perfect pink for your client really and truly depends on your extremely thorough consultation. It's super important that you explain to them how quickly light pink fades!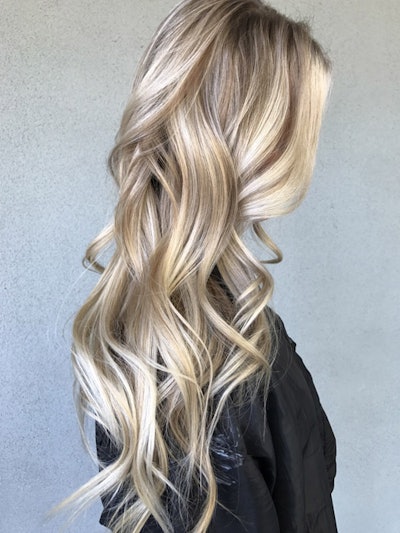 LAUNCHPAD: Do you have any other techniques that you are known for?
Other techniques that I am known for would definitely be the balayage, and for adding dimension and depth to the blonde balayage without making it "stripey."
LAUNCHPAD: Do you have a favorite hair color creation?
One of my favorite examples of that would be my guest Stephanie. She has very fine hair in diameter of each strand; but there is a ton of it. When I color her hair, it's always finding that delicate balance between her sectioning. Not too thin because the highlights/lowlights will disappear within each other and look muddy; but not too thick because then it'll look stripey, and my ladies don't want that look!

LAUNCHPAD: Do you have any advice for aspiring colorists?
Two things: 1. Educate yourself constantly! Take the classes from fellow artists! Even if you take just one tiny thing from an 8-hour class, it'll change your path for the good! Constantly watch YouTube and IG videos and learn.
2: Trust yourself! You don't need to be afraid of your own self, your intuitions and abilities. If you don't like the outcome of something, then change it! Make it better, because you can. And when in doubt, reach out! Ask your peers. Ask questions to make you smarter and surround yourself with artists!
LAUNCHPAD: What is your favorite hair trend for this summer?
My favorite hair trend for this summer is something that I've been doing on my own, which is to add a pastel or vibrant color to my #b3demi treatment. It's a deep-conditioning treatment from Brazilian Bond Builder that lasts in the hair for up to 12 shampoos! I have just been adding the color into the conditioner and distributing it through the freshly shampooed hair right at the shampoo bowl: cap the hair and put under dryer heat for 20 minutes, then cool for five and rinse with cool water. No shampoo.
It creates the most luminescent color that seems to last for a few shampoo's depending on the vibrancy of the color and is not something that your guest needs to feel married to.
It's super fun and absolutely the easiest add-on service that makes everyone happy.
LAUNCHPAD: What are your current beauty obsessions?
My favorite beauty obsessions are eyelash extensions! My eyes are so damn sensitive to any and all mascara; it's like those things were created for just little old me! I do, however, give my peepers a good 1-2 month break after about 6 months; just because I think it's good to breathe between any beauty maintenance.
LAUNCHPAD: If you could work on any celebrity's hair, whose locks would you want to get your hands on, and what would you do to their hair?
If I could get my hands on any one celebrity's locks, it would be the lovely miss Kate Beckinsale. I just want to balayage and lowlight the shit out of that beautiful mane! I would, by any and all means, make it mine. Maybe I'd add some medium tones and just create the most extraordinary softness and depth. I think she has the most gorgeous head of hair. Like, I want that hair on my own head. Plus, I think I could talk her into experimenting with some tasteful wisps of color.
LAUNCHPAD: What is your personal mantra?
I have a few mantras. There is one, though, that literally makes me put a hand over my heart and say, with a swell in my heart, "Thank You" It's just one word. And I repeat it constantly and welcome it always. It's "SUCCESSFUL." I can (we can) and I always will be (and so will you!), successful.
[Images courtesy of Sadie Gray]