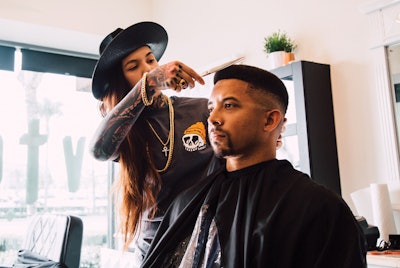 #Ladybarber is a hashtag in its own right, with over 200,000 posts on Instagram. That made finding the most impressive females advancing the woman- in-the-shop movement a serious challenge. But each of the women featured here has made an impact in their professional careers thanks to their dedication to the craft, a love of continuing education and unique personal style—and of course their incredible cuts! 
Tenacity, style and confidence under pressure are all hallmarks of the top women barbers in the industry. These nine musts to follow are killing it in the shop and online. 
When "funk punk" artist Rick James sang, "You're gonna make it good in Hollywood," he could have been predicting Stacey Kutz's future—James was her godfather, after all. As an 11-year-old, Kutz hustled her brothers by charging $2 a haircut from their $3 weekly allowance. Today, the Emmy-nominated lady barber set-hops in Hollywood, hustling to accommodate clients at multiple studios, including for shows like "Black-ish" and "The Voice." After all, she's the official barber for Anthony Anderson, Eddie Murphy and Will Smith.
RELATED: Time-Honored Barbing at Barber of Hell's Bottom
Kutz has also worked on feature-length films, and says her favorites are period pieces. For Dreamgirls, she created Murphy's wigs, and for Roots, she had to recreate a flashback style for reshoots after a character had cut his hair.
If you want to work in Hollywood, her best advice is to remain discreet, particularly on social channels. Forget about posting photos taken on set. Every crew member signs a privacy contract, and even a shot of a badge or a photo that reveals a cast member's look could be considered a breach. As for succeeding in Hollywood, hustle is crucial but remembering your roots keeps you grounded.
When Kutz isn't set-hopping or giving back to the community via projects like Haircut Fest, she still cuts regular clients' hair on the side. "Sometimes I'm tired, but these are the people who got me where I am today," she says. "Besides, if you want to stay relevant, you should always be exploring, expanding and discovering."
MUST HAVES: A hot pic to tame bushy beards, Black Solutions Curl Defining Mouse
MOTTO: "The more I see, the less I know for sure." 
If you think Felicia Febo (aka Lici Lady Barber) looks familiar, it's because you may have seen the San Antonio, Texas-based lady barber on "Cedric's Barber Battle." The 2015 CW series followed Cedric the Entertainer across the country, visiting barbershops in search of the best stylist. "I knew what I brought to the table—and I also knew that the other barbers were going to underestimate me," she says of her TV debut. Fortunately, Febo never let the competition get to her: She won the final challenge, incorporating two separate images (a trophy and boxing gloves) and her name into a graphic cut. That taste of TV has pushed her to stay in the biz; she recently became the official head barber for the upcoming television series "Dream Chaser."
When not working on set, Febo is an educator for Paul Mitchell and the co-owner of Fadez, Bladez & Tradez, a program that she and her fiancé developed to barber-train cosmetologists. Additionally, she just released her own product, the LL Touch Exclusive Straight Razor, specifically designed for precision detailing. This drive and determination to constantly take on more and better herself comes naturally to Febo: When she was young, she supported herself and her siblings through barbering. Today, she is tirelessly learning, growing and enduring. "I've remained consistently persistent," she says. "Everything I do is directed toward my goals."
MUST HAVES: Andis Slimline Pro Lithium Cordless T-Blade Trimmer, Mitch Paste
MOTTO: "Fear is a lie."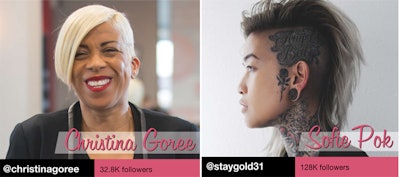 Emmy award-winning barber, Wahl Education Artistic Team (W.E.A.T.) educator and CEO of the Lady Barber Association, Christina Goree has been in the industry for over three decades. She's become known for her skin fades and transformational haircuts, and in 2016, she broke a long-standing record, becoming the first woman ever to win the Bronner Brothers barber battle.
Battle ability aside, Goree has a maternal rapport with most of her colleagues who are a bit greener in the barbering field. "I feel like the Kanye [West] of Wahl," she jokes. "People know if you say the wrong thing to me; I'm not a yeller but you will know you did something wrong."
RELATED: Neat. Trim. Smart. is the Mantra at Philadelphia's 2B Groomed Barbering Studio
Goree loves putting her experience to good use through education. Her most recently curriculum: "The Illusion" and "Think Like a Barber" Wahl courses. And when she teaches in countries like Russia, barbers and stylists line up for her classes in droves. Unfortunately, that's not always the case stateside. "Here in America, you have to really push marketing to get a class to fill," she says. Still, Goree maintains that education is the best way to open up all doors: "If you're not learning, you're definitely going to fall behind."
MUST HAVES: Wahl Cordless Sterling 4 Clipper, Layrite Grooming Spray
MOTTO: "If it were easy, everyone would do it." 
Sofie Pok, winner of Barbercon's Female Barber of the Year 2017, has a fluid style that combines cosmetology and barbering. "I love haircuts that mix a messier textured cut-up top with something cleaner on the sides," she says.
As a BaBylissPRO ambassador and educator, Pok is at the forefront of this dual movement. "Combining both elements [of styling] is one of the hardest things to do," she says. "Barbers are trying to expand with cosmetology, and cosmetologists are trying to expand with barbering techniques. Both are learning new looks." Therefore, she's constantly on the move, teaching classes, providing demonstrations, offering private tutoring and traveling globally (she'll teach in Canada, England and Italy next year) to expand the skills of both specialities in the industry.
When it comes to marketing her expertise, Instagram is one of her favorite tools because, "It seems that barbering grew overnight from the exposure." If you're looking to grow your own social exposure, her advice is to find anyone and everyone doing men's hair and follow them. In other words, don't just post—follow, like and interact.
MUST HAVES: The 671 BaBylissPRO Clipper, Mizutani Shears
MOTTO: "When it comes to growth, use the fear of being in the same place as last year."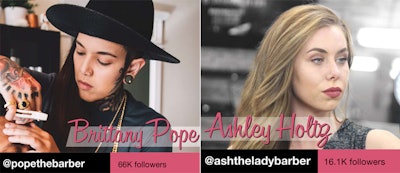 Brittany Pope, aka Pope the Barber, owner of VTCN (Vatican Barbershop) in Santa Ana, California, radiates cool, from her many tattoos to her signature capello romano (Roman hat). Her "religion" is reveling in the "wholesomeness and purity that is the art of barbering," she explains. This duality is perhaps what makes Pope so interesting. 
RELATED: Celebrity Barber Richie Munoz Shares His Top 4 Men's Grooming Must-Haves
Barbering became Pope's holy grail shortly after cosmetology school when she threw herself into the industry. Twelve years later, she still finds serenity in performing skin-fade pomps and steam masks. She looks for inspiration in everything and applies it to her craft, from art to the outdoors to a business event. "I find inspiration in the weirdest shit," she admits.
But Pope also finds satisfaction in giving back. She's currently overhauling her brand by intermingling barbering with charity work. Already a big supporter of the Long Beach, California-based The Humble Project, Pope is now in the process of creating The Karen Pope Forever Charity in honor of her late mother. Its goal is to help single moms and homeless women find housing.
MUST HAVES: Hattori Hanzo Shears, Wahl 5 Star Magic Clip, The Holy Black Matte Clay
MOTTO: "Be comfortable being uncomfortable."
Ashley Holtz, aka Ash the Lady Barber, is a big believer in quality over quantity. She learned that from her barber grandfather, who worked in the trade for 50 years. At Royal Crown Barbershop in El Paso, Texas, her mantra is put to the test as she sees clients back-to-back. "Whether it's a busy morning or a late night, I take pride in the fact that my quality is consistent because I don't rush," she says. "I'm appointment only, so I can do a full consultation, assess needs and execute the wanted look." On the rare occasion that she does take a walk-in, she still finds the time to give the client a full rundown—and often converts him into a loyal regular.
Holtz is driven by the desire to offer customized services that are better than the best. "I'm a woman in a male-dominated industry, and we have to work extra hard to get noticed," she says. "I want to prove myself." Of course, there are still times when she'll have the front desk use her middle name, Ryan, because new clients are wary of booking with a lady barber. However, she says, the quality of her work keeps them coming back for more.
MUST HAVES: Wahl 5-Star Senior Clipper, Suavecito Strong Hold Pomade
MOTTO: "Quality beats quantity every time. 

April Amarillas has been wielding clippers most of her life, first at the age of 14 when caring for horses, and later when she mastered the barbering technique in school. As a member of W.E.A.T., an educator at Pemrose Academy and the owner of her own studio, Stay Fly Hair in Phoenix, Amarillas blends hairdressing and barbering. She believes that the key to success is offering a full range of services while marketing new ones. She counts specialized haircuts (hers are freehand clipper cuts), vivid hair color, beard grooming and men's facials as menu musts.
When it comes to marketing, Amarillas also finds that bigger is better. Her secret weapon? A Canon EOS Mark III high-resolution camera. The super- sharp photos all but guarantee that you'll grow your clientele, she says—and you'll never have to use filters again! "The investment is worth it because you can use the photos to promote yourself," she stresses. "If you don't build your own personal brand, you won't be as credible."
MUST HAVES: Wahl Cordless Magic Clip, Wahl Sterling Reflections Senior Clipper, American Crew Forming Cream Pomade, GIBS Brawler Bantamweight Hairspray
MOTTO: "Be unstoppable, and you can pretty much do anything." 
How did Andis International education manager Jessica Zeinstra become an architect of the uber-precise haircut? She mastered all the rules and, unlike the adage, rarely breaks them. "I get teased a bit because I like things in their proper place," she admits.
Zeinstra mastered her meticulous approach to barbering as an apprentice to Aveda artist Kurt Keuffner and moved on to her position at Andis, courtesy of her expert clipper-over-comb skills. Along the way, she developed a killer work ethic and a commitment to fabulous service. Her proficiency provided the foundation for the next book in the Andis clipper-cutting series that Zeinstra developed, Clipper 201. The comprehensive curriculum will be accessible to cosmetologists and barbers alike, she says.
While Zeinstra's path to success was fairly traditional, she's discovered how to continue to pursue her career in the digital space. For one, she created an online barbering program for Andis. For another, she's mastered the art of sharing photos of her educational travels on her social pages. Followers can grab a link to free tutorials and then discover what being an Andis educator means for themselves.
MUST HAVES: Andis Supra ZR Clipper, Andis Cordless Envy Li, Fatboy Matte, Baxter of California Hard Cream Pomade
MOTTO: "Don't worry what anyone else tells you; stay true to yourself." 
Mariela Perez is the consummate working barber who built her business from scratch. She stared by visiting the local barbershop after high school, watching and learning for hours. Then, she began cutting her brother's hair and practicing on his friends until she was good enough to set up a home shop. Before long, word of her skill got out, and clients from a local barbershop came knocking on her door. Ultimately, the owner, recognizing her talent, offered her an apprenticeship. Today, Perez is a barber school graduate and the proud owner of Arizona Fresh Barbershop in Glendale, Arizona.
With back-to-back clients, Perez often forgoes a lunch break. "I can cut three clients in under an hour, and we're talking skin fade, scissor work on top and styling," she says. That speed and talent are no doubt why she has a steady client base. But to remain competitive, a business has to advance, so she offers skincare and add-on services (think: charcoal masks, facials, hand and shoulder massages) to keep the shop growing.
Despite little downtime, Perez makes sure to market herself and her shop. That means strategically posting on Instagram daily between 6 a.m. and 10 a.m., and 7 p.m. and 11 p.m.—the windows of time that cover peak global viewing hours, she explains. She hopes that all of this experience will one day translate into a job as an educator. "I have so much patience for teaching," Perez says. "I could do it all day!"
MUST HAVES: Motiv Men's Comb, Suavecito products
MOTTO: "If you feel like failure is approaching, remember tomorrow is a new beginning." 
–by Allyssa Bujdoso and Victoria Wurdinger
[Images: Courtesy of each barber]