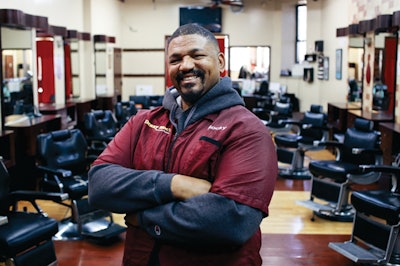 When Denny Moe Mitchell opened his Harlem barbershop in 2006, he named it after his late mentor's shop, the original Superstar Barbershop, where he learned the art of barbering and top-tier customer service. After his mentor passed away, some of the regular clientele segued their biweekly routine to Denny Moe's Superstar Barbershop. The loyalty does not go unnoticed: The patrons are part of the 25 Year Member Club, an honor bestowed only on the most devoted customers. It's not widely known around the shop, and new members are rarely added, but it's an exclusive club—by invitation only—for the generation of yesteryear when clients hung out in barbershops and discussed news and current events face-to-face—not through group texting or social media. Mitchell doesn't raise prices on these guys. "It's just a little something to show we care," he says.
RELATED: Time-Honored Barbing at Barber of Hell's Bottom
Mitchell, who has been in the business for 37 years, toured with R&B legend Keith Sweat and has serviced other superstars, like singer Bobby Brown and the late boxing great Muhammad Ali. Yet, he maintains that the shop name has nothing to do with the famous clientele he's had for years. Instead, he says, "I'm a people person; I take care of people. Everyone who comes in is a superstar." To that end, Mitchell has cultivated a welcoming environment with a neighborhood feel where clients are greeted by first name upon entering. In fact, he even schedules his regulars from the 25 Year Member Club back-to -back. The familiar faces linger in the shop to reconnect and socialize, bringing back the nostalgia when the barbershop was the cornerstone of the community.
RELATED: Neat. Trim. Smart. is the Mantra at Philadelphia's 2B Groomed Barbering Studio
With 12 barbers on staff, the combined experience spans well over 100 years in the tonsorial arts, making Denny Moe's Superstar Barbershop a trusted and loved destination. The shop offers a variety of services, from cuts and hot shaves to line-ups, trims and children's cuts. Young or old, each client gets the superstar treatment.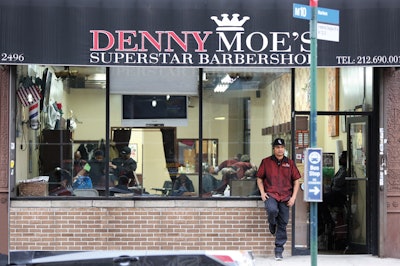 –by Allyssa Bujdoso