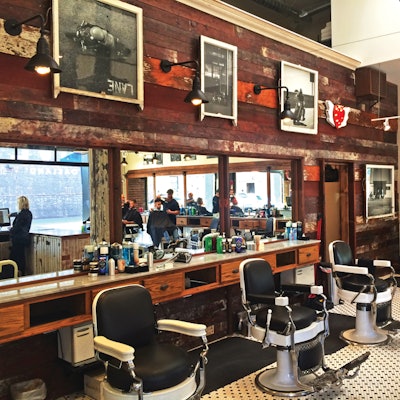 Word-of-mouth rules at Peoples Barber and Shop, a Northern California-based industry leader whose stellar customer service draws guys from all walks of life into its three bustling shops in San Francisco and Oakland (S.F.'s Polk St. location averages 185 guests a day). "It's all about the people: It's for the people, by the people and it's about bringing back customer service and creating livelihoods for our providers," says operating partner and 40-year-barbering veteran James Lizotte, who describes Peoples as balancing classic, old-school barbering with modern techniques. 
RELATED: Time-Honored Barbing at Barber of Hell's Bottom
With shops themed in either Prohibition-era décor with 1930s, round-bottom Koken chairs or a mid-century modern aesthetic with 1950s Koken presidential chairs, the atmosphere at Peoples' shops exudes a timeless hospitality, inviting guests to unwind as they sip on complimentary beer, wine, bourbon or just a cup of joe.
RELATED: Modern Vintage-Style at Junior & Hatter Gents
Prepped with continual advanced training, the chain's diverse team of 75 barbers and stylists can whip up anything from killer pompadours to skin fades to short or long traditional and contemporary haircuts. "You must be able to do everything while continually learning new techniques and staying current, or you'll be left behind," says Lizotte. Peoples' straight-razor shave—"one of the most luxurious around the globe," he boasts—is a shop specialty. Guests can also walk away with a variety of grooming products from Layrite, Uppercut Deluxe, JS Sloan, Hanz de Fuko and Proraso (the last of which David Letterman has scored). The shops' pros are especially keen on Kevin.Murphy Night.Rider, a firm-hold paste they say offers tons of guts and grip. "The barbers and stylists are educated on it and can teach their guests how to use it as well," says Lizotte. "It's a big win-win." Peoples' future looks winning too: "We're going to keep growing," says Lizotte. "We're not stopping here."