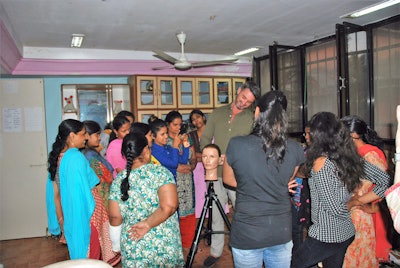 Aveda Artist Zac Fennel, based in the UK, is a true believer in the idea that giving is more rewarding than receiving.
He embraces this philosophy as the Company Director for BA1 Hair, an Aveda Lifestyle Salon in Bath, England, and through his personal philanthropic work. We're so inspired by how Zac brings his values to life, especially through his latest initiative, the Oasis Academy working with BA1 Hair.  
A non-profit hair academy, this initiative was created by Zac and Oasis International, an India-based non-profit organization involved in a diverse range of proposals designed to recognize and aid the whole person and the whole community at every level from education to spiritual needs. The goal is to create wellness and facilitate strong working communities.
The Oasis Academy offers vocational hairdressing and beauty training to victims of human trafficking and forced labor, within some of the most disadvantaged communities in Mumbai. The program's objective is to provide women and girls a pathway to full time employment and rehabilitation into society.
With a hairdressing career that spans 19 years, and an innate nature to give back, it's no wonder Zac is the lead trainer for this project. "Last year a client of mine told me about these communities and the reality for women and girls who are at risk from trafficking or are victims," Zac recalled. "And she asked if I could go to Mumbai to see if I could help."
By February, Zac was touring the areas and teaching the women hair techniques. "I realized very quickly we could help these girls make a huge leap to change their lives. Their stories were so shocking, and yet they remained positive, believing that one day their dreams of a normal life will come true. I spent every night reflecting on everything I had seen and heard and it broke me! These people had been dealt the worst hand in life and all they want is a chance."
Zac has now planned the hair academy's curriculum and arranged for equipment to be sent to the two Oasis International centers where classes will take place. He is also creating education videos so the students can learn online and become accredited.
"I am so lucky to have a career that I love. Some people aren't as lucky and we sometimes forget that others don't have such opportunities. So if I can help by sharing my craft, then that is something I am more than happy to do."
[Image courtesy of Aveda]