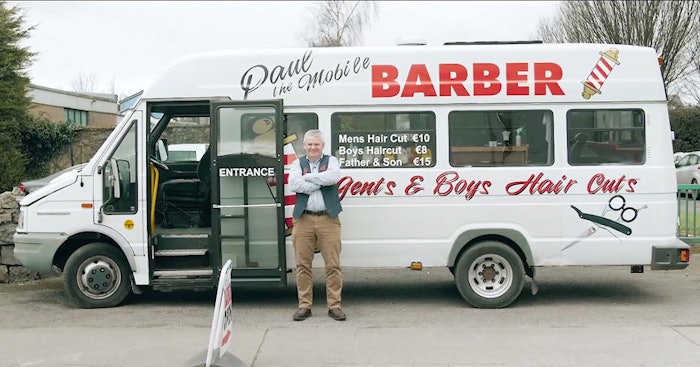 Dublin based production company Taller Stories have released the trailer for their feature-length documentary 'GRUAIG' about the barber culture in Ireland.
The passion piece from director/producer and editor Colin Brady and producer Steven Sheehy will hit theaters this summer.  
Colin Brady was nice enough to join Man Magazine for brief a Q&A.
What inspired you to make a film about barbering?
Like many good (and bad) ideas in Ireland, this one started in the pub. It was around Christmas time and I was chatting to an artist and friend who I had interviewed for a previous project called 'Gentlemen of Letters' about the trade of sign painting. He said "you should do a documentary on barbers!"... Nothing happened for at least another two years until my friend Steven Sheehy got involved. He hit the ground running, started getting barber's on board and at the point I had get off my arse and start filming. It was a daunting task as I always intended it to be a feature length documentary so finding the time was difficult but yet here we are!
I see that you traveled across Ireland to film people, can you name some of the locations that you went to?
Yes, it was important that we had a good mix of locations so we had to travel a bit. We filmed a barber in the cattle market in Co. Tipperary, where he cut farmer's hair out of van! We then visited Co. Cork to meet the one and only Baldy Barber. He had just gone through triple bypass surgery shortly before meeting us and was back in the shop with his razor and comb! We visited barbers throughout the country in places like Kildare, Kilkenny, Galway, Limerick as we felt it was important to represent the different corners of Ireland as best possible. Dublin city, being the capital, has a huge amount of top class barbers and great characters so we done a lot of filming there but we feel we have a good balance.
How long were you on the road filming your documentary?
Ireland is small so we're lucky that the furthest drive would be a 4 hour journey. We've been up, down and across the country a few times. The traveling wasn't the hard part. Finding the time to make the film was hard. We had no funding so we could only work on it in our spare time. As a result we're nearly two years making this film but it's very, very close to being finished!
I see that you interviewed Leen and Betus of Scumbag Barbers, do you find that most young barbers nowadays are self taught like them or are they professionally trained? 
Those guys were hilarious. We actually didn't realize they were self taught. We did know they flew to Ireland years ago to learn from Liam Finnegan of the Waldorf Barbers in Ireland who is very well regarded. A lot of the guys we spoke to did start out cutting their friend's hair and learning on the job. Similarly all of them have huge passion for what they do and took time to train with experienced barbers as an apprentice. They would all agree that you have to put in the years before you can even call yourself a barber.
Is there anyone or anything that someone said that stood out to you?
One of the barbers in the documentary says the barbershop is a place where men can be men. Not in a macho way but where guys can be themselves. Mental health issues with young men is a huge problem here in Ireland and the suicide statistics are shocking. The barber is much more than someone who cuts your hair, they also listen to their customers and offer advice. Charities like Movember recognize this and are helping barber's identify the signs and equipping them to deal with a customer who might need help. How a trade like this can be a force for change in men's health is a huge thing and is an important part of the story in our film.