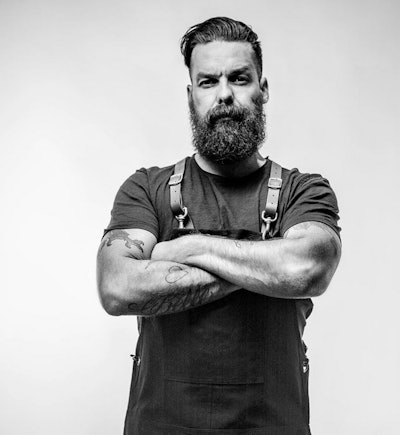 Matty Conrad has found his niche. Beloved by stylists on Instagram and in the real world alike, the Canadian-based barber and Schwarzkopf Professional ESSENTIAL LOOKS Artist has been recognized as a top grooming expert in North America, earning himself the title of Canadian Men's Hairstylist of the Year 2014 and Canadian Hairstylist of the Year Fan Favorite 2015. To top it off, he found time to start his own, critically acclaimed shop, Victory Barber & Brand, widely considered to be one of Canada's best barbershops. Despite it all, Conrad stays humble, insisting that he is "just a barber." Still, there's no denying his classic-meets-cool cuts and impeccable grooming are at the top of the game.
We recently caught up with Conrad to discuss how he got his start in the industry, his predictions for the future of men's grooming, and the double-edged sword that is social media.
How did you get started in the men's grooming industry?
I have been doing hair for over 20 years. I was a style deficit kid from a family that scored a -3 on the style scale. It was tragic. I grew up with a bunch of lopsided home haircuts and hand-me-downs from a brother almost 10 years older than me. Basically, the first 18 years of my life were one big, long, awkward phase.
When I was 18, I was working in a restaurant as a bus boy. At night, all of these people would come by after work and drink and have a good time. They were well-dressed, they were stylish, they were cool… these people were hairdressers. This style deficit kid wanted to be just like them. So I went to hair school (I still remember the look on my dad's face when I told him that I wanted to do hair for a living). I fell in love with the art form and the culture. I was always creative and good with my hands, so it was a great fit that way, but I didn't know anything about style so I just copied what everyone else was doing. That worked out pretty well because I got really busy, but I never really felt like I knew enough about what I was doing. So, I started working for different companies to get as much free training as I could. About 10 years later, I owned two salons, had a staff of 30 and a successful stage artist career traveling all over the world. But as things grew, I realized that I was still just trying to fit myself into the mold of "hairdresser" — or what I thought that was supposed to look like. Basically, I looked like Rufio from the movie, Hook.
Then, my grandfather died. We weren't incredibly close when he was alive, but I remember sitting at his funeral and listening to all the things that were being said about him, and about the kind of man he was. Then, my dad read out his high school yearbook quote: "I will never let anyone be more of a gentleman than I." For some reason, that resonated so deeply with me. It made me start thinking about life, about legacy, and about our place in it all. I took a long hard look at my life and let myself be honest for the first time. I realized that even though I was really good at hair, there were things about it that I hated. I HATED blow-drying. You have no idea how liberating it was to say that. I hated color, it took too long… the list went on and on.
Now, I'm not saying that those things are bad, and I'm not saying that people shouldn't love doing those things. What I am saying is that, for me and for my personality, they are not things I enjoy. What I did enjoy was technical haircutting. I loved classic men's haircuts, loved old stuff, LOVED it. One day, about 8 years ago, I realized that I was actually a barber. Keep in mind, at the time, barbering wasn't cool. It wasn't guys with beards and tattoos that rode motorbikes, but it was like discovering myself. I've never felt so much like I am living the most authentic life I possibly can. I no longer feel like I'm trying to fit into a crowd or pretend to be something I'm not. I made it my mission to try and bring pride and dignity back to the barbershop. There were only a few others around the world doing it at the time, but now there are so many, it's hard to count them. Somehow along the way, I have been fortunate to befriend and work alongside some of the best in the industry and have been called a pioneer, an icon, and an influencer. But truth be told, I am just a barber (and I've never been happier).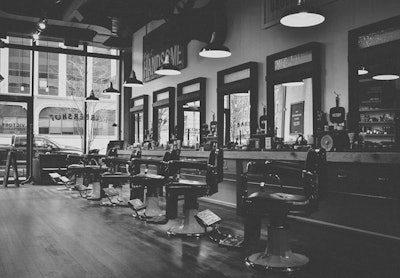 Tell us a little bit about your barbershop, Victory Barber & Brand. What made you want to open your own place?
My barbershop was a love letter to my grandfather. For me, it was about bringing back pride and dignity to men's grooming. Since the 60s, men have been relegated to the hair salon as second class citizens, an afterthought. I wanted to create a place that brought back dignity, pride, and community to the men's grooming experience. I designed it, helped build it, and decorated it with some of my most treasured antiques. Vintage chairs, reclaimed fir floor, old lockers, reclaimed hotel window frames, real gold leafed lettering, taxidermy, my 1942 Harley Davidson — all of these thing were placed to create a uniquely masculine experience. We call it a heritage shop — not retro, because a retro shop is recreating a fixed point in time and isn't allowed to evolve. A heritage shop pays homage to the past and brings it into the present. We did classic haircuts before they were cool and created an environment where young barbers could build a career and make a decent living to support their families. Most important of all, we have become a part of the fabric of our community, giving back whenever we can, donating our time and our resources to the people who need it most.
Your brand has a very cool, very defined aesthetic. What inspired this look?
The design aesthetic I am most drawn to is the post-industrial WW2 era of the 1940's. If truth be told, the barbershop was the most selfish project I have ever undertaken. I simply surrounded myself with all of the things I found that made me feel something about our heritage and history. I love old stuff, especially barber chairs. I probably have the world largest personal collection of vintage chairs ranging from 1891-1955.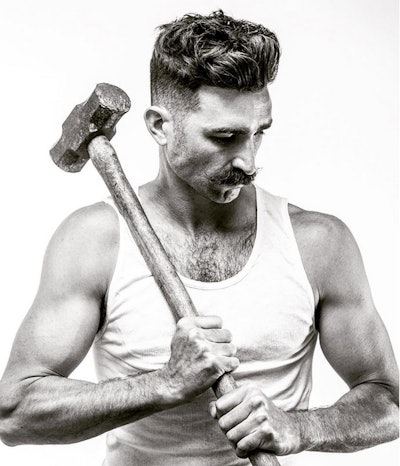 Speaking of aesthetics, what's your current favorite men's look to create?
I'm a sucker for the classics. Clean, faded sides and a side part are so satisfying to make. That being said, I am a bit more into texture these days and trying to create looks that are a bit more effortless.
Any tips on how to achieve the classic look?
Classic looks require you to master all of your tools: clippers, scissors, blowdryer, razor — you have to be skilled with ALL of them. Learn about classic barbering. Pick up a Mohler textbook; it'll change the way you look at men's hair.
The men's grooming industry has seen a surge in interest in recent years. How do you think grooming has evolved?
I actually don't think it's evolved — it's revolved. What we are seeing right now is a a hyper-masculinization period as a natural blowback to that whole "metro-sexual" label that every guy with even an ounce of pride left took as nothing but a slight. Men are wearing classic haircuts, flannel, beards, etc., and the barbershop has always been the spiritual home for that kind of masculinity. The barbershop has come back into fashion, but it's a huge mistake to think of barbering as a trend. Barbering has been around for 6,000 years — the unisex hair salon was born in the 60s.  
Looking to the future, what trends do you think we'll be seeing in men's grooming in the next few years?
I'm seeing a lot of drier, textured looks these days and a lot of variation on forward-flowing styles for men that have a more matte appearance. These influences are moving us away from the over saturated, slicked back styles we've been seeing for the last few years. We are embracing natural texture and creating a more effortless look these days — think James ​D​ean in the late 50s.
You play the role of "The Most Interesting Barber in the World" in Schwarzkopf Professional's Get Handsome videos to help launch their new men's grooming products, OSiS+ M​IGHTY MATTE​ ​(Available in the U.S. and Canada) ​and OSiS+ P​LAY TOUGH (Available in Canada only)​. In your mind, what sets these products apart?
In a word, performance. The O​SiS+​ range from Schwarzkopf Professional ​is an incredibly high performing group of products that are designed to help me create specific textures and finishes in the hair. The ​OSiS+ MIGHTY MATTE ​Ultra Strong Matte Cream is one of my favorites and is right on trend for creating that perfect matte separation without a product-heavy look. It makes your hair look like you've been riding a motorcycle through the desert.​​
When it comes to products, what's your advice on helping steer more product-adverse clients towards the right pick for them?
I am all about problem solving. Each client faces a unique challenge with their hair. They want it to look like an image they see in their head, but they often lack the skills or the knowledge of how to use or pick products that help create the result they are looking for. Many of them are just frustrated from trying too many other things and being let down by them. I often approach product from a problem solving standpoint. I tell the client the types of products he wants to avoid because they are wrong for his hair type or his desired result. Then, I show him the right product and demonstrate it for him so he sees the results of it immediately.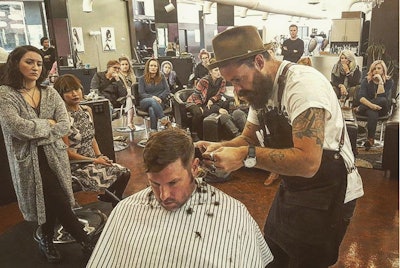 You've got over 40,000 followers on Instagram (@mattyconrad). How do you think social media has affected the men's grooming world?
It's really an interesting world now, isn't it? Marketing yourself directly to clients has never been so easy, trends have never had such ability to travel the globe in an instant, and ordinary barbers are turned into superstars and icons all because of some little number on the corner of a screen in an app.
I have personally enjoyed the ability to influence the men's grooming space by sharing my work and the things I am passionate about on social media. I have also found it to be a huge source of inspiration and have made some unbelievably close friends through Instagram. BUT, if there is one piece of advice I could give regarding our social media obsession, it's this: sometimes you have to turn it off, because comparison is the thief of joy. We need to stop comparing ourselves to everyone else. You are YOU. Uniquely talented and wonderful in your passion and your personality. Your client thinks you are the biggest rockstar in the world, that is why they are sitting in your chair.
What are you looking forward to in the future of men's grooming?
My lifetime achievement award… because I am never going to stop doing this.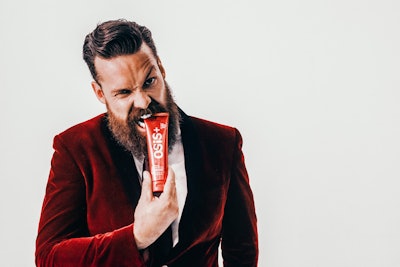 For more from Matty Conrad, follow him on Instagram @mattyconrad, and visit victorybarbers.com.
For more on Schwarzkopf Professional, including the new OSiS+ M​IGHTY MATTE​, please visit schwarzkopf-professionalusa.com.