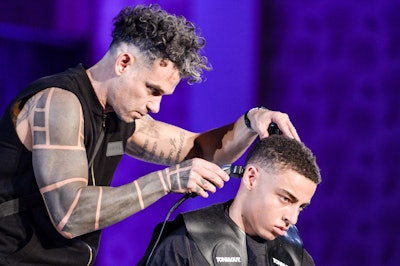 Toni&Guy creative director of the Americas, Zak Mascolo, recently led the Toni&Guy National Art Team in presenting two new hair collections at the brand's Creative Release event in Dallas, Texas. While "Euphoria" featured five advanced cut and color techniques, "Alter Ego" signaled the launch of Toni&Guy men's clipper cuts with five awe-inspiring looks.
Beauty Launchpad recently caught up with Mascolo to discuss the two new collections, as well as his tips for live presentations and what new trends to expect in the upcoming year.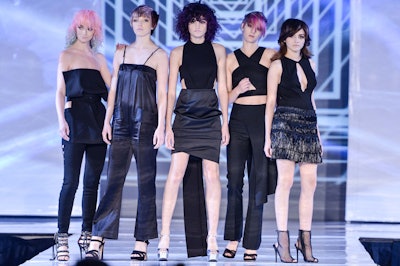 How does your collection Euphoria break the mold in technique?
We aren't necessarily breaking the mold in technique, we're updating it. With Euphoria, we incorporated what we feel is still happening in hair right now and created a series of techniques for salon viable hair cuts and colors. That's what we do as a brand. Our central themes in the cuts were C-curvatures and disconnection. To be honest, what was making a bit more noise is the color in this collection. Our technical team utilized the newly launched Bed Head by TIGI Colour Trip line to create the rich hues you see in Euphoria.
 
Do you have a favorite look from the collection?
My favorite look was Ellie. For one, I love working with curly hair. Obviously, it's on my head and you have a different bond with a texture when you have that type of hair. You understand how to work with it and what you can and can't do with it. A lot of people get scared to cut curly hair or don't know what to do with it. The techniques we utilized on Ellie will give stylists the education and confidence to take on any client that lands in their chair.
 
What color trends and/or techniques do you think will be gaining momentum in 2017?
Free hand painting and fashion colors have peaked the interest of everyday clients and I don't see it going anywhere but up.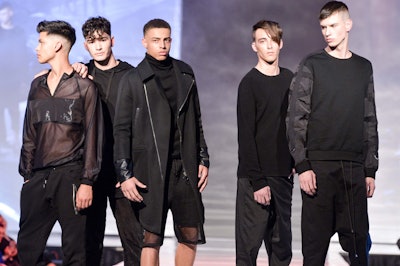 Alter Ego introduces five men's clipper cuts. What direction do you see men's cuts taking? Are there any men's trends that you see emerging?
The clipper cuts in Alter Ego are primarily an educational tool for our students and is an extension of our mission to upgrade the industry in Toni&Guy style. Clipper cuts still have a very strong presence in the market and Alter Ego offers a foundation of clipper cut techniques. However, I think men's trends will make a logical shift from the clean, close skin fades to grown out, deconstructed styles in order to change things up. I see shaggy, Brit pop-inspired cuts making a comeback.
 
Can you share any tips or tricks from your live presentation at Creative Release?
Never be 100% set on the exact style you're going to complete. As you create, be ready to change your plan for the cut at any time. Until you see the shape starting to evolve in front of you, it's difficult to be completely certain what shape or length will be best suit your client. During my Euphoria demo, I made the decision to leave my model's cut a little longer because it worked better with her bone structure.