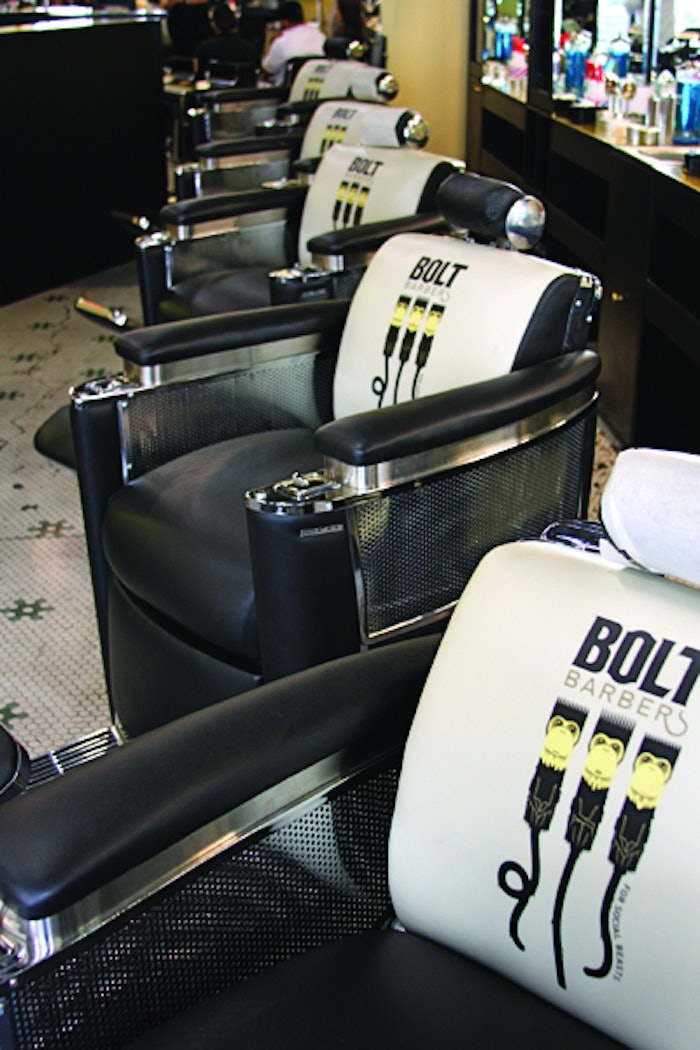 Matt Berman, aka "Mohawk Matt" was a rebel with a cause when he ditched a successful 25-year career as an international marketing executive to pursue his childhood dream of opening an old-school barbershop and reinventing the experience of men's grooming. That dream was realized in 2009, when he opened the 2,300-square-foot Bolt Barbers flagship location in downtown Los Angeles. And, although Berman died unexpectedly in 2014, talented people are making sure that his cause remains alive and well today.
Old-school but never old-fashioned, Bolt Barbers offers dudes an eclectic sanctuary, a social hub where they can hang out and receive precision barbering services from the shop's 14 hip and vibrant master barbers. "We serve an outrageous community of social beasts, including business executives, entrepreneurs, celebrities and sports personalities, students, artists, hipsters and fashionistas," says Lynn Roberts who, on behalf of the founder's three sons, acquired the business. "Guys of all ages and walks of life come here and find something in common at Bolt Barbers."
The shop occupies two storefronts on Spring Street in downtown L.A.'s historic core, and is outfitted entirely with antique barber chairs, including 10 1950s-era Koken "President" barber chairs (see above). There's also a vintage shoeshine stand; Rock-Ola jukebox; 22-foot, antique shuffleboard table and other retro games; and, of course, large plasma TVs for viewing sports. Bolt sells a full range of men's grooming products and serves complimentary refreshments, including Sprecher Root Beer on tap. The shop's distinctive vibe also makes it a popular location for film and fashion shoots.
Bolt Barbers' signature service is a four-towel, straight-razor shave with massage. Master barbers handcraft precision haircuts in every conceivable style, and can sculpt and trim beards and mustaches of all lengths and shapes. "We're a tribe, not a team," notes Roberts. "Bolt Barbers has a very strong culture of encouraging individuality, not conformity. It's all about the relationship between a man and his barber. Matt had a very unique vision for this industry and its future, and we're keeping his legacy alive by continuing to transform that vision into reality."
Bolt also takes its craft on the road aboard a 1954 Spartan All Aluminum Travel Trailer. Bolt Barbers on Safari—the world's first vintage mobile barbershop—is regularly booked for corporate events and private parties, and can supply up to 10 barbers. "We launched Bolt Barbers on Safari because there was nothing else out there like it," says Roberts. "We knew guys would love it—it's a man cave on wheels. No two events are alike; we tailor each experience to our clients' needs." It's also popular for weddings. "The entire groom's party starts the day together and shares a very unique, memorable experience that also ensures they'll look their very best for the wedding," says Roberts.
Now in its eighth year, Bolt Barbers has claimed its place as an institution in the urban jungle that is downtown Los Angeles; it was recently voted "Best Barbershop" for the sixth straight year by Los Angeles Downtown News readers. "We're extremely grateful for the support and patronage of our many loyal clients," says Roberts. "And we have exciting plans for the future, so stay tuned!"