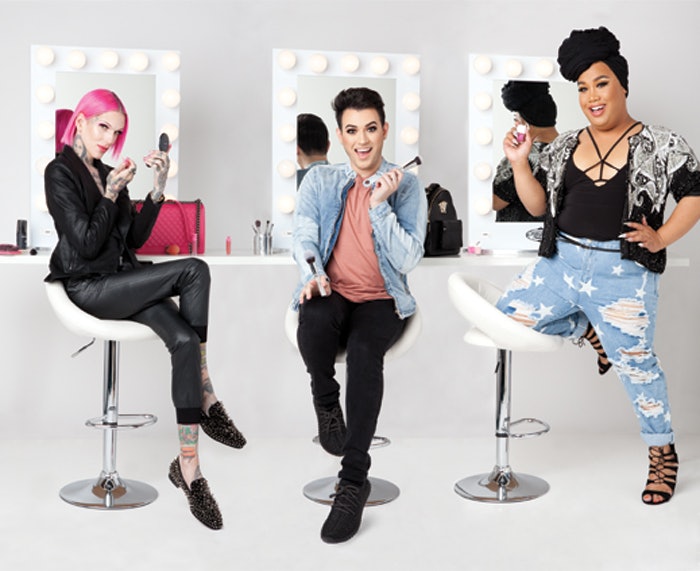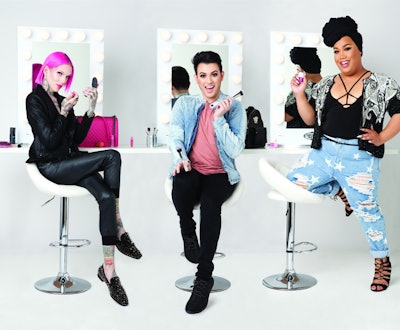 [Image: by Armando Sanchez] 
The makeup industry gets a makeover as Jeffree Star, Manny MUA and Patrick Starrr beat the odds by defying gender roles— and look good doing it. [Source: Beauty Store Business]
The way your customers shop has changed over the last few years. Consumers are now turning to the advice of beauty bloggers who influence not only how they shop but what they purchase. A recent national Collective Bias survey reported that 30% of shoppers in the United States are more likely to purchase a product endorsed by a blogger than a celebrity. The survey also showed that consumers are not only consulting blogs and social media on their mobile devices prior to shopping, but they're doing it while they shop as well. As the biggest brands and stores in the industry join forces with up-and-coming YouTube stars, it has become evident that the trusted seal of approval from notable beauty bloggers is a key component to success.
Recent years have introduced beauty mavens to a new crop of makeup divas, due in part to the saturated industry. Oh, and one more thing: They're men. You heard us. Men. So, if you're going to cater to beauty blogger-loving customers, then it's time to get to know these persuasive influencers. With a combined total of 295 million views on YouTube and 8.1 million followers on Instagram (at time of print), Jeffree Star, Manny MUA and Patrick Starrr are the leading boys in beauty. Their innovative makeup tutorials, application secrets and makeup lines have scored millions of hits from consumers tired of the old run-of-the mill makeup how-tos. Here, we discover the secrets to their success.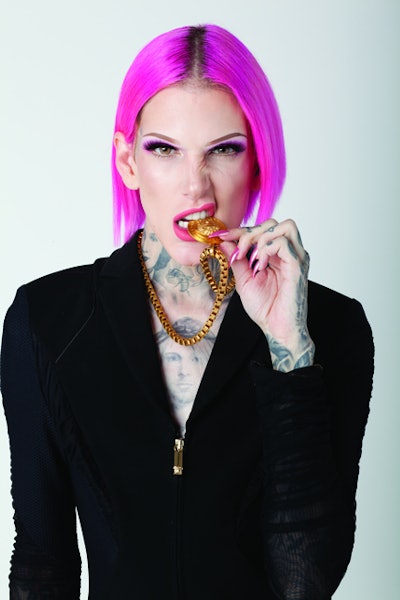 MySpace to mainstream social media's reigning makeup royalty, Jeffree Star, discusses how the internet played an integral part in his successful business.
Jeffree Star is no stranger to social media. He first started exploring the internet in high school "as a way to escape my plain Orange County upbringing," he says. While he was surfing the web and following forums, he discovered MySpace. There he amassed followers who were interested in watching the budding makeup maven create amateur photo shoots (starring himself) and blog about his life. Star's popular makeup transformations paved the way to a career in makeup artistry, modeling and fashion design. And while Star was always makeup-obsessed, you may be surprised to know that he also used his popularity on MySpace to start a music career— with more than 25 million plays of his self-released music. Needless to say, at 30 years old, this internet Star is already well versed in social media marketing.
After a tumultuous music career, Star found himself at a crossroads. "I just spent eight years touring the world and putting my blood, sweat and tears into [my music]. ... And I always wanted to create my own makeup line," he says. Star decided to risk it all and began working on his own line of cosmetics. "It was either try to accomplish a lifelong dream or give up and go back to working at the mall," he explains. After six months of testing to perfect the formulations, Star launched three Jeffree Star Cosmetics liquid lipsticks in November 2014.
The overwhelming success of the launch eventually blossomed into additional SKUs, including an eyeshadow palette, highlighter powders, lip scrubs and Star's newest endeavor, Lip Ammunition, a highly pigmented stick lipstick. The most interesting part of Star's success, however, comes from the fact that he's used social media and his avid followers to promote the products for him. "We don't turn to Vogue anymore to see what's trending or hot," Star says, noting the shift in the way some companies are marketing their launches by catering to more Internet-savvy consumers. "I've let social media and all of my subscribers and customers speak for the brand," he shares.
While most famous beauty bloggers are known for their video makeup tutorials, for a long time Star relegated his posts to makeup transformations and finished looks—until earlier this year when he finally made the foray into video how-tos. "For so long, I held out on doing makeup videos. I felt like there were so many people already doing it," Star says. But after developing his own brand and connecting with the beauty world on YouTube and Instagram, it seemed to be a natural progression. "I've had so much fun being creative and doing what I love, and it's unreal the response it's gotten!" he enthuses. Star's tutorials garnered so many views that he was able to grow his YouTube channel to approximately 2.4 million subscribers in just eight months.
From his fans to other artists, followers are constantly chomping at the bit for something new from Star—and he doesn't disappoint. The holiday season promises a big launch, complete with limited-edition liquid lipsticks and his second eyeshadow palette. Beyond that, Star hopes to create a skincare line—and maybe even curate a David Bowie-inspired makeup collection. "I have so many ideas for it. He was such a legend and pushed so many boundaries for men in makeup. It would be a dream," he says.
The Star's the Limit! Patrick Starrr opens up about fame and his business-building collaborations.
Social media can be a brutal place. The comment section below a YouTube video is rife with people expressing their pentup anger, frustration and, in some cases, hatred. And for those who are baring it all in a video, including makeup artists who put themselves out there with their ever-changing looks, it can be an especially vulnerable platform. Compound that with the fact that a man wearing makeup isn't always accepted or understood, and life gets even harder for a male in a female-dominated industry. But for 26-year-old turban-donning glamazon Patrick Simondac (better known to his legion of fans as Patrick Starrr) he has pushed past the negativity, turning his popular YouTube channel into a place where inner beauty is celebrated just as much as a killer cut crease.
Starrr endured his fair share of negativity growing up in Orlando. "It was definitely hard when people stared at me when I worked at the mall wearing full-face makeup," he says. But Starr credits his family's support for his ability to persevere. "It was difficult for them to understand at first," he says. "But now they're so obsessed. I have them cheering me on every day."
These days, people stare at Starrr because they recognize his famous face—with or without makeup—that's been gracing his YouTube channel since 2013. "It's surreal. Most of the time it's when I have on my 'look.' More recently, though, I've been getting recognized without makeup. It's truly amazing, and I feel blessed to have such amazing fans,"he says. Those fans flock to Starrr's site (to the tune of 2.3 million followers on Instagram and 1.5 million on YouTube) as much for his flawless makeup tutorials as they do for his messages of acceptance. Starrr's self-proclaimed "makeup is one size fits all" motto has propelled him to role model status for young girls—and boys—everywhere. "My social media is a place for positivity," he says.
Starrr's unique ability to connect with fans on a personal level, both on and off camera, has helped him secure partnerships with some of the biggest brands in the beauty industry. "Being business-minded has helped me a ton. When you're working with major cosmetic brands, it's important to articulate your thoughts and ideas for an amazing collaboration and partnership. Companies will respect you and it shows a professional side not normally seen on social media," he says.
Recent partnerships with brands such as Formula X for Sephora and Benefit Cosmetics have also made Starrr recognizable at a brick-and-mortar level. "Networking and getting to know people are my favorite parts about collaborations. I get to develop friendships and relationships that make these partnerships so much fun," Starrr says.
Ultimately, it's Starrr's social media presence and engagement that has bolstered his success, and he shares that knowledge with others. As a speaker at VidCon 2016, an event for the creators and viewers of YouTube videos, Starrr reiterated the importance of connecting and being social. "Chat with others on YouTube, make friends and learn! We have to utilize all social media to extend our viewership and social reach," he says. And it all starts with taking a risk, which includes putting yourself out there and opening yourself up to judgment and criticism. "I want my fans to know that life opens up when you do," he says. "We cannot live in fear. We must go after our passions and dreams."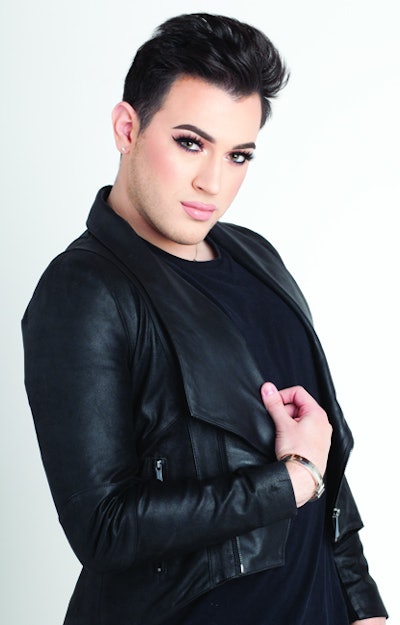 Bold and Brassy With a future (and highlights) so bright they could blind us, it-boy Manny MUA divulges how he slays the makeup scene.
Fearlessness is not necessarily a characteristic one would associate with the beauty industry. But when it comes to breaking away from family expectations and bucking the system, it certainly seems appropriate. Manny Gutierrez, the glitzy Instagram-influencer known to his followers as Manny MUA, is well known for his fast climb to stardom, winning over fans with his playful personality and signature makeup artistry. But his path to fame and high-profile collaborations was anything but straightforward.
Gutierrez started as a pre-med student, but he quickly found that his interest in contouring was replacing organic chem. "I loved the medical field, but it wasn't something I was thinking about constantly," he says. Needless to say, his decision to trade in scrubs for a bomber jacket and Quay sunnies was met with some resistance by family and friends. "I decided to pursue beauty because that was a real passion of mine," he explains.
Of course, deciding to follow his dream of becoming a makeup artist was only the first step. When Gutierrez started his YouTube channel in 2014, he walked into a heavily saturated market dominated by females. "It was very hard in the beginning to start working with brands because male beauty gurus were such a far-fetched thing," he says. "You have to be thick-skinned in this industry because people will hate and want to drag on you every which way they can."
Gutierrez' talent and charisma helped him overcome the odds, and he is now succeeding in this competitive industry with 2.3 million Instagram followers and 1.5 million YouTube subscribers. His hardcore fans, the self-proclaimed Mannyacs, are captivated by his every move—which is perhaps what prompted Makeup Geek CEO/owner Marlena Stell to contact Gutierrez. What started as a casual lunch invitation via Twitter turned into an amazing partnership. "Marlena brought up the idea of a collaboration," Gutierrez says. "I was so small at the time, less than 50,000 subscribers on YouTube. But she said that she really believed in me and saw great things for my future. So I said that I would love to collaborate and the rest is history."
Gutierrez' collaboration with Makeup Geek allowed him to step into the production side of the business and manufacture his own unique palette containing six signature shades as well as three of his favorite MUG shades. The palette was a huge success and sold out immediately—a testament to his reach and loyal fan base.
Most recently, Gutierrez partnered with Ofra, where he created three signature shades of liquid lipstick. "I met the owners and they were really intrigued by me and loved what I stood for online. We worked together a few times and, after some successful campaigns, they asked if I wanted to collaborate with them," he says. "At the time, they'd only done a liquid lipstick with Kathleenlights, so it was pretty amazing to be considered for a second collaboration."
Going forward, Gutierrez' objective is to instill in the public's perception that men can and do rock a fierce, flawless face. "The message I would love my Mannyacs to take away from me is that being yourself is all that matters," he says. "Love yourself enough to try. And if you don't succeed, at least you tried and that's all that someone could ask of you." While his long-term goal is to create his own brand, for now Gutierrez will continue to slay us on a daily basis.
by Karen Wilhelmsen
​This article originally appeared in the October issue of Beauty Store Business Magazine.