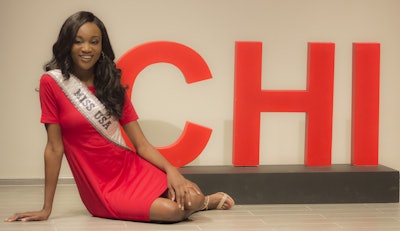 The newly-crowned Miss USA 2016, Deshauna Barber, recently participated in a photoshoot for the launch of CHI's Deep Brilliance Olive and Monoi Oil Hair Care line. The shoot featuring Miss USA was held at Farouk Systems' headquarters in Houston, TX and will be part of the line's marketing campaign. This will include finished looks and style tutorials created by Farouk Systems Creative Artistic Team. All assets will be utilized for the scheduled launch later this year.   
The Deep Brilliance Olive and Monoi Oil Hair Care Line was developed with New Technology for salons to control textured hair. The complete line consists of a Silk Conditioning Relaxer as well as a hair care ideal for chemically treated and highly-textured hair to help replenish moisture and reconstruct while strengthening and protecting from damage.
During her visit, Miss USA 2016 took part in a tour of the manufacturing facility and corporate offices. She visited various departments, met employees and visited Dr. Farouk Shami's home.
Farouk Systems, Inc. is the official hair care sponsor for the Miss Universe Organization. This long-standing relationship has spanned over 10 years, providing contestants for the Miss Universe, Miss USA and Miss Teen Pageants with hair care and styling services provided by the company's educational team.
According to Dr. Shami, "We are very excited and proud to have Miss USA, Deshauna Barber, be a part of our Deep Brilliance campaign. She not only presents inner and outer beauty but her commitment to the United States of America is something we share."