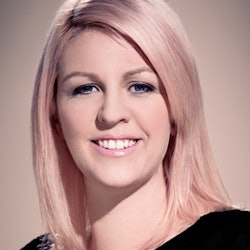 Lucie Doughty's earliest memories are of spending Saturdays sweeping up hair and sorting rollers in her mum's salon. She seemed destined to be a hairdresser. As soon as she was old enough she enrolled in an extensive two-year cosmetology training program in Cambridgeshire, England and dedicated every waking moment to her studies. Soon after graduation she applied for an apprentice position with Vidal Sassoon and spent another nine months immersed in learning. At the end of the program she took an opportunity to work at the Manchester, England and then the Frankfurt, Germany salons. Her passion for teaching began when she became head of the color department and was responsible for teaching the apprentices. Lucie was then given an opportunity to head up the color department at the new Santa Monica, CA academy so she packed a couple of suitcases and hopped on a plane to the states. It was in this very school Lucie met Winn Claybaugh, an motivational speaker who was opening the first Paul Mitchell School in Costa Mesa, CA. Lucie accepted the position as Color Specialist and created the hair color curriculum that is still in use at over 100 Paul Mitchell schools today.
Lucie's career in the beauty industry is supported by a number of accolades including a number of wins in a variety of North American Hairdressing Awards (NAHA) categories, she has also been awarded Teacher of the Year by Vidal Sassoon and Paul Mitchell. In addition to working behind the chair she maintains the manes of celebrities such as Rene Russo, Elizabeth Banks, Daryl Hannah and rocker Liz Phair.
As Editorial Director for Paul Mitchell Lucie is responsible for conceptualizing and art directing much of the imagery that is used for promotional materials and advertising. Another exciting part of her job is being a session stylist and working with a variety of photographers for magazine editorials and having the opportunity to train up and coming Paul Mitchell educators.