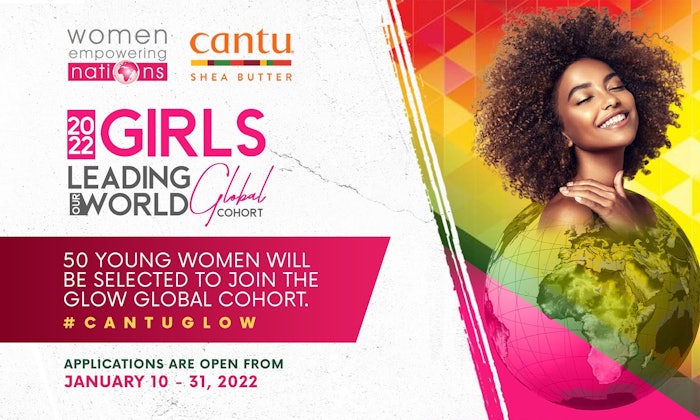 Courtesy of Cantu & WEN
Cantu Beauty and Women Empowering Nations (WEN) are collaborating to host a series of career-readiness workshops for minority women around the globe. (January 2022)
Cantu Beauty is an award-winning multicultural hair care brand.
WEN is a nonprofit organization providing exposure, development and mentorship for girls of color in underserved communities, to accelerate their path to executive leadership.
WEN and Cantu will choose 50 young women ages 17-23 from the U.S., Nigeria, Ghana, South Africa, United Kingdom and France to participate in the Girls Leading Our World (GLOW) Global Cohort.
GLOW is an immersive, high-impact leadership coaching experience beginning March through May 2022. The virtual program will feature female executives from diverse backgrounds in entrepreneurship and leadership, who will lead workshops exploring career development, public speaking, professional branding and executive leadership. 
At the Summit, 10 young women from the GLOW Global Cohort will move forward to the Cantu GLOW Global Fellowship. Two from each country will intern at Cantu Beauty for four months, gaining hands-on experience in the beauty industry. Cantu GLOW Global Fellows will conclude their experience with a capstone and group travel seminar in Nigeria this November, including service projects, brand promotions, Cantu executive meet and greets, leadership sessions and career workshops.
"We are elated to team up with Cantu Beauty on this program investing in the future and talent development of young women of color," says Carlisha Williams Bradley, Women Empowering Nation's founder and executive director. "Young women receiving training from a company that makes products that caters to them and has a fellowship that addresses our unique cultural needs is rare. This partnership can change the career trajectory of young women around the world."