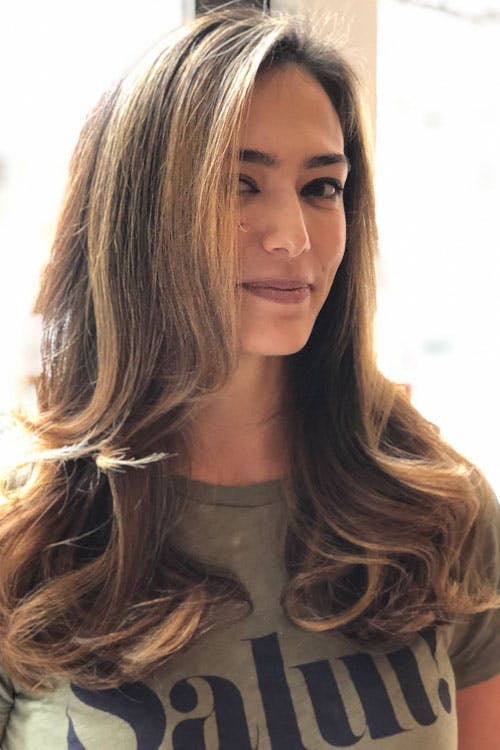 Conceptualized by Adrienne Rogers, "Faceting Balayage" is a technique inspired by the way that gems are cut with facets to maximize light reflection. When applying this concept to haircolor, shapes are parted into the hair to optimize balayage placement. e result is multidimensional brightness around pockets of depth, creating strong movements of diffused color at the base that impart higher impact onto edges and ends.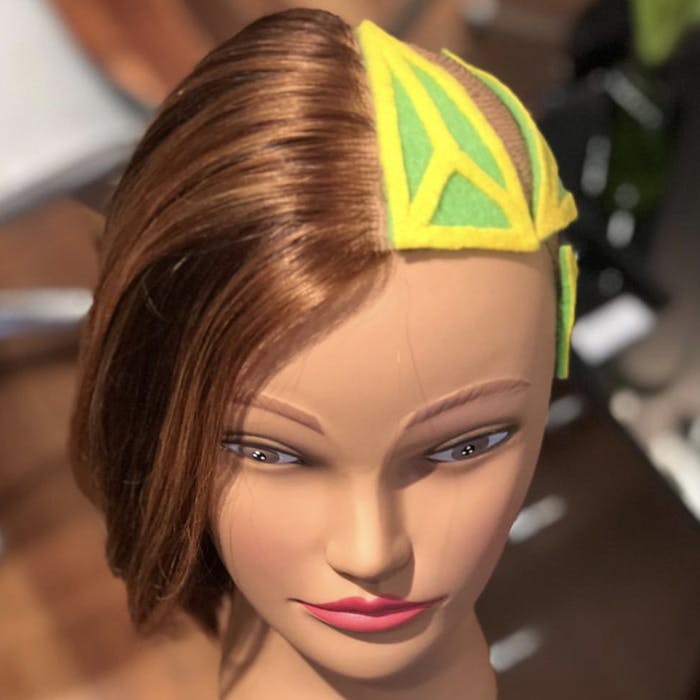 Technique
Step 1: Section hair into triangular shapes. The flat sides of the triangle are the facets, and the corners are the edges. If your client is looking for contrast and stronger waves of brightness, leave more space between each facet. For an overall brighter look with depth at the base, place the facets closer together.
Step 2: Mix lightener to a creamy consistency using Product Club Color Mixer, which aerates the mixture so it applies easier while controlling dust and fumes.
Step 3: Use a Product Club Feather Bristle Brush to paint the foundations all the way around the facet. Tip: Feather bristles diffuse the lightener and make transitions soft. Painting this way helps to control your sections and allows angles and edges to come together for a striking effect.
Step 4: Distribute the lightener through the lengths to create the facet. As you move down the hair strand and away from the head, increase the amount of lightener you use to build brightness.
Step 5: Choose an edge to saturate through to the ends and pinch it in a smooth, sweeping motion. Reapply lightener on the exterior of the pinched edge to create a beam of brightness.
Step 6: Blend the lightener into hair lengths to create interest at the edges. Use your fingers to gently pinch and push product into the internal shape. Tip: When working with your hands, Product Club Textured Gloves give you extra control to move lightener where you need it.
Step 7: Insulate your facets with a product like Product Club Balayage Film or Curved Thermal Balayage Strips. Tip: This prevents bleeding and retains heat, which will slow down the drying process and give the lightener more time to do its job.
*Using the "Faceting Balayage" technique will result in a dynamic balayage that can be customized for each client's desired look and allows colorists to have more precision and control.
"Visualize each facet as if it is a singular movement before applying lightener to assess how it will fall into the design," says Adrienne Rogers. "Consider the angle and how it will affect the optics of the light moving through the hair."
Products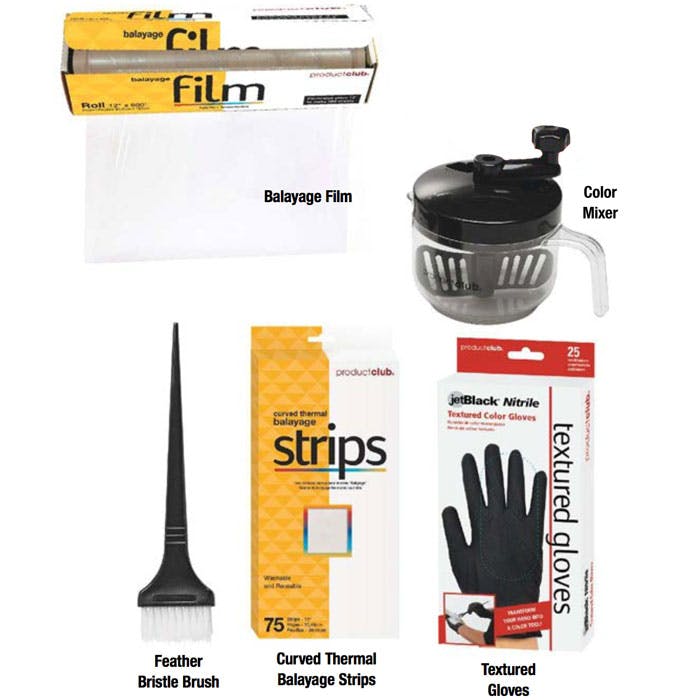 Stay Connected
Instagram: @productclub
Facebook: /ProductClub
Twitter: productclubusa
[Images: courtesy of Adrienne Rogers; Product Club]