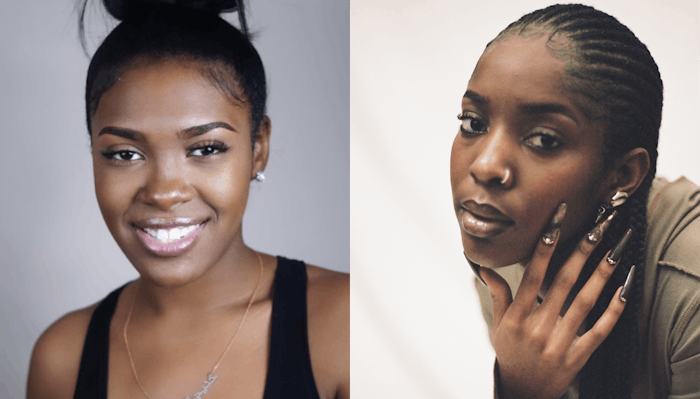 Top photo: Khadijah Robinson (left) and Pamella Udeh
Circadia, a pioneer in the science of chronobiology and skincare, is helping advance careers in esthetics through the gift of education. Two inaugural recipients of the Sage Michaela Lucas "Timing is Everything" scholarship will each receive a $5,000 tuition scholarship. Administered by the Beauty Changes Lives Foundation, the Sage Michaela Lucas Timing is Everything awards tuition funding to support biracial, indigenous and persons of color (BIPOC) pursuing a career in the professional esthetics sector.
 As a champion for professional education and a long-time advocate for inclusivity, diversity, and educational equity, Circadia CEO  Michael Pugliese partnered with Beauty Changes Lives to support students in under-served communities. Applicants were required to submit a video addressing why they are pursuing a career in esthetics and how they plan to support diversity in their careers. Winners of the inaugural scholarships and their respective schools are as follows:
Khadijah Robinson, Ogle School of Hair, Skin & Nails Stafford, Houston TX – Growing up in a "family of creatives and entrepreneurs," Khadijah dreamed of a career that would allow her to be creative while paying her success forward. She sees makeup as a transformative medium that can be used to create a signature statement evoking the individual beauty within each person. As an aspiring aesthetician, Khadijah says, "I look forward to blending my passion for esthetics and entrepreneurship to create a business that also serves as a creative outlet." And just as family inspired her career path, the single mom turns to her eight-year-old son to inspire her future. "My son supports me every step of the way and he's shown me that there is nothing wrong about dreaming big and nothing scary about moving forward with that dream," she says. As a woman of color, Khadijah says she wants to model for others the success that can be achieved by people who look like them and share big dreams for their future. Watch her video here. 
Pamella Udeh, The Spa Professional Academy, Bowie, MD – Pamella's entrepreneurial and creative spirit is reflected in CHIDI, a bespoke atelier she founded that features her beauty and design works. Launching a business provided Pamella with insight into the myriad tiny steps required to achieve a goal. "Starting a business showed me I'm a lot more resourceful than I give myself credit for and any goal is achievable when you take a step back and break it into tiny goals," she says. Pamella also focuses on giving back and is inspired by the kindness she's seen in the salon community, such as a salon owner in her neighborhood who established a food pantry near her business. "My goal is to manage my business effectively so that I can live well and serve the community around me," she says. As an esthetician, Pamella plans to serve as a mentor for others. "The entrepreneurial spirit is about having integrity and intent, and in this age of misinformation I want to be a mentor and a teacher for young, Black estheticians who come after me," she says. Watch her video here.
Remarking on the inaugural awardees, Circadia CEO Michael Pugliese said, "Education is in the DNA of this company founded by my late grandfather and we are honored to pay his legacy forward to such promising students. As I've visited schools around the country, I've seen how the gift of education can help empower people to change not only their lives but touch the lives of others – a generosity my grandfather modeled for me."
---
About Circadia:  Circadia was founded by Peter T. Pugliese, M.D. in the rolling hills of Pennsylvania in 2001. Following in his grandfather's footsteps, Michael Q. Pugliese, L.E., has expanded Circadia to over 30 countries. Circadia Skin Care has been a pioneer in bringing the concept of Circadian rhythms to the health and wellness industries. For more information, visit www.circadia.com.
About Beauty Changes Lives: With a mission to elevate, educate and empower, Beauty Changes Lives is uniting the industry and building awareness of the extraordinary career opportunities in the beauty, wellness and massage therapy industries. Learn more at www.beautychangeslives.org or find us on Facebook and Instagram.