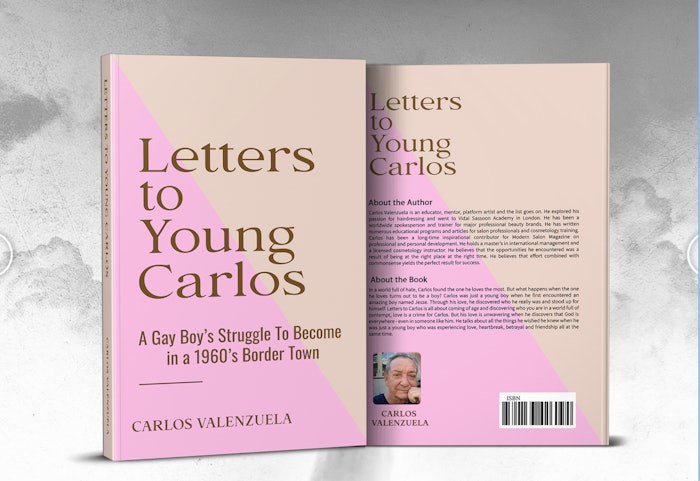 Don't you wish you could go back and advise your younger self what to do and not? 
This is the question Carlos Valenzuela poses in his just-released book, Letters to Young Carlos, available on Amazon and all major online booksellers. The novella tells the story of a gay boy's struggle to be himself in a small conservative town along the Arizona/Sonora border in the '60s. Proving that creative spirits can work with any medium, Carlos skillfully penned touching memories of a childhood surrounded by dysfunction, strict Catholic upbringing, and unforgiving townspeople. Young Carlos navigates friendship, fantasy, heartbreak, and betrayal but eventually rises above it all. 
In a world full of hate, young Carlos finds the one he loves most. But what happens when the one he loves is another boy? Carlos was just a boy himself when he first encountered the amazing boy named Jesse. Through his love, he discovers who he really is and dares to embrace the love and stand up for his happiness.
Carlos' story of self-discovery resonates with anyone, gay or straight, who walks to the beat of their own drum and guides the reader to better understand a world full of contradictions. 
"Young Carlos is not the story of my life," says Carlos. "I had a wonderful childhood. The characters come from my imagination based on people I remember along the way. I love young Carlos," says Valenzuela, "because he seeks to understand one of life's greatest mysteries, to love oneself and others, wrinkles and all, and be loved in return."
Carlos Valenzuela is a stylist, writer, success coach, ex-salon & beauty school owner. Author of The Thrifty Cosmetologist,: money smarts tailored to salon pros, and Letters to Young Carlos, a novella about a gay boy growing up along the border in the 1960s