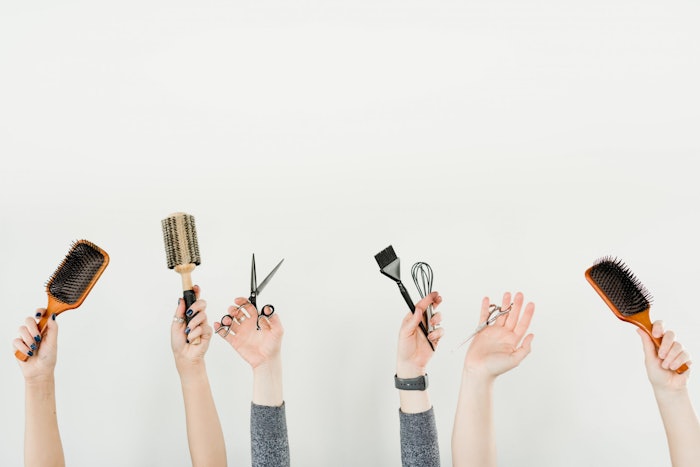 The diverse roles within the professional beauty industry often pose a challenge to legislative change. The differences of opinion, with merit, create confusion for legislators looking at the industry as a whole and seeing the divide on a range of issues including occupational licensing and reciprocity. At the end of April, nearly twenty states adjourned from their legislative session having passed bills impacting a variety of issues. One theme this year is reducing the scope of practice under cosmetology to exclude services such as shampooing, blow-drying, hair styling, and the use of hot tools. Excluding these services will no longer require individuals to hold a license. Additional themes include reciprocity for military spouses, removing the exclusion of licensing for individuals with specific criminal backgrounds, waiving licensing fees, prohibiting gender pricing, worker classification, independent contractor standards, deregulation efforts, and apprenticeship changes.
Examples of language in legislation considered this year include:
Deregulation
-This measure allows an individual to provide services for compensation as a barber, cosmetologist, electrologist, esthetician, or manicurist without holding a state license.
This measure allows an individual to provide services for compensation as a barber, cosmetologist, electrologist, esthetician, or manicurist without holding a state license or a license from a unit of local government if, before providing the services to a consumer, the individual provides to the consumer a written document that contains: a statement disclosing that the individual does not have an occupational license, the address and telephone number at which the individual can be contacted, the individual's dated signature, and obtains the dated signature of the consumer on the document. 
Scope of Practice
-Cosmetology does not include hairstyling, makeup services, or the application of eyelash extensions. 
-This measure exempts any person who engages solely in cleansing, drying, or styling hair from being licensed as a barber. The measure further exempts any person who engages solely in hair braiding from being licensed as a barber.
-This measure would require those engaged in arranging hair, threading, and extending eyelashes to register with the department of health and exempt those who arrange hair, thread eyebrows, and extend eyelashes from cosmetology licensure law.
-This measure includes the following individuals in the exemption from licensure for those engaged in cosmetology practices:
(i) A person who only dries, styles, arranges, dresses, curls, hot irons, shampoos, or conditions hair. 
(ii) A person who does not cut the hair.
(iii) A person who does not apply dye to alter the color of the hair.
(iv) A person who does not apply reactive chemicals to straighten, curl, or alter the structure of the hair.
Gender Pricing
-This measure prohibits businesses from engaging in gender-based priced discrimination. Commonly referred to as the "pink tax" or "gender tax," gender-based discrimination occurs when products and services marketed and intended for use by girls and women are priced higher than comparable products and services for boys and men. 
Military Licensure
– This measure states a licensing authority will establish a procedure to grant licensure by endorsement to a member of the military, a former member of the military after discharge under honorable conditions, a veteran, or a spouse of any such person, who possesses current, valid, and unrestricted licensure in another state, district, or territory of the United States, or in any branch of the armed forces or the national guard. Such procedure is intended to provide licensure by endorsement to qualifying persons within 15 business days after such person applies for licensure under this section, provided that the applicant is able to validate his qualifications within such time frame.  
Criminal History
-An applicant will not be denied licensure, certification or registration because of a criminal conviction that is not directly related to the specific duties and responsibilities required by the activity requiring licensure, certification or registration in a way that would present risk to public safety as determined by an individualized evaluation of the applicant and the applicant's criminal conviction. Such evaluation will include:
(A) The nature and seriousness of the crime for which the applicant was convicted
(B) the age of the applicant at the time the crime was committed
(C) the amount of time that has passed since the crime was committed
(D) the circumstances of the offense, including any aggravating or mitigating circumstances or social conditions surrounding the commission of the crime
(E) any evidence of rehabilitation related to the applicant's current fitness for licensure, certification or registration
The question consistently asked from legislators is why are cosmetology and barbering standards inconsistent across the United States? Why are there different hour requirements, continuing education requirements, and licensing options? What is preventing license reciprocity, although reciprocity of military spouses is gaining support? Why is there such a difference in opinion on these specific issues and should the requirements move away from state regulation and be self-regulated within the industry? 
The response and level of engagement from advocates varies. Perhaps the bigger question is what do licensed beauty professionals want? If there were a list of top three priorities, would this list include reciprocity or retaining occupational licensing? Are these still priorities for the industry? 
Has the COVID pandemic shifted priorities, have other leading issues in our country changed the way we now think about the beauty profession? The COVID pandemic has challenged us all, from fear of being ill or losing a loved one to business shutdowns and restrictions that destroyed the livelihood of so many professionals. Maintaining relationships with clients and finding creative ways to stay in business once lead the conversation, however today according to recent polls Americans are embracing topics of concern ranging from dissatisfaction with government leadership, racism and race relations, diversity, healthcare, economy and debt, and immigration which have overwhelmed our abilities to engage in one area while states continue to pass beauty industry related legislation without the input of those it would impact the most. Have our personal priorities now shifted? 
This past year has had a transformational impact demanding reworking our path and level of engagement to effectively represent what exactly it is licensed beauty professionals need to be successful and properly represented in the legislative environment. The government affairs team at PBA wants to know, at this stage, what do you need to move forward and how can we support you in this process of recovery, representation and success?