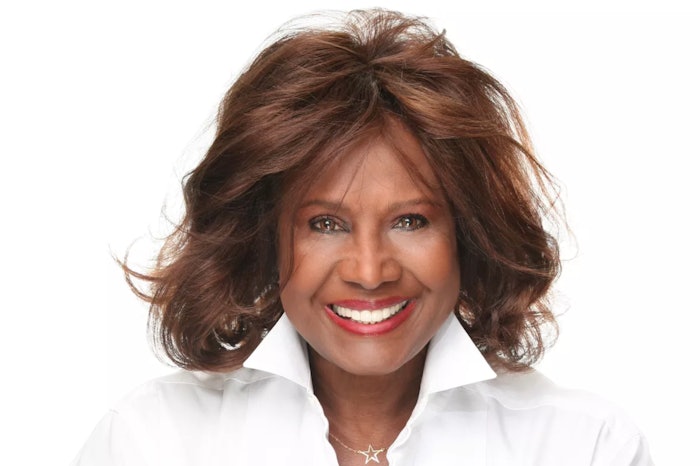 Cosmetologists Chicago and America's Beauty Show mourn the loss of Dori Wilson, Dori Wilson Public Relations, a Chicago publicist and a star herself. Dori Wilson supported Cosmetologists Chicago and America's Beauty Show for decades. She is synonymous with America's Beauty Show and is a part of its rich legacy. 
"Over the last 12 months, Dori's contributions to America's Beauty Show were most profound," said Frank Fulco, CEO of Cosmetologists Chicago and America's Beauty Show. "Through the global pandemic, Dori tirelessly worked to connect America's Beauty Show with resources throughout the Chicagoland area. She was and will forever be remembered as a person of strong character and warm heart that was always seeking ways to help others," added Fulco. 
Karen Gordon, President of Cosmetologists Chicago and America's Beauty Show shared, "Dori will always be remembered as a member of our Cosmetologists Chicago family. For more than 20 years she shined a beautiful light on our association. Dori helped us with advocacy issues when our industry needed it most. One of her greatest gifts was being able to connect people from all walks of life who could help one another. Strong, independent, savvy.  Dori was so much more than most people knew. A trailblazing model. An astute business woman. A loving aunt. An animal lover.  A generous soul. Dori was a friend to many, including all of us at Cosmetologists Chicago. Our world will be forever smaller without her."
Paul Dykstra, former CEO of Cosmetologists Chicago and America's Beauty Show shared, "Dori Wilson came into the association's focus by producing one of the major fashion events for America's Beauty Show formerly the Midwest Beauty Show. Recommended by legendary Chicago hairdresser Leigh Jones and then president Velma Glenn, Dori quickly caught the eye of the organization and took over consumer public relations and media delivery of first only the beauty show and later the entire organization. What followed were years of unprecedented local, state, national and international media coverage of the annual event, which would have cost the organization virtually millions of dollars in equivalent advertising."
Dori was "the" contact for radio, tv and print producers hungry for beauty updates, and Dori delivered. Of the myriad deliverables Dori brought to the organization, certainly most astonishing was her knowledge of serving the diverse markets of both the salon industry and of course our amazing urban environment. She diligently and persistently moved the needle in all our marketing and media efforts to ensure the organization mirrored the amazing diversity around us. Little known by most was her amazing liaison role between the organization, its practitioners and politicos at every level. When an artist headliner needed assistance with visas and border matters, Dori had the connections to bring them effortlessly to Chicago. And every issue that we faced from fish pedicures to Haircut pricing to spa sanitation to toluene in nail enamels, Dori took the organization's consumer message to the media making the organization the true voice for the salons and salon professionals.  Her more than 27 years of service to the organization are legendary.  
"On behalf of the Board of Directors for Cosmetologists Chicago & America's Beauty Show and our community of licensed beauty professionals, we are forever grateful for Dori Wilson's years of service and believe that her spirit lives on in all of us. Dori was a fearless champion of good and we intend to honor her at the 2021 America's Beauty Show to be held in Rosemont, IL on September 11, 12, & 13." said Fulco.  
Cosmetologists Chicago extends sincere sympathy to Dori's extended family. In lieu of flowers, donations can be made to The Dori Wilson Scholarship on behalf of Dori Wilson through the Cosmetologists Chicago Scholarship Foundation. Contact Amy Brown, amy.brown@americasbeautyshow.com for details.