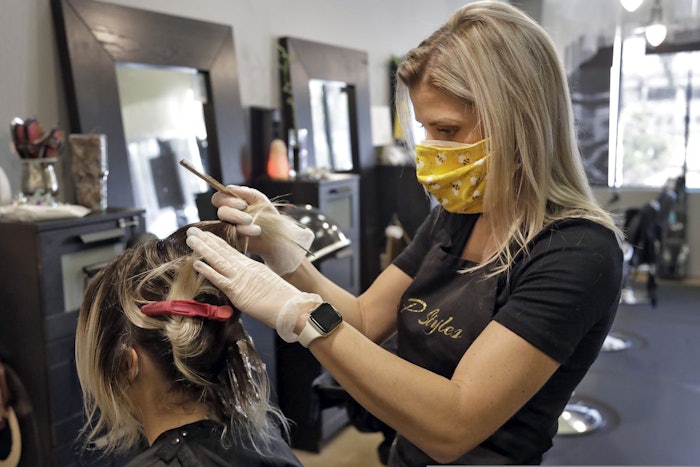 "These numbers are extremely low because salons and licensed professionals have gone above and beyond all safety measures including wearing PPE such as masks, gloves, face shields and goggles."
The increasing number of COVID cases throughout the United States has caused a reduction in business operations. Greatly reducing salon capacity in some states while others call for temporary shutdowns has resulted in the newest wave of job losses for beauty professionals.
Data has long been trusted to provide support for the reasoning of state and federal decisions that prove to be extremely disruptive. PBA has worked to collect data to explain COVID case tracing within the salon environment to help states understand the source of COVID transmissions, which have not been linked back to salons.
PBA national data over the past two weeks reflects 1,860 responses representing 16,731 licensed professionals. These licensed individuals provided professional beauty services to 1,614,894 clients. 1,012 (.062%) clients tested positive for COVID-19 within fourteen days of visiting the salon, .062%. These clients could have potentially exposed 548 people, with a possibility of 65 secondary cases. 
These numbers are extremely low because salons and licensed professionals have gone above and beyond all safety measures including wearing PPE such as masks, gloves, face shields and goggles. Many salons invested in sanitation stations, plexiglass dividers, removed lobby furniture, stopped serving beverages and food items and initiated new procedures for clients. Working at reduced capacity, salons have not been able to return to the revenue once earned prior to the COVID-19 pandemic. 
Where are individuals contracting COVID? The state of New York recently analyzed 46,000 data points from over 200,000 cases of COVID-19. State officials in New York reported household/social gatherings were responsible for 73.84% of COVID-19 transmissions. Following household/social gatherings include healthcare delivery, higher education, restaurants and bars, travel/vacation, and sports. Further down the list of shares of exposure sources assessed, at number 17, is hair and personal care at .014%. Data results prompted New York Governor Andrew Cuomo to revise previous restrictions the state placed on beauty industry establishments. Salons are now allowed to operate, some under reduced capacity.            
Although the use of data prompted decisions in New York, California is struggling with a hospital capacity rate so high the state decided a temporary shut down was in order. California Governor Gavin Newsom announced in early December the state would impose a regional stay at home order to stop the concerning rise of hospital capacity rates due to COVID. The temporary shut down is directly linked to the COVID crisis and not correlated with any specific businesses. Salons have not been identified as a source of COVID transmissions. California reported 0% ICU availability for thirteen counties while sixteen other counties have five or less ICU beds accessible.      
PBA shared data with Governor Newsom's team resulting from a survey sent to California beauty professionals regarding COVID contact tracing. PBA's data included  661 responses. These 661 responses reflect services provided by 4,975 licensed professionals. 432,922+ clients received professional beauty services, and 110 clients (.025%) reported testing positive for COVID-19 within fourteen days of visiting a salon. This could potentially lead to four secondary cases. However, it is explained to PBA that it is not salons that caused the shutdown, it is the hospital capacity crisis. The data may or may not sway the state government to reconsider salon closures, however the ask of PBA is to allow salons to fully reopen.
While most would agree data allows for knowledgeable and informed decision making, the use of data also helps support the reasoning behind a decision. Without a causal explanation or link for a decision that is relatable especially when that decision causes such a massive disruption including the closure of business and loss of jobs, many will lose faith in the process even if it is for the greater good during a national pandemic. 
PBA's use of data and data sharing will continue as we still navigate the state's balancing act between decisions involving the impact of COVID-19 and state processes for economic support of small businesses.    
Myra Y. Irizarry Reddy is the Director of Government Affairs for the Professional Beauty Association (PBA). Myra studies various issues affecting the professional beauty industry including local, state and federal legislation. She writes advocacy campaigns, policy positions, and testimony. Prior to joining PBA, she served as a staff member for the U.S. Senate, U.S. House, the Texas State Legislature, and the California State Assembly.