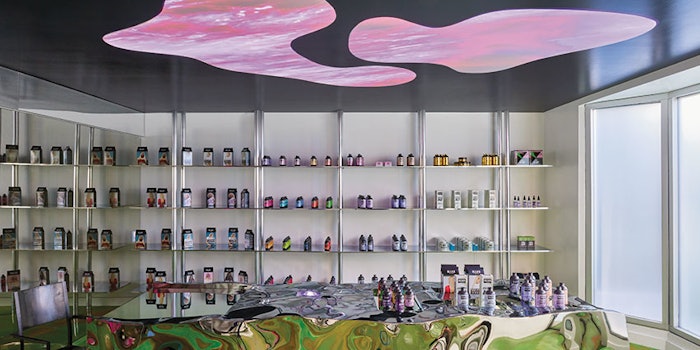 Los Angeles
INSIDE STORY:
At just 12 years old, Alex Brownsell (@alexbrownsell) shadowed her mom, who owned a salon in Midlands, England. "I was a hairdressing child prodigy," she laughs. Though salon work came easy, she dreamt of the London fashion scene and, at age 16, made the move to the big city. Once there, Brownsell immediately began assisting at London Fashion Week. "I don't think that's legal anymore!" she confesses of her underage employment. Soon, Brownsell was racking up editorial jobs full time, shooting for fashion magazines, TV shows and brands. All the while, she noticed a gap in the market: Nobody could bleach hair properly. "I'd learned from my mum how to bleach hair correctly," Brownsell says. "The demand was crazy!"
Operating out of her house, she lifted head after head of hair for a who's who of the fashion set. "I had a bit of an interesting hair commune there," she laughs. With interest snowballing and space dwindling, Brownsell tapped one of her freelance clients from the television show The X Factor for advice—and a year later found herself setting up BLEACH London (@bleachlondon) in the back of a nail salon in Dalston, East London. That was 2010; over the next decade Brownsell launched a wildly successful color line, opened a second U.K.-based location and continued to perfect her specialized approach to bleaching hair and dip-dying fashion colors—all by the age of 33.
Not one to rest on success, Brownsell turned her sights across the pond with the July 2021 opening of BLEACH LA Salon. Five years in the making, BLEACH Los Angeles, located in the shopping mecca Beverly Grove, is a feast for the senses. Looking beyond interior design, Brownsell tapped creative director Imogene Strauss, a tour de force in music videos, to brainstorm the unexpected. Along with BC Design, the team synthesized Brownsell's concept of creating a wholly unique immersive space. "We talked about amorphous shapes and what shampoo looks like when it's coming out of a bottle; what foils look like when reflecting the light," she says. "So every element of it, if you look at it closely, is actually self-referential to our salon." To wit: A high-gloss epoxy floor swirling with green and orange appears like dyes in a mixing bowl; a blown-steel reception desk resembles foils; and volcanic stone oozing down the sides of washbowls mimics shampoo bubbling from a bottle. On the ceiling, white globular blobs project videos of hair being cut, blow-dried, washed and colored at a micro level, and each video is accompanied by sound—the crisp clip of scissors slashing through hair; the gummy swish of dye mixing; the buzzy whir of blowdryer motors. "I've grown up in the salon, so those sounds of snipping, washing, combing, blow-drying—I find them really soothing … it's like coming home," Brownsell says.
A soothing environment is key; after all, BLEACH specializes in experimental color and color correction—services that can take four or more hours. Yet Brownsell insists on her original BLEACH concept of one-on-one appointments where clients are never shuffled between assistants and multiple stylists. One stylist devotes the entire appointment to one client, with stylists seeing two clients per day at the max. "I think this business model gives the best experience for the client and the hairdresser," Brownsell says. "There remains a big barrier to entry for hair bleaching because it continues to have negative connotations—people still worry that it'll damage their hair. What you want as a client is a stylist who really enjoys creating with you, is taking the proper care and time, and who isn't clock-watching and trying to rush you out the door."
Brownsell shares that an initial BLEACH LA visit starts at a fairly high price point: $500. "But, in that first appointment, you have six hours with your stylist to go through a very thorough consultation process where they actually do a test on your hair, map out aftercare, give you free product, and do your service," she says. Once the stylist knows the client's hair and needs, each following appointment is priced accordingly. "We put an all-inclusive blanket cost on that first appointment because the client gets so much more attention," Brownsell explains. "And, I wanted to take the complication of add-ons and upsells out of the process. You wouldn't buy a handbag and be confused about how much it costs, right? No handbag-maker says: If I add a pocket, it's going to be an extra $100 and, if you want a strap, that's another $100, too."
Brownsell's hope is that no matter the price tag, clients walk away not only with lifted hair, but also lifted spirits. "We want to bring that real bespoke high-end hair-dye experience to Los Angeles," she says.
Amorphous screens on the ceiling project bird's eye visuals of hair while a blown-steel reception desk reflects like hair foils.
WHAT'S UNIQUE
European Holiday: "We've given our team European contracts, meaning they get 28 days of paid holiday," says Brownsell. "It was mind-blowing for them."
Experimental Vibe: Though Brownsell originally floated New York City as her American outpost, Los Angeles locals' willingness to experiment ultimately won out. "I think people are really willing to invest time and money into their appearance here, and they view going to the salon as a leisure activity rather than a necessity, which I like," she says.
One to Watch: Nevada Raffaele (@nevadastyles)
This editorial stylist at
BLEACH LA works wonders behind the chair with different hair textures and a love of mix-and-match vivids.
Volcanic stone seemingly erupts from shampoo basins much like shampoo from a bottle.
The swirling colors in the epoxy floors mimic dyes being mixed.