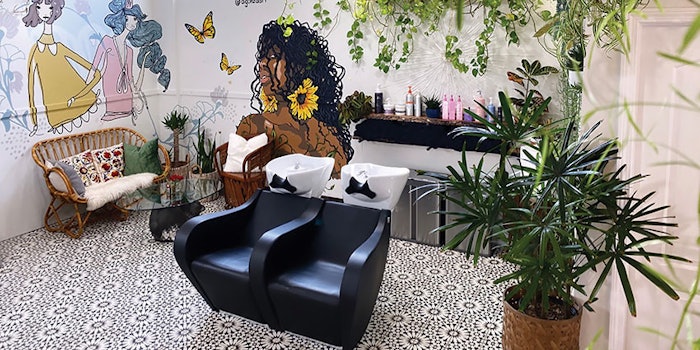 Love Culture / Providence, Rhode Island
INSIDE STORY:
When Love Culture (@loveculturesalon) opened its doors in early 2019 in the West End of Providence, Rhode Island, like much of the rest of the world, co-owners Jamie Millmather and Kate Convery didn't foresee that a mere year later a pandemic would upend their business. "We felt like we had to work harder than ever to stay relevant and not let the 'COVID fog' affect where our vision was headed," says Millmather of the shake-up. "Thank God we had each other to lean on. Some days were harder than others, but having such a good partner in crime was helpful to stay positive and energetic."
That positive energy became central to the duo's renewed mission: Keep busy—and spread the love while they're at it. "For me, perspective is everything. I believe the energy you put out is the energy you receive. Learning how to grieve the hard days allowed me to see the light," says Millmather.
"I think it was important that we didn't let COVID stop us from growing," agrees Convery. Rather than viewing COVID restrictions as a blockade to expansion, the co-owners treated this downtime as anything but. "Keeping my mind active with thoughts on how to continue to build on what we already had kept me in a good headspace," says Millmather. Love Culture began partnering with Green Circle Salons to responsibly recycle salon waste, added indie haircare brand Saco to their retail offerings to "give clients something new and innovative to play with," says Millmather, and co-created Love Culture's own texturizing spray, Love Spell. "We just kept each other inspired and shared our knowledge with others," Convery says. The duo also turned their attention to social media, drumming up interest in what Love Culture means: "a culture where we love what we're doing and the environment we're in; a culture that people love and believe in," says Millmather. "[Our message through social media], in turn, made new clients—during a pandemic—want to come in and see what this culture was all about," adds Convery.
When lockdown lifted after a three-month stretch, the 1,000-square-foot space re-welcomed clients to its warm, lush environment. More than 200 plants in a variety of wicker baskets wend their verdant leaves around reclaimed wood and love-worn vintage furniture, like a pair of high-back mustard-velvet chairs. "It's almost like a greenhouse in there," laughs Millmather. The duo sprinkles decor finds from their travels and pieces sourced from local shops throughout the space, like the mismatched vintage mirrors that dot each workstation. Of course, Love Culture isn't without luxurious salon-forward pieces. "We love our Gamma & Bross Celebrity Prime Shiatsu shampoo bowls; they give the most relaxing massage while clients are reclined and getting their hair cleansed," Millmather attests.
Further enhancing the eclectic nature of Love Culture: a mix of wall murals—disparate in style, yet completely at home together. "They were made by local female artists and our clients Jessa Cabral, Liz Kelley and Angela Gonzalez," Convery says. "We feel inspired by what they create, so we had them come in and get creative inour space."
"It's important to support each other and help give others a platform so their work can be seen," adds Millmather. "Us creative people have to stick together and lift each other up!"
And the duo is more than ready to lift up their community, too. "Our first day back to work after being closed for three months, we donated 100-percent of our proceeds to the Urban League of Rhode Island," Millmather reports. The enterprising duo also sold a special run of Love Culture T-shirts for the Black Lives Matter movement and donated 100-percent of the proceeds to the Color of Change organization; hosted a small education class pre-2020 election with all proceeds going to Rock the Vote; and donated products to local women's shelters. "Giving back means everything to us; we're so fortunate for what we have," Millmather says. "If we can help make a difference in any way, we will!"
RETAIL HAIR LINES:
Hairstory, Cult & King, Saco
COLOR LINE:
Wella Professionals
POPULAR SERVICES:
Lived-in color and razor cutting
Resident salon pup Chunk rests on vintage high-back chairs in the waiting area.
Local artists—many of whom are Love Culture clients—paint murals in the cozy space.
WHAT'S UNIQUE
Vintage Haven: An eclectic mix of antique furniture and old books about hair, fashion and beauty outfit the space.
A+ Education: Millmather is a Wella Professionals master colorist and master stylist, while Convery, a specialist in razor cutting, has studied at Bumble & bumble and Arrojo Cosmetology School.
Artist Community: Several of Love Culture's clients are artists, and have showcased their works on the walls of the salon.