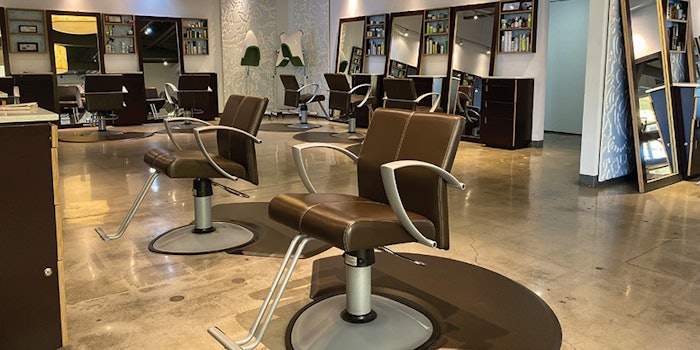 Studio City, California
INSIDE STORY:
Shai Amiel (@shaiamiel) owes a lot to his assistant years. In 1994 at famed Allen Edwards Salon in Studio City, California, he discovered a love of curly hair while drying spirals—an experience that would plant a seed for his future. Two years later, Shai relocated to Capella Salon (@capellasalon), also in Studio City, where he sought to complete his education as an assistant, and promptly met (and assisted!) his future wife, Nicole. Like all green stylists, he was hungry for more, working his way up to manager at Capella as he earned the trust of the team and owner. "As a young stylist I remember sitting, waiting for business and watching the more experienced and busy hairdressers run around the salon. I dreamt of having a full book one day," he admits.
When his book filled and the opportunity arose to purchase Capella Salon in 2001, Shai and Nicole jumped at the chance. "We've been working together since 1994," Shai says warmly. And when it came time to expand Capella from its 1,500-square-foot original space to where it currently resides, a 3,500-square-foot haven, the duo did what they do best: Work together.
Two decades later, and Capella continues to boast hairdressers with full books. Shai believes the businesses' longevity under his and Nicole's ownership boils down to a sincere focus on the clients and their experience. "It was never about an image or how many celebrities we could host. It's about teaching as young as a two-year-old child or even someone in his or her 70s how to take care of his or her own hair," he says. This focus on education also extends to staff. "We love educating our clients while our assistants are perfecting their skills as stylists. It's so important for us to teach everyone to accept their natural hair and also teach them how to care for their own hair," he informs, adding, "We currently have nine stylists, including myself, who trained at Capella Salon."
That education includes a focus on curls. Shai, known in hair circles as The Curl Doctor, recognized the deluge of curl care information—often confusing or misleading—that people experience and decided to offer these clients dedicated time and knowledge to maximize their whorls. "I cut curly hair one curl at a time," he says, noting that a cut can take an hour. From there, clients experience several steps, including cleansing, moisture, proper product application and detangling, which can take several hours. "Our salon offers fully reclinable chairs at the shampoo bowls that have a massage system. We know our service isn't quick and we try to keep our clients as comfortable as possible," Shai says. Every step of the way, he explains the what, how and why of the process because he feels that know-how is empowerment. "It's so important to give people the proper knowledge they need so they don't feel lost or insecure. To this day we encounter new clients that have no clue how to do their own hair," he laments. "They rely on their stylists to wash and style so they never have to do it, but this also limits their lives if they need to go out of town or just want to play with their own creativity."
Such dedication to Capella's clients, as well as its staff, is what Shai believes has kept the salon successful since its inception. "I believe our dedication to doing our jobs as well as we can is something we don't take for granted," he says.
RETAIL HAIR LINES:
Innersense Organic Beauty, Authentic Beauty, Davines and REF
COLOR LINES:
Redken, Schwarzkopf Professional, L'Oréal Professionnel, Goldwell and Nayo
REFRESHMENTS:
The World Famous Capella Iced Tea, water
POPULAR SERVICE:
Curl by Curl Haircut
WHAT'S UNIQUE
Team Efforts: With education comes a special bond. "Our staff is truly a team. We'll meet up in the lab and collaborate with each other," says Shai. "So many times we'll pull another stylist aside or even in front of a client to discuss options."
Bonsai!: Shai's love of bonsai informed the addition of Wolf Gordon damask wallpaper, which the owners also mimicked in a custom wood wall. "We found an artist that does laser-cutting of the exact same pattern. It brought it to life with the 3D effect," says Shai.
MMMM-Massage: Unique shampoo bowls with fully reclinable massage chairs allow curly clients to truly relax while they receive lengthy treatments.