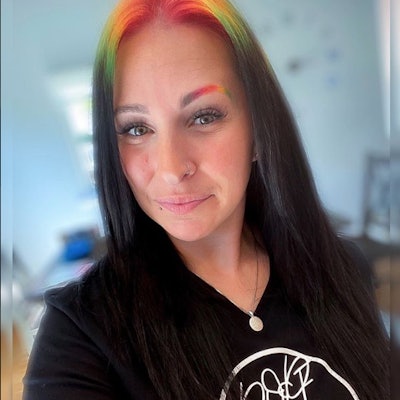 Recently Alkali Beauty, a luxury haircare line created by stylists for stylists and their clients, announced that Jess Rowland (@row_house_hair) is the company's newest artistic director. The brand, which is 100% women owned, prides itself not only on using simple, natural ingredients, but also on having created an inclusive community of hairstylists that cares about hair and each other. As Michelle Carter, stylist and founder of Alkali Beauty, explains: "Our aim has always been to give people without tons of followers a platform to shine on too." 
"Becoming artistic director for Alkali Beauty is such an honor!" says Rowland. "I have been with them for almost two years now and I love everything they stand for—especially that they are women owned and operated. They are inclusive and no one feels left out."
RELATED: Jess Rowland Makes Face Masks With the Stylist in Mind 
The brand features a full range of styling products, from shampoos to stylers and everything in between. "Not only do they have amazing products that really deliver, they are so much more than just products," says Rowland. "We have created a movement that is full of amazing support, love, and now family. Being artistic director will give me the opportunity to grow the brand and myself. While we may be a small company, we have huge love for the industry. We are here to show that stylists can support and love each other and that together we rise."
"We are beyond excited and honored to have the fabulous Jessica Rowland as our artistic director," says Carter. "She believes, like we do, that kindness and love go a long way, and that as our world changes we need more positivity and inclusion."