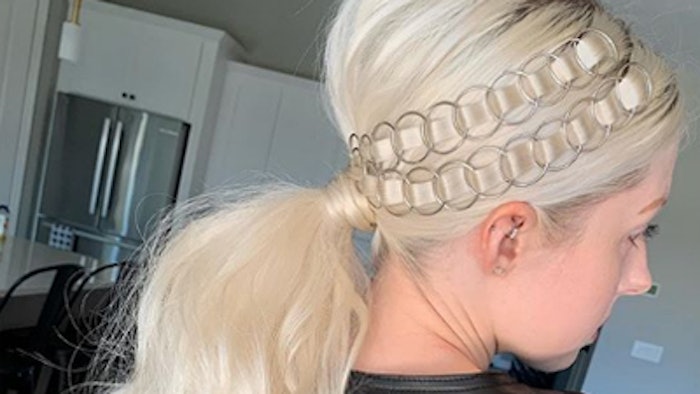 As we head into the warmer summer months, braiding and upstyles begin to gain in popularity. What styles do you forecast will be big this summer?
The weather is going to get warmer and just like you all I think "what styles would my followers/clients like to see" I forecast women being more adventurous with their hair. Clip on human hair ponytails are such a vibe. Easy way to get and Impactful style. Very versatile as well, braid it, wrap it and you have a beautiful bold low messy bun. Perfect for summer!!!
We've seen that creating texture helps to build foundation for styles. Can you please explain how you achieve this, with tools and products?
Texture is a must when building a foundation on any hair type. Using a crimper will create a great foundations for up styles. Crimping lightly will help you be able to mold the hair into whatever shape you desire. A flat iron will also give you a great long lasting curl. High Tide by Sexy Hair is the perfect product to create texture at the roots end ends then finished with Sufer Girl by Sexy Hair a texturizing hairspray. Powder Play Lite is another great option for creating texture. Use it before teasing the hair or pulling out a braid for hold and longevity.
What are some of your favorite texture-creating tips?
A big tip of mine Is knowing when you need to create texture. Some hair types already have a lot of texture and adding more can create dullness and frizz. Treat up styling like a haircut consultation. Look and the hair, figure out what's possible, understand why your using the products your using and deliver the best option for that client. Some hair types have so much texture naturally could use Rose Elixir (shine spray) and still have a beautiful lived in textured style. Sexy Hair just launched Sunny Vibes which is a texturizing gel. It's created for adding to already curly/textured hair for more definition and help. This product is gonna WOW you!
What's the difference between visual texture and tactile texture? How do you create each of these looks?
Visual texture is when you the hair looks effortless. Tactile is when you actually touch the hair to find that it has texture to support the style. Visual texture most likely is added when the style is already finished. High Tide is a great option for that. Tactile texture is added with the style is in development. During the prep of the style. Both are very important!!
What are your favorite products for creating easy, casual texture? How about for more structured styles?
I love creating both textured styles and structures styles. Behind the chair I'm creating more lived in/wearable styles and on Instagram more structure styles. Sufer Girl and Sunny Vibes are my new favorite products for causal texture. Beach'n Spray and Foam party can be used for my structured styles. Think keeping the hair wet while braiding on the scalp!
Meet the scintillating stars of the Texture Sexy Hair collection.
1. High Tide Texturizing Finiching Hairspray imparts medium hold as it ramps up separation.
2. Surfer Girl Dry Texturizing Spray bestows beach-worthy waves.
3. Clean Wave Texturizing Styling Shampoo maintains hair's natural shine while increasing texture.
4. Beach'n Spray Texturizing Beach Spray is ideal for texture touch-ups.
5. Foam Party Lite Texturizing Foam can be used on damp or dry hair for additional shine, enhanced texture and buildable hold.
[Images: Courtesy of Sexy Hair; Instagram]