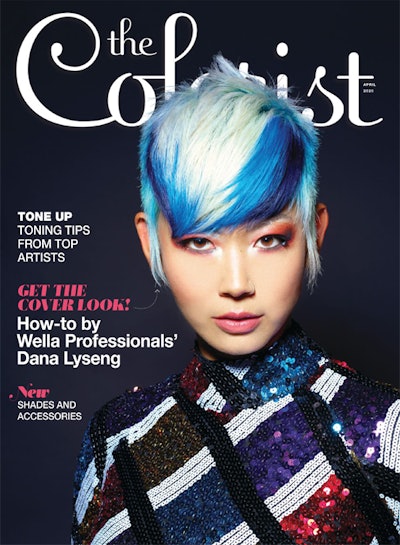 This issue's The Colorist cover, and the accompanying images featured on these pages, shine the spotlight on Canadian Wella Professionals top artist Dana Lyseng. Dubbed Discotheque, the collection is inspired by the sexy, confident clubgoers who are still going strong and sparkling well into the early morning hours. Modern cuts are coupled with bold color placement to echo the wearer's sense of ease and self- confidence. Check out how to replicate the powerful blue cover look with the accompanying how-to from Lyseng.
Get the Cover Look
*Model is a natural level 3.
Step 1: Begin with a virgin double- process blonde lightening service, pre-lightening with Blondor Multi Blonde Powder Lightener and 30-vol. developer.
Step 2: Once mids and ends are at a level 8, use Blondor Multi Blonde Powder Lightener and 25-vol. developer on the regrowth. Lighten to a level 10. (Note: If hair looks gold, apply additional 20-vol. developer mixed with two parts Soft Cream Blond from roots to ends to get the hair to a clear level 10 blonde.)
Step 3: Tone using 10/1 Illumina Gloss with equal parts 1.9% and Service Color Post Treatment.
Step 4: Once hair is icy blonde, take two triangular-shaped sections from the back working toward the face, softening to a crescent shape around the eyes to the center of the hairline. Make sure the triangles meet in the middle of the hairline.
Step 5: Color the bottom triangle with Color Fresh Create New Blue and a small amount of Pure Violet for more depth. For the top triangle, use New Blue along with Tomorrow Clear and a bit of Future Yellow. Both Tomorrow Clear and Future Yellow enhance light and depth. Tone the blonde hair in between the triangles with Tomorrow Clear and a small amount of New Blue for an icy blonde finish.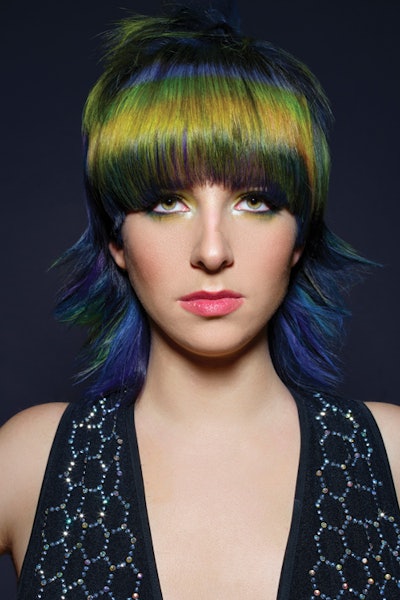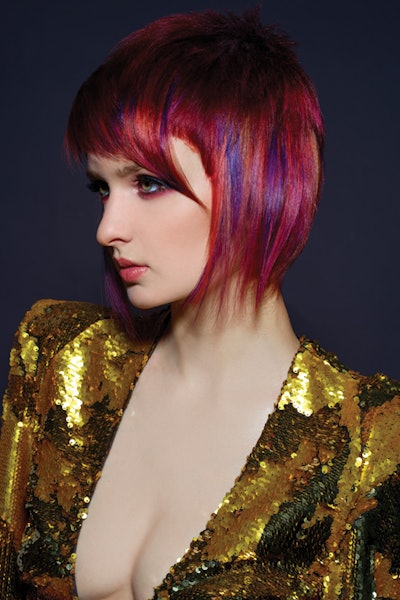 [Images: Hair: Dana Lyseng; Photographer: Kale Friesen]