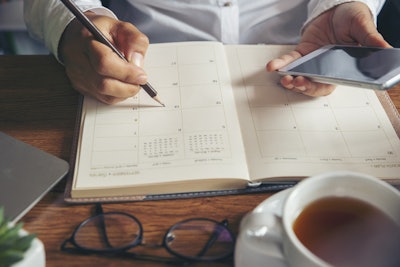 From initial brainstorming to nailing the perfect timing, successful soirees require a bevy of working parts. Host a stellar salon shindig with these five expert tips on savvy event planning.
Hosting events offers an effective way to ramp up your salon's fun factor and community profile, boost revenue, build your brand, and even attract new clients. But experts agree: They require detailed planning at every turn. Here, savvy salon pros share their advice for making your next event a smashing success.
1. Brainstorming the Basics: First, ask yourself (and your team) what the event should achieve. Kat Riley, Eufora national trainer and owner of Katherine Jon Salon in Port Jefferson Station, New York, preplans for the entire year and starts scheduling her quarterly events at least six months prior, delegating jobs based on everyone's strengths. "Work seasonally, or by what the salon is lacking, to determine goals—whether it's prebooking, more exposure, bringing in new clients, celebrations or education," Riley recommends.
2. Create a Game Plan: Dominic Carbone, producer/ artistic director for Beauty Coach in West Hollywood, California, stresses the importance of adhering to a timeline. His ideal to-do order: Set a budget (padding by 20 percent for unexpected expenses); nail a location, time and date; send invites; and book any necessary vendors—confirming with all two days prior.
RELATED: Wayne Grund Shares His Best Practices for Ramping Up Your Salon Retail
3. Cater to Clients: Certain events are perennially popular among clients—Carbone loves feel-good or charity-based affairs (think: providing free cuts to cancer patients and survivors), or soirees celebrating clients and staff. "Our client-appreciation nights, where we do hands-on style tutorials with our guests, are super popular," Riley agrees. "Know your audience and provide whatever you think would excite and benefit them the most." Her salon has hosted "Girls' Night In," with loungewear attire, and theme nights like "Jamaican Me Beautiful" or "A Night in Italy."
4. Mind Your Timing: Carbone recommends slotting a reasonable window for events (plus setup and breakdown time). "Most people don't want to be the first to arrive or the last to leave, and usually stay for about an hour or an hour and a half," he explains. "Three hours is the perfect time frame."
5. Spread the Word: To publicize events, Carbone creates a digital flyer, hashtag and social media posting schedule for staff. "We make chic decals of the hashtag for station mirrors so clients will ask about it," he notes. Meanwhile, Riley mails personal invitations to each stylist's top 10 guests (they receive a $10 product voucher for each event-goer referral), then follows up with Facebook and Instagram posts, plus mass invites and reminders to the entire client base, starting at least one month prior.
[Image: iStock]
This story first appeared in the March issue of Beauty Launchpad. To receive the magazine, click here to subscribe.