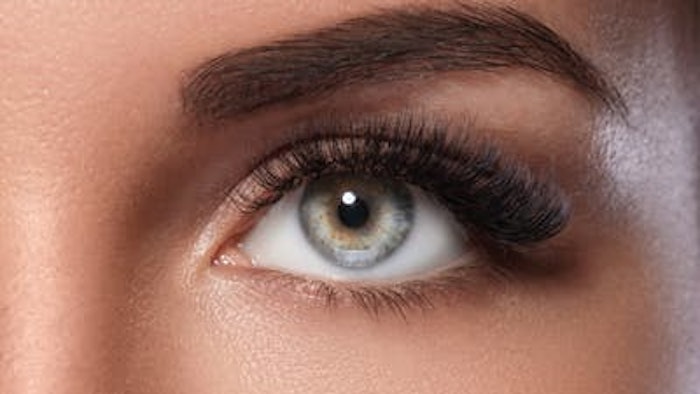 In an industry where creativity reigns supreme and lash clients crave something utterly unique (yet still on trend), it's no surprise that everyone's clamoring for the hybrid look. By blending Classic and Volume extensions into one set, lash techs not only deliver customization, but they can also crank up the drama without sacrificing softness. "Hybrids achieve a textured, edgy look that syncs with current fashion trends—they're the key to a Kim Kardashian effect, where the artist juts out the top line in chunks to simulate clumpy mascara," says Soo-Jin Yang, founder and CEO of Illumino Lashes in Oakland, California.
Hybrid sets can also be great for beauty pros new to the Volume technique. "I started doing them when I was a beginner Volume artist," notes Yang. "I wasn't fast enough with fans to do a full set, so hybrids were a nice in-between option while I got my Volume sea legs." The application time appeals to artists and clients alike, adds April Eve, master lash artist, trainer and owner of Lash Out! Pro in La Jolla, California. "A full Volume set can take two to three hours, but a hybrid set can take one and a half hours or less," she notes.
What's more, you can charge almost as much as you would for a Volume set without serving up quite as much sticker shock. "Some people may not be able to afford the higher price of Volume, so hybrid is a good alternative," says DeeDee Marcoux, lash artist, esthetician and owner of Fabulash Faces in Neosho, Missouri, where a full Classic set is priced at $200 (fill $65); hybrid goes for $250 (fill $75) and Volume costs $275 (fill $85). On that note, Marcoux shares this quick tip for transitioning Classic clients to hybrid: "Offer a one-time fill using Volume fans at the Classic fill price. Thereafter, the fill is the higher hybrid price. Every time I've offered this, the client has accepted and switched over to hybrid."
RELATED: Are You a Good Candidate for a Career in Lashes?
Blending Basics
Obviously, lash artists need to have some Volume training before offering hybrid sets—or they should at least know how to apply premade fans, says Yang. "A heat-bonded fan with a slightly longer stem is what you want to look for with the premade options," notes Michelle Rath, owner of Sinful Lashes-Sinful Brows in Studio City, California. "Heat-bonded fans won't add any extra weight, and the slightly longer stem will allow you to place it the same way you pick up and place a Classic lash."
When planning a hybrid set, you can use the same lash maps you would for a Classic and/or Volume set. "Mapping out your set is so important for creating a cohesive look," says Tamra Hami from the Sugarlash Pro Board of Education in Alberta, Canada. "Without mapping, poor planning of hybrid lash sets could result in an uneven lash line and lack of consistency from one eye to the next."
To deliver a lot of texture and profile volume, Hami recommends using a variety of diameters and curls in both Classic and Volume application. "Get creative and break out of the traditional mapping styles," she enthuses. Marcoux adds that Classic lashes should be no heavier than .15 mm, and she likes to create Volume fans with .05 mm to .07 mm lashes. "This will help you create the fullest effect possible," she explains, adding, "If the client wants more drama, make your fans narrow, and if they want a 'fluffy' appearance, make your fans wider."
Meanwhile, a variety of factors come into play when determining your ratio of Classic to Volume lashes. Rath says a 50/50 mix is the easiest approach for creating a beautiful hybrid set. However, "for someone who doesn't have a lot of natural lashes, you can go with 40-percent Classic and 60-percent wide Volume fans," Marcoux notes. "Play with the ratio after you get the basics of the technique down to change the overall effect and create a truly customized work of art. Just aim for symmetry and always watch your isolation. This is extremely important in all lash applications, but even more so when adding Volume fans."
RELATED: Get To Know Raylene Cravens, 2019 NovaLash Lash Artist of the Year
Lengthy Conversations
The length of each extension or fan will help guide the look as well. "My favorite hybrid look is to use longer Classic or flat lashes and shorter Volume lashes," says Rath. Using shorter lashes for the fans ensures the Classic ones don't get buried, adds Eve. "The longer Classic extension is what gives the textured look and the shorter Volume is what gives the thickness in the lash line," she says. Hami agrees, and says this kind of blend is one of her most requested hybrid looks. "Allowing the longer Classic lashes to create the peaks in your set and filling in for fullness with shorter Volume fans creates a fluffy, almost natural strip-lash look, which is currently very popular," she says.
When blending a hybrid set, Yang likes to keep her Classic and Volume lengths within 2 to 3 mm of each other. "For instance, if my longest Volume fans are 10 mm, I don't go above 12 mm or 13 mm for the longest lengths of my Classic extensions," she says. "Lash mapping is great for sticking to the design you decide on in the beginning of the set. I mark the lengths for the various parts of the design on my Lash Grid Tape, so I know that when the client opens her eyes at the end, everything will be symmetrical."
Starting with your Classic lash palette, Eve recommends evenly distributing longer, single lashes—inner, middle and outer eye—to the client's strongest (catagen stage) lashes. "Then go in with your Volume lash palette and fill those babies up," she continues. "Once you have the desired fullness, you can tape up the extended lashes to reveal a layer of natural lashes and switch back to shorter Classic lashes so every lash is extended. Of course, this is all customizable and open to each artist's and client's style."
Ultimately, as with both Classic and Volume, you must plan your hybrid sets intentionally, being mindful that the longest extensions are both flattering and safe for the natural lashes, Yang advises. "The opportunities are endless with the amount of texture that can be created," says Hami. Eve agrees: "Hybrid lashes really allow the artist to be as creative as she wants, which is why they're a favorite of mine—and an obvious growing trend in the industry."
Hybrid Helpers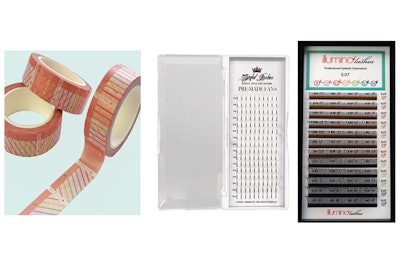 Illumino Lashes Lash Grid Tape: has a rulerlike design for both straight and diagonal lash mapping and is easy to write on as well as remove from eye gel pads and lash palettes.
Sinful Lashes Premade Fan 4D and 5D Mix Tray: are heat-bonded with long enough stems that budding hybrid artists can pick up and place Volume lashes as easily as Classic ones.
Illumino Lashes Pop Lash accelerates Volume-making with prespaced lash strips that pop into instant 5-Ds—great for hybrid artists who are just starting
to integrate fans into their services.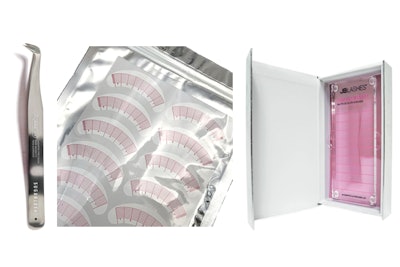 Sugarlash Pro V Master: is a Volume-lashing essential with a sturdy grip and larger foot paddles that close tightly across the tweezer to help techs grab anywhere from 2 to 12 lashes at a time.
PremierLash Lash Map Stickers: help illustrate different lash mapping techniques, accounting for eye shapes and the pattern of lashes to be applied, as well as help pros determine reasonable extension lengths by measuring the natural lash.
JB Lashes Acrylic Lash Palette: is a must-have for working with Volume and Classic extensions, helping to isolate fans or individual lashes from the strip and prepare them for each application.
–by Alexa Joy Sherman
[Images: Bigstock; manufacturers]