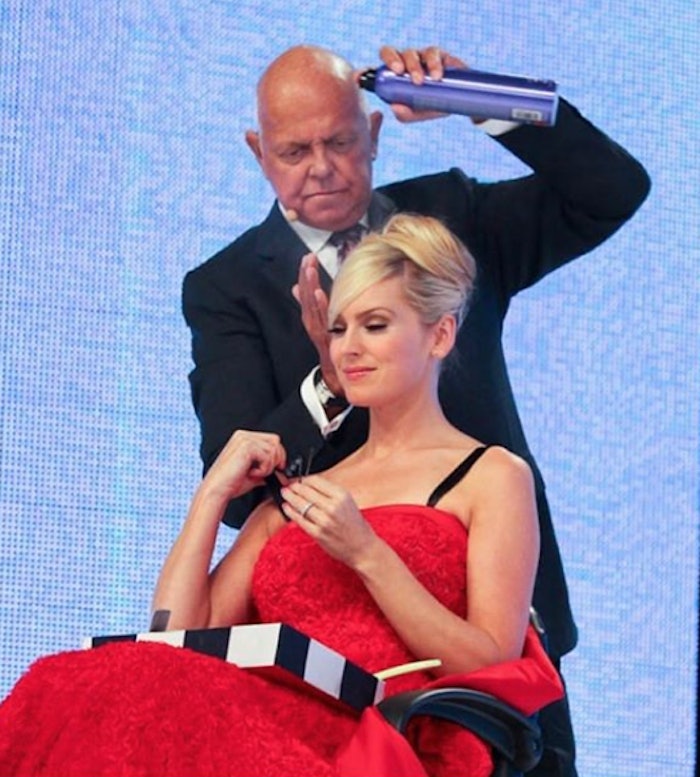 It is with great sadness that we learned that renowned hairstylist and educator Martin Parsons passed away on October 21, 2019. His brother Kent Parsons posted the following message on Facebook and Instagram earlier today: 
Passing of Martin Parsons
It is with great sadness that I must announce the passing of my brother, Martin Parsons. He passed peacefully in Toronto on October 21, 2019 with his family and friends by his side. 
From the age of 11 Martin knew that he wanted to be was a hairdresser. Our aunt took him to his first hair show in Detroit to see the Zegarelli Brothers with Beaute Craft and from that moment on he realized he wanted to be on stage. As soon as he could he enrolled with Bruno's Schools in London Ontario and his journey began. 
Always looking the part in his impeccable tailored suits as he walked out on stage, his audiences always knew they were in for a great experience. His hands had the grace and elegance of a champion figure skater, magically creating stunning styles in just minutes. And then there were his gowns! His creativity knew no bounds. With professionalism and focus he would deliver his consistent message, "We are in the greatest industry and get to create beauty every day of our lives. Who else can touch so many people in our communities? Stand up and be proud to be a hairdresser!" 
In classes, Martin was proudest when sharing his Cutting & Design Techniques and Updo Concepts with so many and was thrilled when the "a ha" moments from those that attended. His patience and encouragement to young and old, inspired multiple generations of stylists to be better at their craft, everyday. Whether a picture, a chat, answer to a question or just a hug, he was always real and genuine to everyone he met.
Martin crossed paths with many people that had an impact on his life and career and two stand out. Evelyn Hathaway from Bruno's saw and nurtured his talents and gave him his first tastes of the stage and Paula Kent Meehan, founder of Redken who gave him true friendship and the opportunities of a lifetime. To all the others, thank you for believing in Martin. It meant the world to him and he never forgot who you are.
His hope is that we all take a few minutes each day to share ideas and help our fellow stylists to make our industry a little better every day. That would make him smile. 
Martin will be missed by many from around the world. He was proud of a career that gave him an incredible life and I was so honoured and lucky to be one of the people to share the adventure with him.
We would love to hear the ways that Martin Parsons impacted your life and career. Lee Rizzuto, owner of Conair/BaByliss shares, "Martin's boundless creativity, impeccable style and good nature left an indelible impression on me and everyone who had the good fortune to work with him. Martin was an esteemed friend and business associate of my family, which founded the Conair/Babyliss Corporation. Martin traveled the globe with our BaByliss team and inspired hairstylists all around the world. He was an inexhaustible source of inspiration. Beyond his countless achievements in the industry and his contributions to Conair, all those who interacted with him at the company will always remember Martin as a much-loved member of the Conair family. He was as gracious as he was ground-breaking. Though I and all of Conair mourn his loss, we can truly say that Martin Parsons left the world a more beautiful place."
Below are a few snippets some have already shared with us on our Facebook and Instagram pages. We invite you to share your memories as well. 
INSTAGRAM:
"He was a major inspiration to me and one of the best educators in a generation. He will be missed" --@braidedandblonde

"This makes me so sad.  I met him just two years ago in beauty school when he came in to teach all of us students a class. He was one of a kind. Very kind, funny, and extremely talented. " -- @makennayounghair

"His humor was unparalleled and his true passion for creating made him an icon. We lost a great today " --@spencerlaineartistry

FACEBOOK: 
"The very first hair show that I attended, he was there on stage. He explained things simply & created art. So sad to hear of his passing.........Sincere Condolences " -- Donna Byrd Warman

"So sad to hear of this. I purchased a book from him with updo styles. I have always struggled with them. He encouraged me and signed my book. I still have it. RIP Martin. You were always an inspiration to me and our industry." -- Pamela Peck-High

"Are you kidding me? His videos taught me everything I know about updos. Looks like all the angels in heaven are about to have good hair " -- Melodica Lee