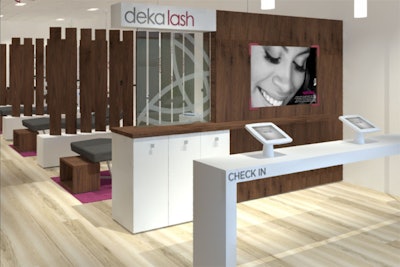 Combining work and family life isn't easy, yet Jennifer Blair, cofounder of booming lash franchise Deka Lash, has managed to do just that with great success. Before opening her first lash studio with her husband, Michael, the pair ran a teeth-whitening business in Pittsburgh. But once Blair experienced lash extensions for the first time, she immediately wanted to learn the technique and offer it to clients. "When I first started out, I wasn't looking to launch a brand. I saw the reaction clients had after their first lash application: the excitement, the smiles, the initial 'wow' factor," explains Blair. "I became passionate about finding ways to make the service affordable and convenient." Since opening its doors in 2011, Deka Lash has grown from a stand-alone studio with three beds and five employees to a bustling franchise with more than 40 locations across the United States. Blair's daughters, Demi and Karli, the company's namesakes, have even gotten involved in the family business: Demi is a lash artist and trainer and Karli is a customer service specialist.
With so many lash studios popping up, what sets Deka Lash apart from other franchises? "We're dedicated to fitting every lifestyle," Blair says. Deka Lash also prides itself on creating a positive atmosphere for everyone, clients and lash artists. For example, Deka Lash offers semi-private rooms, ergonomically designed beds and an upbeat, non-repetitive playlist to help lash artists feel engaged, comfortable and motivated throughout the day. Another perk for Deka Lash employees? All of the customer service specialists receive free lash extensions. "We want our clients to know that when they call, they're speaking with someone who actually wears our lashes," raves Blair.
RELATED: Get To Know Raylene Cravens, 2019 NovaLash Lash Artist of the Year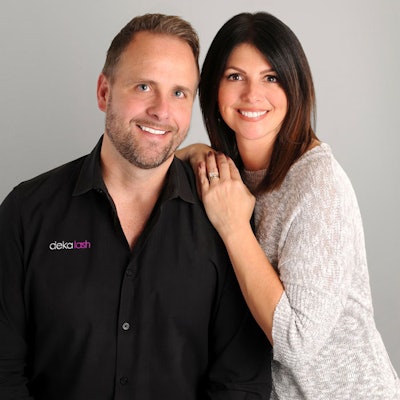 Navigating the franchise world hasn't always been easy. Blair's biggest problem during the early stages of the business was finding certified lash artists. "In the beginning, I was training staff while running the studio and managing the books," admits Blair. Ultimately, Blair decided to create an official Deka Lash training program, which remains a cornerstone for the business. "Whenever someone buys into Deka Lash, we send out one of our certified trainers to the location for four to five days to go over lash application, the client consultation, the studio's culture, etc.," Blair explains. Deka Lash also provides artists and staff with ongoing support. "We offer refresher training videos and have a private social media group where we answer questions and encourage each other," she says. "We also frequently send our trainers to our locations to ensure that our artists are executing our services flawlessly."
RELATED: How to Effectively Boost Business by Selling Aftercare Products
With superior services and top-tier ranks in client satisfaction, Deka Lash is expected to make even greater strides in the year ahead. "Right now, we're on track to have a total of 100 locations open by the year's end," enthuses Blair. What's more, Deka Lash now offers its own range of lash products, from lash cleanser to growth serum to eyeliner. "Our main mission will never change: to inspire women through beautiful lash extensions," insists Blair. "From our people to our products to our processes, we're dedicated to being the best at what we do."
Success Secret
"Partner with the right people," advises Jennifer Blair, cofounder of Deka Lash. "Recognize where you fall short and nd experts in areas that you need improvement."
Primo Product
The Deka Lash Finish Lash Serum and Lash Cleanse are top picks amongst clients. "Our clients love that our products are paraben-free and specifically designed for lash extensions," enthuses Blair. "The products are gentle on the eyes and help with lash retention."
This story first appeared in the January/February issue of Eyelash magazine. To receive the magazine, click here to subscribe.
[Image: Courtesy of Deka Lash]