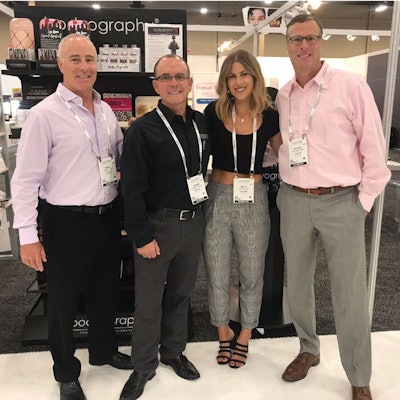 After 20 years in business, Robanda services the entire globe, manufacturing diversified products that cover every beauty need imaginable—literally from head to
toe. However, this powerhouse group has humble roots. From the start, the focus was on family: Brothers Robert, Anthony and David Leib—whose names combine to form the company moniker—launched Robanda in 1999 after immigrating from South Africa. "It was important for us to build a foundation in the United States in order to secure a future for our families," shares David, president and CEO. The initial business plan was likewise modest. "We hoped to manufacture a niche professional skincare line that focused on retinol, which was a hot ingredient at the time," recalls the entrepreneur. Fast-forward two decades, and the San Diego- based conglomerate owns 12 brands, exporting products to more than 50 countries. But they've remained a true family business, with three generations now working under one roof.
RELATED: Meet the Individuals Behind Cosmoprof, Pravana and Schwarzkopf Professional US
"Being able to see our relatives every day, including our parents Gerald and Helen, now in their eighties and still serving as chairman and vice president of finance, respectively, along with my two daughters, Lori and Matti, is quite special," David reflects. The tight-knit crew honors a daily tradition of gathering to eat lunch, discussing everything from weekend plans to future launches. "Our export goal is to be in 80 countries by 2021, spearheaded by the efforts of our cousin, Shawn Russell, VP of international sales," discloses David. For the first time in 10 years, they're also reformulating the original retinol skincare range and launching a new look at Cosmoprof Italy in March. The only downside to such kinship? "Everyone wants to be boss!" laughs David. "But the beauty of family is that no matter what challenges arise, we sit down to work them out."
This story first appeared in the February issue of Beauty Launchpad magazine. To receive the magazine, click here to subscribe.
[Images: Courtesy of Robanda]