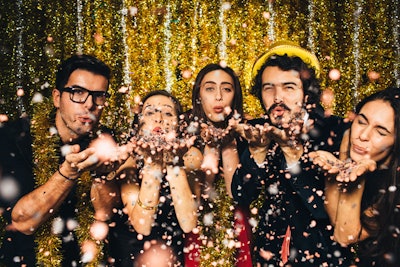 The New Year is a wonderful time to make resolutions—and actually keep those promises you pledge. Following through with healthy ambitions is especially important for harried hairdressers who are experts at serving others yet typically negligent when it comes to self-care. These five pillars make it easy to get and stay on the right lifestyle track; resolve to do them all!
Salon Stretch
"Stylists stand on their feet for extended time spans and perform repetitive motions with upper limbs," notes celeb hairstylist and #Mydentity creator Guy Tang. "We must prepare our bodies for taxing work schedules." Incorporate stretching into morning routines to limber up stiff muscles, and then take a quick break every two hours. Shoulder rolls, wrist and finger spreads, and cross-body arm pulls can be done without quitting the cutting-room floor. You can even follow Tang's stretching lead on his YouTube channel, where he gives in-depth tips as he demos how to de-stress.
RELATED: Beauty Launchpad Predicts Top Beauty Products for 2019
More Movement
Styling requires pros to remain upright and focused on detail-oriented tasks, but there is an upshot. Relatively flexible schedules mean exercise can become a top priority. You don't have to run a marathon—you can take a morning yoga class or lunchtime walk. "Never stand in place for more than 30 minutes," urges Sam Villa, cofounder of the eponymous brand and Redken global artistic ambassador. "A few targeted exercises will help prevent aches for a long, pain-free career."
Diet Do-Over
Ordering delivery is easy, but too much takeout hurts both wallets and waistlines. Rethink daily menus by starting with a good breakfast: fruit combined with protein (such as eggs and yogurt), which keeps you feeling satisfied longer. "Eat every three hours to avoid sugar crashes, and drink at least two liters of water per day," recommends Villa. "When you eat, focus on food—no books, smartphones or tablets." Need some brown bag inspo? The Mix + Match Lunchbox app offers countless combinations of meals to pack at home.
Mental Clarity
"'Leave work at work' may be a hard concept to implement," Villa concedes. "Yet this goal is worth striving for because support of clients can't come at the expense of personal well- being." Villa turns to daily inspiration app Shine, where users kick off every morning with a motivational thought that sets the tone for a positive, nonjudgmental headspace. Learning to listen and engage without becoming emotionally involved is another skill worth practicing.
RELATED: Readers Choice Awards Winners 2018 - Color, Lashes, Tools and Nails
Time Away
Two longevity requirements: Slow down and make time to relax. "You might round-brush with the best of them, but then you must compensate for all that repetitive motion," laughs Villa. Vacations are a great way to unwind, or start smaller with a well-deserved massage. You can even quickly recharge—and flex your brain muscle— by picking up a book or listening to a podcast, such as Beauty Launchpad's own Pro Beauty Talks podcast (available through most podcatchers).
[Image: Getty Images]