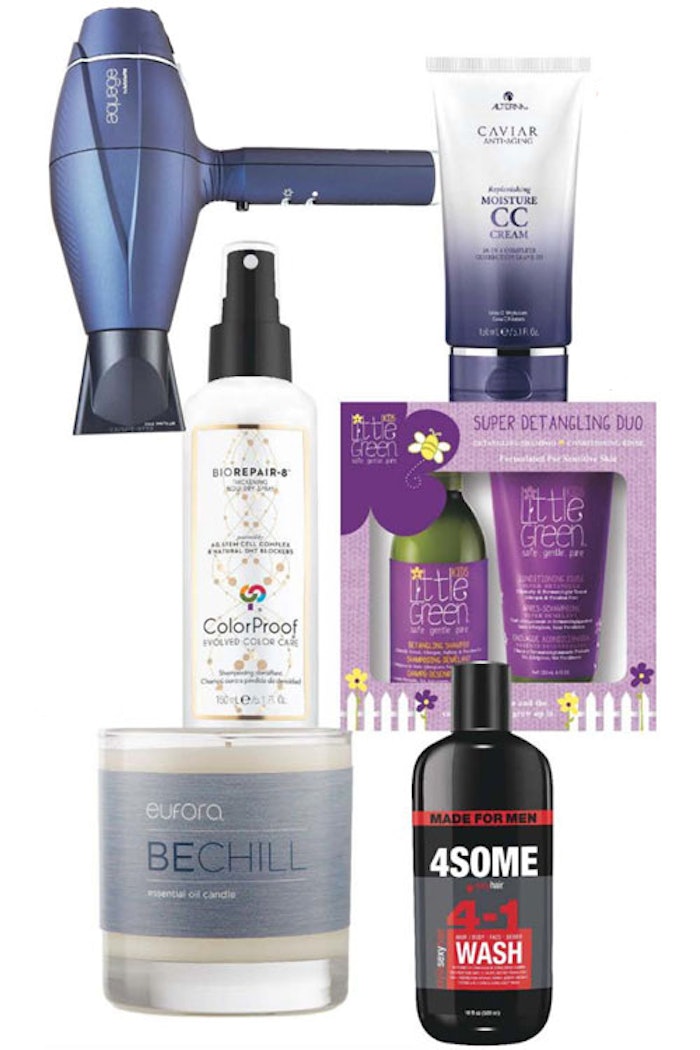 Beauty Launchpad editors are given the lucky task of previewing the newest product innovations, and predict which will earn a spot in your salon for the year ahead.
*All products sampled have a release date between August 2018 and March 2019.
Alyson Osterman-Kerr, Executive Editor: Alyson has been with Beauty Launchpad for 11 years, and though there has been some tress experimentation during her tenure, she inevitably returns to her tried-and-true look: long locks with lots of volume.
My Personal Style: There's very little I like more on this earth than a perfect blowout with tons of body and a sleek, polished finish. And because I love my blowouts, I also want them to last—so give me a product that truly helps to extend my hairstyle, and I'm all in.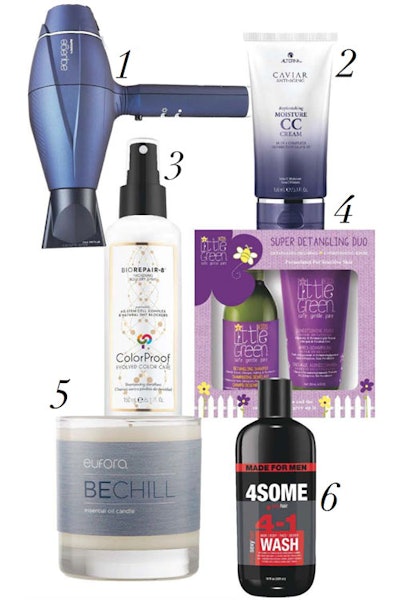 1) Aquage by BaBylissPRO Advanced Dryer: A solid blowout can last up to a week on my hair. This dryer, which features titanium technology, two speed settings and 1,900 watts of power, allows me to create a smooth foundation with ease on my oftentimes unwieldy mane. 
2) Alterna Caviar Anti-Aging Replenishing Moisture CC Cream: This cream really works to inject my frizzy hair with major moisture and smoothness. Plus, the entire Caviar line recently received a facelift, and this new ombré white and purple tube makes for a beautiful addition. 
3) ColorProof Color Care Authority BioRepair-8 Thickening Blow Dry Spray: A solid way to extend my blowout in addition to lending my locks more density? Yes, please: The formula works to grip individual hair fibers and enhance the appearance of waning tresses as it prolongs the longevity of a blowout. Not only that, but it's a completely clean product (read: free of any ingredients that are potentially bad for you and the environment). 
4) Little Green Super Detangling Duo: My four-year-old son's scalp is sensitive, so I'm always seeking the gentlest products for him—and this duo delivers. Consisting of Detangling Shampoo and Conditioning Rinse, it cleanses, conditions and detangles his hair with a light touch. 
5) Eufora Essential Oil Candle in Be Chill: I need as much "chill" as I can get in my life, which is why I'm constantly lighting this candle; its hints of vanilla and clove are warm and comforting on even the most stressful days. 
6) Sexy Hair 4Some 4-1 Wash: My husband likes to keep his prep routine simple: Enter this four-in-one hair, body, face and beard wash, which is set to become his shower staple. Also noteworthy: The tonic's top notes of lemon zest and bergamot smell incredibly fresh.
RELATED: Readers Choice Awards Winners 2018 - Color, Lashes, Tools and Nails
Karie L. Frost, Managing Editor: After briefly stepping away from hair to immerse herself in all things nails and makeup, Karie is back—and never stopped fiddling with her mane during her hiatus. From silver to magenta to pink to balayage blonde, she takes a devil-may-care attitude to the salon chair.
My Personal Style: I'm pretty frenetic in terms of haircolor, but when styling, I stick to a few staples: super straight or beachy waves. Other constants: Any kind of shampoo, conditioner, additive or styler that won't strip my strands of my chosen color.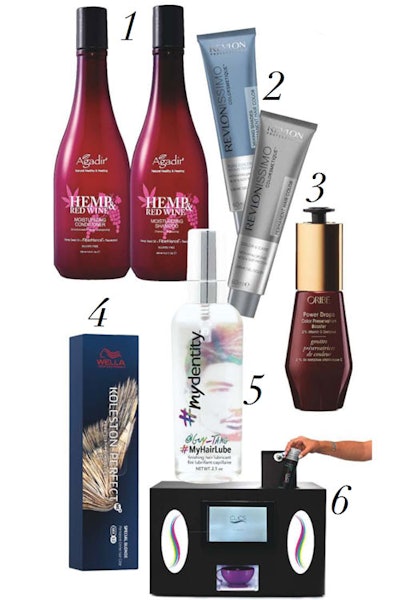 1) Agadir Hemp & Red Wine Moisturizing Shampoo and Conditioner: Beyond the fact that this duo merges resveratrol —a proven anti-ager—with hemp seed oil's hair- smoothing omega-6 and omega-3, its the new FiberHance technology that intrigues me: The "bond multiplier" creates new hydrogen and ionic bonds deep within the cortex to strengthen weakened hair, which I have plenty of. 
2) Revlon Professional Revlonissimo Colorsmetique: Color that acts as a hair treatment mask? Sign this dye addict up! Harnessing both hyaluronic acid and soy protein, this permanent color delivers serious shine, not to mention it's ammonia-free with three soothing sensorial fragrances from which to choose. 
3) Oribe Power Drops Color Preservation Booster: I'm drawn to hyaluronic acid; it just works so dang well. These drops contain 2 percent of the good stuff, which creates a seal around the cuticle, effectively locking in moisture while stopping haircolor foes—think: pollution and UV rays—from penetrating. 
RELATED: Readers Choice Awards Winners 2018 - New Launch, Haircare, Styling and Extensions
4) Wella Professionals Koleston Perfect with ME+: This update to the Koleston Perfect permanent color line minimizes free-radical formation during processing, ensuring more even, true color results. Plus, for sensitive clients like me, you can tout the formula's ME+ dye molecules (a replacement to PPD and PTD), which reduce the risk of developing a new allergy to haircolor dye. 
5) #Mydentity by @Guy_Tang #MyHairLube: As someone who dabbles in pastels and vivids, the fact that the king of those haircolor movements is debuting a wet line is beyond thrilling. The five-product collection pays special attention to color care, but I'm drawn to this jelly-like oil, which protects and highlights brilliant color creations. 
6) CLiCS: Just as Keurig changed the face of coffee brewing (for this editor especially!), this computer-controlled color dispensing system is poised to revolutionize haircolor formulation. With the push of a button, any combo of the 28 color and additive dye canisters is measured, mixed and dispensed with little effort and zero waste. Bonus: You can replicate clients' formulas minus mistakes. 
Jasmine Brown, Associate Editor: Working in the beauty industry for two years has given Jasmine a crash course in learning the ins and outs to embracing her naturally curly locks. From gels and defining creams to learning how to properly diffuse her strands, this new year is all about letting her ringlets run wild.
My Personal Style: I love playing with my curly texture and experimenting with new looks. I channel actress Zendaya's versatile style as my go-to inspiration for all things curly, straight and beyond!
1) CHI Aloe Vera Curl Reactivating Spray: This spray helps push the refresh button on second-day locks. A lightweight blend of aloe vera, agave nectar, silk and other essential nutrients is the secret to this curl-reviving bestie. 
2 Malibu C Acné Face & Body Wellness Collection: I swear by the brand's Purifi Acné facial cleanser for helping to keep my spots at bay, and this new acne collection is no different! The three-step system features vitamin C, provitamin B5, zinc gluconate and salicylic acid for a picture-perfect complexion. 
RELATED: Celebrity Stylist Frederic Aspiras Dishes on Lady Gaga's Top Looks
3) Emera Detangler: Because I use thermal tools on a weekly basis, it's important to defend my hair against heat damage. This multipurpose styler not only combats potential harm, but also works to detangle, reduce breakage, protect against environmental stressors and add shine thanks to CBD, hemp seed and avocado oils. 
4) Hot Tools Professional Black Gold 1" Ionic Salon Flat Iron: For days when I want to swap my curls for a straight 'do, this 24K-black-gold-plated iron does the trick. The multidirectional floating plates and rotating temperature dial are key innovations sure to please stylists and their clients. 
5) WetBrush Pro Detangler: I've learned that using the right brush makes a world difference with curly hair! Instead of a painful tug-of-war, the brand's world-beloved IntelliFlex bristles are now housed in a newly designed ergonomic brush to help detangle and reduce breakage by up to 45 percent. 
[Images: Courtesy of manufacturers]