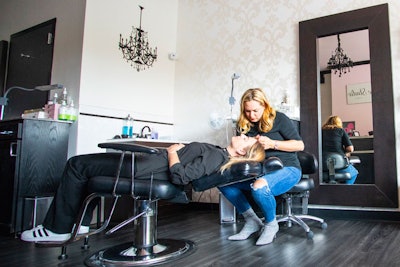 After training for countless hours with famed eyebrow sculptors and celebrity makeup artists Damone Roberts and Kelley Baker in Los Angeles, Brook Schlosser felt it was time to head out on her own. So, she packed up her bags and headed east to Minneapolis where she put her advanced education to use—opening her own studio specializing in eyebrow and eyelash services exclusively. Now, eight years later, Schlosser has a successful business with a growing team of artists and a goal of expanding the studio's brand recognition.
One of the things that makes The Brow Studio Mpls stand out from the crowd is its dedication to clients. Whether guests are after enhanced brows or lashes, the goal is to provide them with a customized service in a comfortable and relaxing atmosphere. For example, when it comes to brow services, The Brow Studio doesn't provide a run-of-the-mill waxing experience; rather, in addition to the tailored service, clients are educated about the ideal brow shape for their face as well as aftercare. What's more, post brow shaping, each guest is treated to a makeup lesson where she's shown how to maximize shape and fill in her brows. "Our clients love the makeup lessons and the education for creating the most desired brow shape for them," says Schlosser.
RELATED: Q&A - Star Lasher Ja'Maal Buster on Building a Successful Brand
The same holds true for lash services. You won't see every eye on The Brow Studio Instagram page looking exactly the same. After all, extensions are not a one-size-fits-all service. Schlosser has a variety of services on the menu—from Classic to Volume and partial to full sets—to cater to all types of clients. The most unique: the Lash Lift. "This eye-friendly, low-maintenance service curls the natural lashes like an eyelash curler would do, only the results can last up to eight weeks," Schlosser boasts. It only takes 45 minutes to complete, the cost is a quarter of that of extensions and it gives clients looking for a more natural lash service an option. 
When it comes to the burgeoning business's success, Schlosser believes that it comes from sticking with what she knows. "Specializing in brow shaping and correction for 15-plus years has given us the experience and confidence to create flawless eyebrows," she says. That specialization provides the underpinning for her business: Zero in on what you do best, and do it flawlessly. That's Schlosser's best advice, after all: "Stick with what you know best, and keep the foundation of the service consistent."
RELATED: How to Use Social Media Marketing to Target Local Potential Lash Clients
Established: 2010
The Vibe: Light pink ceilings, black chandeliers and white damask wallpaper evoke a relaxing atmosphere for clients. "Our look was inspired from a vintage baby girl nursery," Schlosser says.
What We Love: Schlosser's approach to quality services provided by highly trained professionals who really know their craft.
Retail Details: Kelley Baker Brows makes up the retail offerings. Most popular items: Brow De ning Pencil, Camo- Light Highlight Pencil and Smudge Brush. "These are often referred to as the '3 Bee Kit,'" Schlosser says.
Most Popular Service: New Client Brow Shaping. "During this 30-minute service, we consult on the shape of the eyebrow, wax, tweeze and trim," she says.
[Images: Courtesy of Fresh Coast Collective and Paul Ramberg Photography]