Great business ideas can strike at any moment. For Carmen Tal, co-founder of Moroccanoil, her "aha moment" happened while sitting in a hairdresser's chair. "After having a terrible color process that severely damaged my hair, I went to a salon in Tel Aviv, Israel, where the stylist applied an argan oil-infused treatment," she recalls. At the time, the former salon owner and fashion executive was unaware that she had literally struck oil in the desert—but she knew that she had discovered something amazing. "I instantly saw the results," Tal says. "It was just incredible. I knew this was a product I wanted to share with women everywhere."
RELATED: Artistic Director Kevin Hughes Leads the Education Charge at Moroccanoil
Tal took the argan oil-based product back home and soon began selling her signature liquid in apothecary-style, dark amber-tinted glass bottles. Before long, her product, which she dubbed Moroccanoil Treatment, had found an audience. "Our earliest adopters were hairstylists," she notes. "They were vital in launching our products, and we would not be where we are today without their support and the backing of the salon community."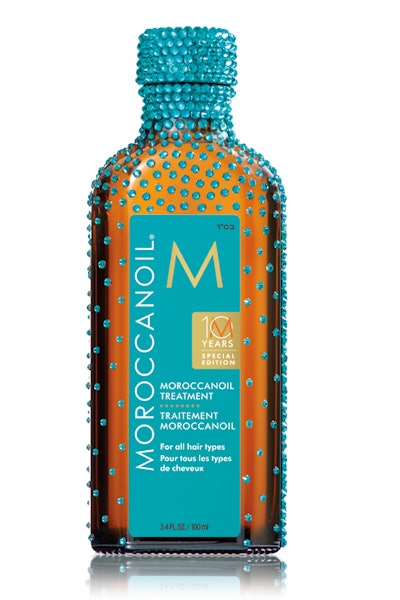 Fast-forward 10 years since that fateful hair appointment and Moroccanoil has since grown into an iconic, multimillion dollar brand that is sold in 65 countries and at 100,000 salons worldwide. "In the early years, I was solely focused on building the brand itself," Tal remarks. "We did not have the time to think of how small or large our brand would be." To add to its current portfolio of products, which includes body care and sun-protecting goods, the company recently launched the Color Complete collection that's designed to address daily environmental stressors and color fade. To commemorate its 10th anniversary, Moroccanoil partnered with Swarovski to produce a limited edition bottle adorned with crystals. "I hope it becomes a collector's item one day—it's so beautiful!" she enthuses. Tal believes that hair care companies will continue to leverage science and innovation to develop new products—as will her own brand. She points out, "The sky is the limit in terms of where we can go and what we can achieve."
RELATED: Moroccanoil's Kevin Hughes Creates a Candy-Colored Concoction
Carmen Tal provides points on finding success.
What advice would you give to salon owners about growing their retail with this product?
Education is key! Stylists are the authority in hair when it comes to speaking one-on-one with consumers; they're the original influencers when it comes to educating consumers about our products and their benefits. Salon owners need to empower their stylists by giving them the tools they need to educate their clients.
What advice would you give to entrepreneurs?
Women and men alike climbing up the ladder should make it a priority to stay constantly informed and always be ready for change. In business today, it's all about adapting to the constantly shifting needs of the marketplace.
Fun Facts
Moroccanoil Treatment has won more than 120 international awards.
The Moroccanoil Treatment bottle is tinted a dark amber to protect the UV-sensitive formula.
Every Moroccanoil Treatment bottle has a unique bar code that ensures its authenticity.
Approximately 75 percent of employees at the Moroccanoil offices in New York City are women.
The Moroccanoil manufacturing facility in Israel is 100 percent solar- powered.
Moroccanoil Blue is an official custom Pantone color.
– by Marla Deborah Camins
​
[Images: Courtesy of Moroccanoil]