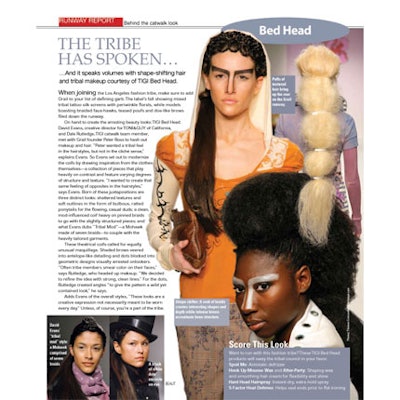 …And it speaks volumes with shape-shifting hair and tribal makeup courtesy of TIGI Bed Head.
Designer: Grail
Products: TIGI Bed Head
When joining the Los Angeles fashion tribe, make sure to add Grail to your list of defining garb. The label's fall showing mixed tribal tattoo silk screens with periwinkle florals, while models boasting braided faux-hawks, teased poufs and doe-like brows filed down the runway. On hand to create the arresting beauty looks: TIGI Bed Head.
David Evans, creative director for TONI&GUY of California, and Dale Rutledge, TIGI catwalk team member, met with Grail founder Peter Ross to hash out makeup and hair. "Peter wanted a tribal feel in the hairstyles, but not in the cliché sense," explains Evans. So Evans set out to modernize the coifs by drawing inspiration from the clothes themselves—a collection of pieces that play heavily on contrast and feature varying degrees of structure and texture.
"I wanted to create that same feeling of opposites in the hairstyles," says Evans. Born of these juxtapositions are three distinct looks: shattered textures and soft outlines in the form of bulbous, ratted ponytails for the flowing, casual duds; a clean, mod-influenced coif heavy on pinned braids to go with the slightly structured pieces; and what Evans dubs "Tribal Mod"—a Mohawk made of seven braids—to couple with the heavily tailored garments.
These theatrical coifs called for equally unusual maquillage. Shaded brows veered into antelope-like detailing and dots blocked into geometric designs visually arrested onlookers.
"Often tribe members smear color on their faces," says Rutledge, who headed up makeup. "We decided to refine the idea with strong, clean lines." For the dots, Rutledge created angles "to give the pattern a wild yet contained look," he says.
Adds Evans of the overall styles, "These looks are a creative expression not necessarily meant to be worn every day." Unless, of course, you're a part of the tribe.
Score This Look
Want to run with this fashion tribe? These TIGI Bed Head products will sway the tribal council in your favor.
Spoil Me: Antistatic defrizzer
Hook Up Mousse Wax and After-Party: Shaping wax and smoothing hair cream for flexibility and shine
Hard Head Hairspray: Instant-dry, extra-hold spray
S Factor Heat Defense: Helps seal ends prior to flat ironing