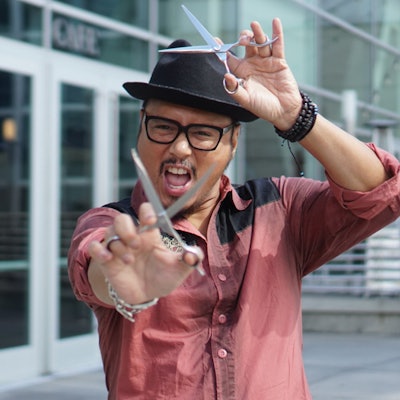 Love is in the hair for Jayr D'Angeles! 
Top tip for reality TV styling?
My No.1 tip is to always keep a plain white towel on you to use as a backdrop for the hair; it allows me to see every unbalanced flaw!
Favorite moment from working on the franchise?
My favorite moments usually occur on The Bachelorette when ABC network brings me in to meet the top 16 guys fighting for the lead's heart. I'm a big fan of the show and since I'm not on set every day during The Bachelorette, I can't help but try to guess which bachelor will be the next "chosen one!"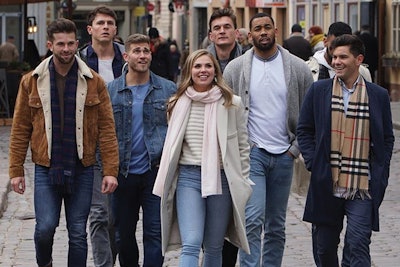 Do you collaborate with the contestants on their looks?
For The Bachelor, ABC sets up an appointment for me to come in to consult and discuss along with the producers on what would be the best look for our leading man. From there we make sure that our lead guy is comfortable with his new look, especially if there needs to be any major changes before we start. Once this look is set for all promotional materials and for filming, the style doesn't drastically change. I typically see the bachelor every 10 to14 days for cleanups during the entire time he is being filmed.
In terms of the bachelors on The Bachelorette—that's a different format for me. All of the contestants come on the show with fresh cuts that I'm not responsible for. I don't start until about 10 to 14 days into filming, when half of the sequestered contestants (about 16 men at this point) are left. I typically take about five minutes to consult with each of the remaining men and from that moment on, I'm there to maintain their determined looks. This typically takes no more than 20 to 30 minutes for mini adjustments and minor tweaks for when they're on camera.
How did you create star Colton Underwood's look?
I applied a keratin straightening system to nourish his hair. I also put in subtle highlights and blended them using a medium blonde toner.
Top tip for keeping locks in place during filming?
My secret is using matte paste like Sally Hershberger 24K Superiority Complex Texturizing Paste or Reuzel Pink Pomade and combining it with a clean hairspray like the Mitch Stone Essentials Sessions Spray to hold hair in place. Being shiny is not usually a good thing since there are either many lights or a ton of sun on set.
[Images: Courtesy of Jayr D'Angeles; Instagram]
This story first appeared in the February issue of Beauty Launchpad. To receive the magazine, click here to subscribe.