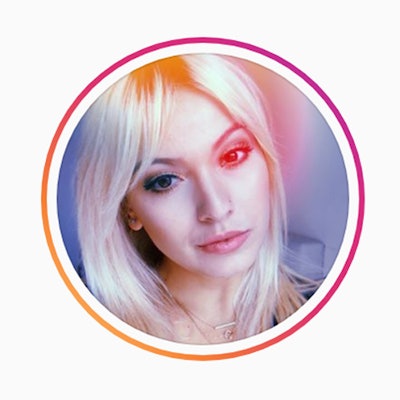 Maayan Birnstein crafts photogenic hues that stop us in our tracks. 
It's easy to go down the rabbit hole when soaking in Maayan Birnstein's rainbow-hued feed. e colorist snaps shots of vivid blends and bright blondes that keep us eager to see what color combos grace her page next. Her top tip for crafting Instagramable hues? "Dimensional haircolor shows off curls really nicely in a photograph," she says. "Natural light is key. Capture different angles. Compare and contrast which angle, background and lighting you like best for your page and try to be consistent with it."
Who: Maayan Birnstein @maayanbirnstein
Number of Followers: 33.7k
Location: Miko Studios in Bethesda, Maryland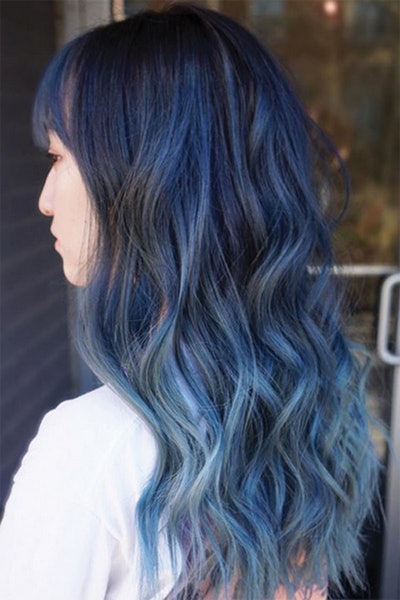 Maayan Birnstein shares how to achieve this striking blue transformation.
*Client came in with a year's worth of regrowth and previously balayaged ends.
+ Beginning with 15-vol. lightener and Schwarzkopf Professional BlondMe with b3 Brazilian Bond Builder, alternate a teased slice and
a babylight, taking thin sections and putting hair in foils. (Note: The client opted to keep her roots natural, hence why I chose this technique.)
+ As you move up the head, increase the lightener volume in increments. Let the back sections process as you work. To even out processing time, end with a 25-vol. in the front.
+  Once the hair reaches a Level 9 pale yellow, shampoo.
+  Base Formula: Schwarzkopf Professional Igora Royal 6-12, 6-23, 8-11, 0-22, and Dove Grey.
+ Ends Formula: Schwarzkopf Professional Igora Royal 9.5-22, Silver, 6-23, and 0-22.
+  Process for 30 minutes.
+  Rinse and condition hair.
+  Blow-dry and style with a 11⁄4" marcel iron, alternating the direction of each curl and leaving the last inch of the ends straight.
+  Finish with Kenra Professional Platinum Dry Texture Spray 6, misting all over hair and raking through with fingers to add volume and help break up curls for beach-inspired texture.
[Images: Courtesy of Maayan Birnstein; Instagram]
This story first appeared in the June issue of Beauty Launchpad magazine. To receive the magazine, click here to subscribe.