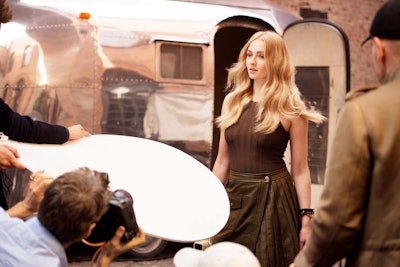 Wella Professionals just announced that actress Sophie Turner as its Global Brand Ambassador! Sophie is the perfect muse, known for bold hair color transformations and consistently pushing style boundaries, she embodies the very being of Wella Professionals brand character: proud, vibrant and heartfelt.
Honoring the brand's history of over 135 years of hair passion, the new partnership with Sophie aims to drive the hairdressing industry forward, pursue innovation and inspire beauty enthusiasts and hair stylists to explore and express themselves through hair color and care.
Wella Professionals was keen on collaborating with a fresh face that would serve as an aspirational focus for the brand's creative vision. They say Turner is the perfect muse, as she's consistently pushing style boundaries. She makes fearless and bold hair color transformations, inspiring not only her fans, but also the larger community of beauty professionals.
"I'm honored to be named the face of Wella Professionals, an iconic beauty brand that encourages women like me to be bold in their choices," Turner said. "Working with them is a great creative collaboration because it gives life to my on-screen characters and allows me to express my personality off-screen, as well."
Sophie will also help the brand launch new product innovations via multi-faceted public relations campaigns and appear in global print and online marketing content commencing July 2017.
[Image courtesy Wella Professional]