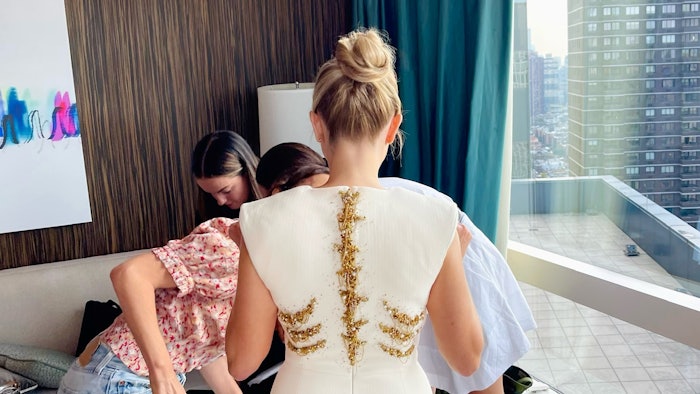 Lona Vigi for Clairol Professional
Lona Vigi styled Reese Witherspoon's hair for the New York City premiere of Apple TV+'s Surface.
Vigi created the elegant updo using Clairol Professional's Shimmer Lights collection. 
Step-by-Step:
Wash hair and extensions with Clairol Professional Shimmer Lights Shampoo and Conditioner to tone down brassiness and keep the blonde bright.
To refresh and condition, use the Clairol Shimmer Lights Violet Toning Mask, which also helps reduce brass and add vibrancy.
Prep wet hair by applying Clairol Professional Shimmer Lights Leave-In Styling Treatment right below the ears and downward on the hair, brushing through thoroughly.
While damp, prep the hair with Clairol Professional Shimmer Lights Thermal Shine Spray, working generously into the ends and into the scalp. 
Blow-dry the hair using a medium-size round bristle brush, gripping the hair and shaping it to the desired look.
Part the hair down the middle, leaving a triangle shape of hair out from the crown of the head, toward the face (this part of the hair is down and not yet in the ponytail).
Craft the rest of the hair into a neat ponytail with an elastic band toward the top of the head to draw the face upward. Add the front bits into the ponytail and lightly backcomb the hair in the ponytail and braid it loosely for an "undone" bun.
Wrap the braid around the base of the pony and secure with hair pins.
For extra shine, add Clairol Professional Thermal Shine Spray to set the hair with hold and sheen, using a baby toothbrush to sculpt the finished look.