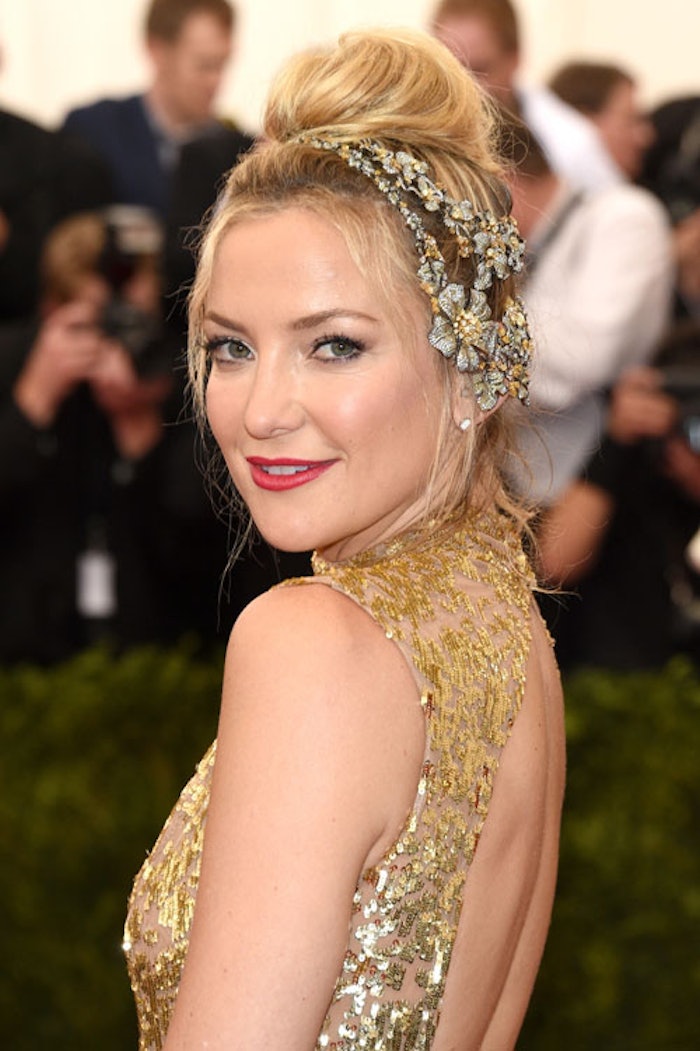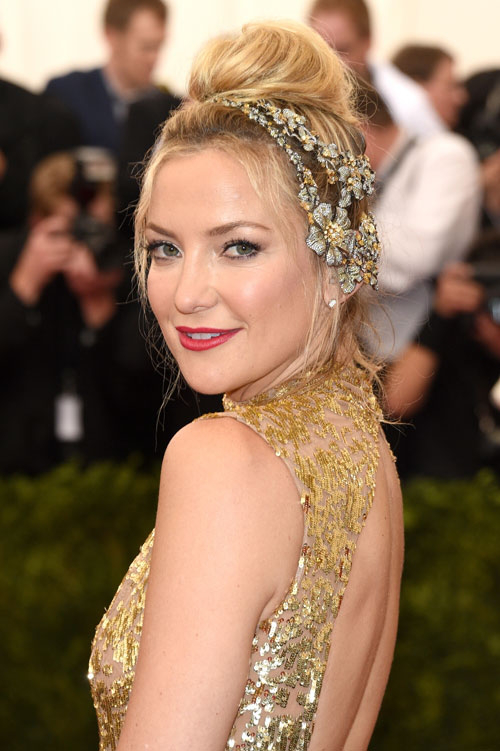 [Image: Getty Images/Larry Busacca]
The Met Gala, an annual fundraiser held for New York City's Metropolitan Museum of Art's Costume Institute, draws some of the most daring celebrity looks of the year. Unlike at traditional awards ceremonies like the Oscars or the Golden Globes, stars typically take the opportunity to don more high-fashion looks and fun, bold hairstyles, nail and makeup looks to accompany them.

Recreate your favorite looks from the 2015 Met Gala with our list of celeb how-to's. Click a name below to see each tutorial, or browse through all of the looks by clicking through the slideshow!

Hair

Nails

Makeup
[pagebreak]

Kate Hudson

Hairstylist David Babaii, Brand Ambassador for ghd, North America, was inspired by actress Kate Hudson's golden gown. Said Babaii, "To complement Kate's Michael Kors golden goddess dress, we created a soft, ethereal look."

Get the Look:
1. Blow-dry hair with the ghd air hairdryer, brushing the hair towards the back of her head.

2. Once hair is completely dry, part into three sections: one in the back and one on each side. Starting with the section in the back, take one-inch pieces and wrap the hair around the ghd curve creative curl wand. Hold each piece around the barrel for 10 seconds, then release the curl and stretch it out for 2-3 seconds until it cools, creating subtle curls.

3. Next, pull the hair into a high ponytail, twisting and wrapping it around the base to create a loose bun.

4. Once the bun is secure, pull out a few loose pieces and use the ghd eclipse styler to straighten out the hair that frames the face.

5. To top off the look, add a glamorous head piece.
Meanwhile, celebrity colorist Cassondra Kaeding of Sally Hershberger LA perfected Kate's iconic blonde locks. Said Kaeding, "I wanted Kate's color to look refreshed and effortless to keep with her iconic natural beachy blonde look. I painted her highlights on using the balayage technique which allows me to strategically place various hues of blonde for dimension and movement."

[pagebreak]

Kate Beckinsale
Actress Kate Beckinsale stunned on the red carpet in a champagne-colored dress and classic Hollywood waves with an edge. Inspired by 1980's Hollywood glamor, hairstylist Creighton Bowman (Tracey Mattingly Agency) used the T3 Evolution LongLife Dryer, the T3 BodyWaver 1.75" Styling Iron, the T3 SinglePass Twirl, and the T3 Paddle Brush to create the look.

Get the Look:
1. Starting with damp hair, Creighton used the T3 Evolution LongLife Dryer and a blowout spray to rough-dry the hair. Expert tip: If your client has straight to wavy hair, and wants her curls to last through the night, rough-dry it instead of blowing out with round brush. This will ensure the cuticle stays intact, and the curls will last longer.

2. Creating a deep side part, Creighton sectioned the hair into 4 parts. Starting with hair at the back/bottom of the head, Creighton took 1" horizontal sections and curled using the T3 BodyWaver 1.75" Styling Iron all in the same direction. After each curl, he pinned with a bobby pin to hold in place.

3. Next, moving to the front/top sections, Creighton curled 1" horizontal sections with the T3 SinglePass Twirl 1.25" curling iron all in the same direction, continuing to pin the curls as he went.

4. Once her hair was set, he took pins out and spritzed whole head with brush-able hairspray and lightly brushed out with T3 Paddle Brush.

5. Next, Creighton brushed back one side of the hair and smoothed and secured with bobby pins.

6. To keep waves in place while her makeup was being finished, Creighton placed aluminum clips horizontally, going along with the waves. Expert tip: Aluminum clips are best for these purposes because they won't create
marks in the hair.

7. To finish, Creighton sprayed whole head with hairspray and removed pins.

[pagebreak]

Keri Russell
Keri Russell, star of The Americans, opted for a sleek, soft chignon, inspired by Wong Kar Wai's film, In The Mood for Love. Hairstylist Brian Magallones (Exclusive Artists Management) created the look.

Get the Look: Hair
1. Prior to styling the hair, Brian used a small amount of Brazilian Blowout Acai Daily Smoothing Serum to ensure the naturally curly hair remained smooth, sleek and frizz-free.

2. Next, beginning with damp hair, he dried the hair in 2" sections using the T3 Featherweight Evolution LongLife and set the entire head in T3 Voluminous Hot Rollers.

3. Once he removed the cooled hot rollers, Brian then used the T3 BodyWaver 1.75" Styling Iron to add additional curl around the head and to create a more finished look.

4. To relax the curls, he then brushed through the hair.

5. For a modern, youthful look, he incorporated a small amount of Brazilian Blowout Acai Restorative Sculpt & Define Polish and pulled the hair back into an imperfect bun, leaving some pieces out in the front to create a long, sexy, swooping bang that can be left out or tucked behind the ear.

6. To finish, Brian spritzed the hair with Brazilian Blowout Acai Shine & Shield Shine Spray.
Meanwhile, makeup artist Tina Turnbow created a bold, colorful smoky eye look. Turnbow was inspired by Russell's beautiful, feathered Joseph Altuzarra dress. "The feathers were reminiscent of a peacock and I wanted to portray that in the beauty look," said Turnbow.
Get the Look: Makeup
1. Massage Colbert MD Illumino Face Oil into the skin to achieve a smooth, moisturized complexion.

2. Softly apply Colbert MD Nourish Eye Cream to the orbital bone to build subtle luminosity along the cheekbone.

3. Create a silky sheen with Colbert MD Illumino Body Oil by spreading along arms, throat and décolletage.

4. Perfect the complexion with Ultra CC Cream Radiant Foundation then dust Perfect Lotus Universal Powder all over to set the look.

5. Mix Bronze and Island Rose shades (from Radiant Shimmer Coconut Multiples) and blend onto apples of the cheeks for a radiant glow.

6. To create the eyes, apply Celestial to the inner corners, Moonbeam to the center of the lid then work Stargazer into the outer corners, blending well. Mix Stargazer with a touch of water to create a bold liner and smoke out the upper and lower lash lines. Finish with two coats of Aquarian Gaze Mascara.

7. Complete the look with Devocean Natural Lipstick in Tenderness for a beautiful matte lip.

[pagebreak]

Cassie Ventura
Model Cassie Ventura walked the red carpet in a chic, white gown and hair pulled back in a modern take on a classic ponytail. Hairstylist Rod Ortega was inspired by 1970's era Elizabeth Taylor when creating the look.

Get the Look:
1. Beginning with damp hair, Rod dried the hair using the T3 Evolution LongLife Dryer ensuring the roots of the hair were completely dry and smooth.

2. Next, he pulled the entire head into a high ponytail and secured it with a bungee elastic band, wrapping a piece of hair around the hair tie to hide it.

3. Once secured, Rod generously back-combed underneath the start of the ponytail to create fullness.

4. Holding the ponytail high in the air, he then brushed the back of it and used the T3 BodyWaver 1.75" Styling Iron to create a slight bend in the ponytail.

5. Then, Rod brushed through the curls in the ponytail and used a small amount of Rene Furterer Styling Vegetal Finishing Spray before starting the braid.

6. Once complete, he then pinched and pinned the hair at the nape of the neck and proceeded to braid until the end of the ponytail securing with an elastic.

7. Rod finished the look with the Rene Furterer Wax Finish at the hairline and nape of the neck.

[pagebreak]

Taraji P. Henson
Hairstylist Ursula Stephen created a sleek, sophisticated hairstyle for actress Taraji P. Henson. "We were inspired by Balenciaga designer, Alexander Wang," said Stephen. "He envisioned a sleek, clean, and long look to showcase her amazing earrings. I kept it modern by creating a short center part and tucked the hair behind her ears."

Get the Look:
1. Start by prepping hair with the Motions Straight Finish Heat Styled System for a sleek look that won't harm natural curls.

2. Create a severe center part and tame fly-aways with the Motions Radiating Hair Gloss, then divide hair into small sections and flat-iron from root to tip.

3. Apply Motions Light Hold Working Spritz to the two front sections, then comb behind the ear and secure underneath with bobby pins.

4. Add Motions Shine Enhancing Pomade to the edges and lengths for extra sheen.

5. Finish with Motions Light Hold Working Spritz once more to secure the look.

[pagebreak]

Jessica Chastain
Celebrity hairstylist Ryan Trygstad for ghd, North America and S Factor by TIGI created a seriously glamorous, Rita Hayworth-inspired look for Jessica Chastain as she graced the Met Gala Red Carpet in Givenchy. "We were inspired by Rita Hayworth and the serious glamor of her era," said Trygstad. "I researched exactly how Rita set her hair back in the 40's and drew inspiration from there. The look is a cross between a side-swept updo and a faux bob that perfectly displays Jessica's gorgeous ruby earrings."

Get the Look:
1. Prep hair with S Factor by TIGI Stunning Volume Shampoo & Conditioner.

2. Next, spray a liberal amount of S Factor by TIGI Body Booster Plumping Spray on damp hair, focusing on the roots. Emulsify the S Factor by TIGI Silky Smooth Moisture Serum and True Lasting Colour Hair Oil and smooth onto ends for a high sheen look.

3. Blow-dry hair with a round brush, lifting hair at the roots and smoothing through the ends.

4. Wrap small sections of hair around a 1.5" barrel curling iron, curling hair inward toward the face, pin back one side of hair behind the same ear.

5. Finish with S Factor by TIGI Vivacious Hairspray and brush out curls using a boar bristle brush.

[pagebreak]

Jennifer Lopez
Hairstylist Lorenzo Martin for ghd, North America said, "Jennifer's dress was going to make a statement, so I wanted to create sleek hair to accompany that look without taking the attention away." He created a simple yet sophisticated style that perfectly accomplished this.

Get the Look:
1. To begin, part the hair down the middle and dry it using the ghd air hairdryer in the direction of the style while pointing the nozzle down.

2. Next, use the ghd eclipse styler and glide throughout hair with a comb to smooth out frizz.
 
3. Once completely straight, use gel to pull hair back and brush from top to bottom; then use a finishing spray to set the style."
[pagebreak]

Madonna
Madonna hit the red carpet at the 2015 Met Ball wearing a floor length black dress that read "Rebel Heart" which she paired with long loose waves giving a delicate spin to her otherwise modern look. Hairstylist Andy LeCompte, Wella Professionals Stylist Ambassador, created the look.

Get the Look:
1. Start with freshly-washed and conditioned hair using Wella Professionals Elements Renewing Shampoo and Daily Renewing Conditioner which helps hydrate, nourish and strengthen hair.

2. Prime damp hair by applying 2-3 pumps of Wella Professionals LuxeOil Reconstructive Elixir to the palms of your hands and distributing evenly throughout hair.

3. Blow-dry using a medium size round brush to create volume at the roots.

4. Wrap 2-3" sections of hair around 1½ inch ceramic curling iron to create long loose waves.

5. Lightly back-comb hair at the roots and brush through waves with a wide tooth comb.

6. Lightly mist hair with Wella Professionals Stay Essential Finishing Spray to prevent fly-aways.

7. Complete the look by using Wella Professionals LuxeOil Light Oil Keratin Protection Spray leaving it smooth, shiny and red carpet ready.
[pagebreak]
Rihanna
Pop star Rihanna's entire look was a showstopper, from her never-ending train to her gold-tipped nails, created by celebrity manicurist Kimmie Kyees.

Get the Look:
1. Kyees applied Red Carpet Manicure Gel Polish in My Favorite Designer, a frosty pink hue, and layered large pieces of gold glitter from RCM's Gel Polish in WOW beginning at the cuticle and fading towards the free edge.

2. To up the ante, Kyees sprinkled each nail with holographic pink and gold glitter from RCM's Glitz and Glitter Kits. Each step was cured using the RCM Pro 45 Light.

[pagebreak]
Katie Holmes
Actress Katie Holmes showed off a bold new hairstyle on the red carpet, so her manicurist Elle Gerstein kept everything else clean and sophisticated. "[Katie] wanted a neutral color but still wanted it to have a hue and she went for this Red Carpet Manicure Almost Famous immediately!" said Gerstein.
 
Get the Look:
1. Prep the nails by filing, buffing, and shaping.

2. Apply Red Carpet Manicure Clingy Base Coat and let dry.

3. Apply a coat of Red Carpet Manicure Almost Famous and let dry; repeat for a second coat.

4. Apply Red Carpet Manicure Shine On Coat and let dry.
[pagebreak]
Lorde
New Zealand singer and songwriter Lorde sported jewel-toned, moody fingertips from OPI. OPI partnered with Celebrity Manicurist Mar Y Soul, who created Lorde's edgy nails to complement her midnight blue gown

Get the Look: Nails
1. Said Soul, "I used OPI Avoplex Exfoliating Cuticle Treatment to exfoliate her cuticles leaving a clean nail bed for polish.

2. "Then, I hydrated her skin with OPI's High Intensity Hand and Nail Cream.

3. "Now it's time to prep for polish. I used OPI's Chip Skip to ensure a chip free manicure for a night at the Met, nobody wants chipped nails on the red carpet!

4. "I applied one coat of OPI Nail Envy Nail Strengthener.

5. "I applied OPI Nail Lacquer in Dark Side of the Mood nail color to her nails. I thought this was the perfect color to complement her jewel-toned dress for the red carpet, giving an edgy yet youthful touch to her overall look.

6. "OPI RapiDry Top Coat is a must have for behind the scenes. I applied one coat.

7. "I waited 60 seconds, then applied OPI Drip Dry Lacquer Drying Drops to complete the look."
Meanwhile, Amber Dreadon, one of the fashion and music industry's most sought-after makeup artists, partnered with luxury beauty brands BABOR and Sisley to create a soft, glowing beauty look for the pop star.

Get the Look: Skin
1. Said Dreadon, "I believe that you can't create a beautiful makeup application without first perfecting the skin, so I began LORDE's Met Ball beauty ritual with BABOR SKINOVAGE PX Sensational Eyes Refreshing Active Pads. With a mixture of nutrients, minerals and hyaluronic acid, this professional product leaves the delicate eye area hydrated and refreshed.

2. "I followed with a product that I am totally in love with, BABOR CLEANSING CP Thermal Spray, which supplies 100% instant moisture as it tones and mineralizes the skin.

3. "Next, I used one of BABOR's beauty ampoules - FLUIDS FP Stop Stress Fluid, which contains power-packed active ingredients that quickly and effectively smooth, calm and strengthen the skin. I followed with SKINOVAGE PX PERFECT COMBINATION Daily Mattifying Cream which has a light consistency, provides vital moisture, visibly balances and leaves a matte appearance.

4. "Finally, I finished with SKINOVAGE PX Sensational Eyes Cooling Eye Gel. Cooling and oil-free, this gel has amazing stainless steel rollers that visibly refresh, relax and smooth the eye area creating a perfect base for eye makeup."

Get the Look: Makeup
"We were inspired by the shades of the Calvin Klein gown she is wearing and the texture of the sequins - how they look in the light and dark and wanted to recreate that on the eye. Keeping that as the focus," Amber said.

1. "Sisley Phyto-Teint Eclat oil free foundation was lightly buffed onto the skin to create a lightweight flawless base. Sisley Transparent Face powder was used with a large powder brush to lightly set the foundation and to remove unwanted shine.

2. "Brows were defined using Sisley Brow pencil in Cappuccino and combed with the comb attached to the brow pencil.

3. "Sisley Phyto-Eye Twist in Bronze was applied to the lash line and blended outward. Sisley Phyto 4 Ombres in #1 Dream and #2 Mystery were used for a winged bronzed smokey eye with a hint of metallic blue along the lash line.

4. "Lips were gently touched with the Phyto lip twists in #1 and #2."
 
[pagebreak]
Hailey Baldwin
Hailey Baldwin switched up her blonde locks for her walk on the Met Gala red carpet. Ryan Pearl, Senior Colorist at Cutler/Redken Salons, played up the model's natural color, taking her to a rich brown.

Get the Look:
Hailey was colored with Redken Shades EQ and highlighted with Shades Crème so that the hair has more of a reflection than it would with a permanent color. What's better, when Pearl inevitably takes Baldwin back to blonde, it will be less traumatic to the hair shaft.
 
"We went for a rich brown because Hailey tans really well, plus it pops against her sweet golden eyes," comments Pearl. He likes this darker color for summer because it requires less maintenance and gives a sexiness to women who bronze easily and have lighter eyes.
[pagebreak]
Elizabeth Banks
Actress Elizabeth Banks wore a chic, futuristic look created by celebrity stylist Ted Gibson. Said Gibson, "The vibe was super cool with Elizabeth tonight! She's been doing press all over the world for Pitch Perfect 2 - I was just in Philadelphia with her yesterday and she was so excited about tonight's gala! We talked about who was sitting at her table and how much fun she was going to have. Tonight's theme is China: Through the Looking Glass and I think her turquoise Michael Kors dress suited the occasion perfectly. Given the theme, I didn't think about romance at all. My first thought was for her hair to be chic, sexy and straight. I think straight hair always evokes a certain sensibility which most girls love and appreciate. I know Elizabeth's look had to be off of her face to compliment the makeup. I also knew I wanted her to have a ponytail, but not any ordinary pony. It had to be architectural in feel and cutting edge. This ponytail is not for the lighthearted girl!"

Get the Look:
1. Said Gibson, "As an editorial hairdresser, to begin I knew that I didn't want her hair to be freshly shampooed. Day old hair makes styling so much easier! I started by spraying her hair with L'Oréal Professionnel Densité thickening primer at the scalp for density and root elevation. I then gave her a quick ted gibson blow dry with medium heat and power using a flat Mason Pearson brush. Since her hair was already dry I didn't need the extra heat.

2. "After her blow-dry I applied a dime-sized amount of L'Oréal Professionnel Architexture to her hair to provide form, structure and definition, and flat-ironed it straight.

3. "I then sectioned her hair from recession to recession in a horseshoe section. Then, I parted her hair down the middle from the crown to the nape of the neck.

4. "Next, I put her hair in 2 ponytails at the crown of her head. I then applied L'Oréal Professionnel OR Graphic gel to the sides of her hair for added hold and sleek, smooth shine.

5. "I then fastened the 2 ponys with a bungee elastic so that they were close together.

6. "Then, I added 4 rows of clip-in extensions over the top of the 2 ponys to add length. I flat-ironed the extensions and then pulled the hair left out in the horseshoe section over the 2 ponytails.

7. "As I was working and forming her ponytails, I was sure to spray L'Oréal Professionnel Infinium 4 hairspray for a dry, strong hold without any sticky residue to hold my work in place.

8. "After her ponytail was set, I placed a Sylvain Le Hen barrette at the base to widen it for a geometric shape and for added Asian flair.

9. "Once my work was complete, I finished her off with L'Oréal Professionnel Extreme Lacquer hairspray for added hold, shine and to fight frizz, and just like that… she was ready for the Oscars of Fashion!"
[pagebreak]
Jennifer Lawrence
Actress Jennifer Lawrence complemented her stunning gown with a bronzed smoky eye and pink lips. Get the gorgeous - and wearable! - look with a few simple steps from beautyADDICTS.

Get the Look:
1.  Apply Mineral Sheer Tint Tinted Moisturizer to entire face for a natural yet even and glowing complexion. Cover blemishes and brighten under the eye with Double Deception Concealer as necessary.

2. The EXPRESS Solution Eyes Eyeshadow quad is perfect for recreating Jennifer's bronzed smoky eye. Apply the lightest shade (top left) to the entire lid and up to the brow to create an even base. Next, use the darkest chocolate brown shadow (lower right) on the lid and slightly above the crease. Blend with bronze shadow (lower left) and extend past the outer corners of eyes.

3. Next, apply Effortless Eyes Eyeliner in Seduce on upper and lower lash line, not the waterline. Smudge and blend lower liner with the light golden shadow (top right). Complete the eye with 2 coats of ShowOFF Mascara.

4. For an extra glow, lightly tap Motivate GlimmerSHEERS Highlighter to cheeks and finish the look with Beautifull Lips Lipstick in Vintage.
[pagebreak]
Emma Roberts
John Frieda stylist Ryan Cotton gave actress Emma Roberts a polished, origami-inspired bun for the 2015 Met Gala. Cotton kept Roberts' hair looking clean and polished in the front and opted for a subtle nod to China in the details: chopsticks. "Emma has a stunning face, so a clean look always benefits her and brings out her true beauty," explains Cotton. "However, we wanted to create a little drama – the chopsticks and 'bird of paradise'-inspired bun were the perfect way to align with the evening's theme."  

Get the Look:
1. Cotton applied John Frieda Frizz Ease Expert Finish Polishing Serum to wet hair from mid-shaft to the ends, ensuring vibrant shine and a smooth finish.  

2. Next, Cotton applied John Frieda Luxurious Volume Root Booster Blow Dry Lotion to the side part of her hair for extra volume and lift.

3. Using a round brush, Cotton blow-dryed the roots and bangs to a smooth finish and curled hair all over with a 2-inch curling iron for additional shine.

4. Cotton then smoothed Emma's hair into a side ponytail with a boar-bristle brush, securing it with an elastic band.

5. Next, Cotton twisted the ponytail to the side in a long row, pulling straight ends out to create an origami-shape resembling a Bird of Paradise flower.

6. To finish, Ryan sprayed John Frieda Frizz Ease KERAFLEX Flexible Hold Hairspray all over and added two pink chopsticks for a polished look.
[pagebreak]
Rose Byrne
Inspired by the Chinese film In The Mood for Love, John Frieda International Creative Consultant Harry Josh gave Rose Byrne frizz-free, full-bodied waves for the 2015 Met Gala. "This red carpet is all about putting an individual spin on a common theme," explained Harry. "The film focuses on fleeting youth, beauty and love, so we wanted the hair to look fresh, glamorous and romantic, taking inspiration from the storyline."

Get the Look:
1. To begin, Harry prepped Rose's hair by applying John Frieda Frizz Ease Beyond Smooth Frizz Immunity Primer.

2. Next, he took John Frieda Frizz Ease Curl Reviver Mousse and applied it to the roots for frizz-free lift at the crown.

3. Then, Harry blow-dried her hair section by section using the Harry Josh Pro Tools Pro Dryer 2000 and a round brush, concentrating on creating extra volume at the roots.

4. After creating the part, Harry set 2-inch wide sections down the center in Velcro rollers. He curled the remaining pieces of hair piece by piece. After all of the curls had set, he brushed out the hair for a voluminous wave.

5. For a touchable finish, he spritzed John Frieda Frizz Ease Keraflex Flexible Hold Hairspray all over her hair.
[pagebreak]
Emily Blunt
[Image: Instagram.com/laini_reeves]
Celebrity hairstylist, Laini Reeves, styled a-list English actress Emily Blunt for her walk down the red carpet. Inspired by the "China: Through the Looking Glass" theme, Laini echoed the intricacies of Emily's outfit with a simplistic look yet glam look. Said Reeves, "Simple but striking - the ultimate description of this year's theme for the Met Gala. Chinese fashion is so intricate and detailed, but conversely, so simplistic. This hair is exactly that. When I saw the Prada cape, I knew that all attention would be on the back of the dress, so I slicked back the front of the hair completely and focused all the emphasis on a chic scroll. It pushes the limits, as Anna wants, but in a way that is complementary and modern. Simple, but striking."

Get the Look:
1. To prep hair, Laini washed using Davines Essential MOMO Shampoo and Davines Essential MOMO Conditioner, which gave Emily a boost of hydration for creating a strong, sleek look.

2. While hair was still damp, Laini sprayed with Davines OI Absolute Beautifying Potion and Davines Essential VOLU Hair Mist.     

3. After rough-drying hair, Laini sprayed from root to tip once more with Davines Essential VOLU Hair Mist and combed using a smooth bristle brush.

4. To prevent frizziness and ensure smooth, sleek strands, Laini applied Davines More Inside This Is An Invisible Serum to seal the shaft of the hair.

5. Sectioning the hair into two sections, one in the front from ear to ear and a second in the back, Laini temporarily secured the top half so she could the fastened bottom section tightly to the nape of the neck.

6. She sprayed Davines More Inside This Is An Invisible No Gas Spray for added support and secured with bobby pins.

7. Allowing top piece of hair to fall back down, Laini smoothed the front section back over the pinned hair towards nape of neck. Once smoothed, she fastened with bobby pins.

8. Then, rolling the hair back up towards the top of head, Laini created a tight scroll at the back of the head which was lacquered with Davines More Inside This Is A Strong Hair Spray, and pinned.
[pagebreak]
Emily Ratajkowski
Celebrity hairstylist Luke Chamberlain styled bombshell model and actress Emily Ratajkowski for the 2015 Metropolitan Costume Institute Gala. To balance the look of Emily's striking gown, Luke swept the hair back and away from the neckline complementing Emily's oriental collar with a textured and modern style. Said Luke, "After seeing the strong elegance of the dress - which perfectly echoed the year's theme, "China: Through The Looking Glass" – I chose to balance the hair by pulling it up and away from the face, ultimately creating a full look that was more fashion forward. The neckline is a statement of its own, so I fashioned a sophisticated flower of my own design which played with the floral embellishments that spun down the dress."

Get the Look:
1. Starting with dry hair, Luke sprayed a combination of Davines Essential MELU Hair Shield and Davines Essential VOLU Hair Mist from root to tip.

2. To add volume and shine, Luke flash-dried the product into hair using a paddle brush and his fingers for texture.

3. Next, Luke created a strong center part and sectioned the hair, bending it using a 1-inch curling iron and Davines More Inside This Is A Medium Hair Spray to secure the shape.

4. Once all hair was bent, Luke used his fingers to shake out the hair and added Davines More Inside This Is A Texturizing Dust to increase overall texture and volume.

5. Luke then tied hair back in a ponytail, and using hair pins, fashioned a messy chignon.

6. Once chignon was secured, Luke added Davines More Inside This Is A Strong Dry Wax to his fingertips and pinched the wax into different sections around hairline.

7. Finishing touches were completed with Davines More Inside This Is A Strong Hair Spray to ensure hold throughout the night.
[pagebreak]
Ellie Goulding
Celebrity hairstylist Anthony Campbell worked with singer Ellie Goulding to highlight the star's new haircut. Said Campbell, "We decided something on the straighter side but with body and texture would be perfect for the red carpet debut of Ellie's new bob."

Get the Look:
1. Said Campbell, "I started by applying Bumble and bumble Tonic Spray to give moisture and to detangle.

2. "Next, I used  R+Co Dallas Thickening Spray to blow dry for control and some volume.

3. "Then I blow-dried with a medium round brush to smooth and create volume.
 
4. "Next, I went through with a 1-inch curing iron and gave it slight bend and texture by going back and forth with the iron.
 
5. "After, I applied Oribe Apres Beach Spray for piecy-ness. Then I applied Bumble and bumble Dryspun to keep the volume.

6. "Lastly, I used Oribe Superfine Hairspray to finish."

[pagebreak]

Adele Exarchopoulos
Celebrity hairstylist Gio Campora created Adele Exarchopoulos's red carpet look for the 2015 Met Gala. Said Campora, "To go with the Asian inspiration, I wanted to create a simple, structured look with a lot of shine. We decided on a ponytail with a curl at the tip to add a precise and artistic twist."

Get the Look:
1. Said Campora, "Starting with wet hair, I worked in John Frieda Volume Building Mousse and Leonor Greyl Styling Cream and blow-dried the hair.
 
2. "Once dry, I straightened with a flat iron, then used a flat brush to smooth the hair from front to back. I mixed Fekkai Coiff Nonchalant Piecing and Forming Wax with Fekkai Styling Gel and ran evenly through all the hair for shine and texture.
 
3. "From there, I created a middle part and brushed the hair back into a ponytail, then curled the tip of it with a flat iron.
 
4. "I finished with Oribe Superfine Hairspray to make sure everything stayed in place!"

[pagebreak]

Jourdan Dunn
Celebrity hairstylist Lacy Redway created an intricate cornrow hairstyle for model Jourdan Dunn. Said Redway, "I was inspired by the the cutouts and crochet lacing on Jourdan's dress. It inspired me to mimic the pattern by designing cornrows going on a diagonal and while also embracing Jourdan's natural hair texture with a great heat free hairstyle. I finished off the look by putting it in a modern ponytail."

Get the Look:
1. Said Redway, "I prepped Jourdan's hair with Head and Shoulders Moisture Care Co-Wash to help lock in moisture into her hair before adding the braids.
 
2. "After blow-drying her hair with my Harry Josh Pro Blowdryer, I braided her hair using a little Oribe Rock Hard Gel to help with frizz. Once I was done braiding I finished off with a little Shine Serum with Aragon Oil by Pantene."

[pagebreak]

Joan Smalls
Celebrity hairstylist Jennifer Yepez created a simple yet chic hairstyle for Joan Smalls. Said Yepez, "Joan's dress was super sexy and also very rock 'n' roll. Peter Dundas wanted sleek hair with a middle part. That was his vision for this look."

Get the Look:
1. Said Yepez, "I wanted to achieve a super sleek and shiny look while also protecting Joan's hair. I began by sectioning her hair starting from the bottom and applied a mixture of Kerastase Keratine Thermique and Kerastase Nectar Thermique on the mid-shaft to the ends. Then I blow-dried with a large round brush.
 
2. "Once hair was dry, I flat-ironed from root to end and applied Kerastase Touche Final on her whole head. I also used Kerastase Laque Couture on just the top of the hair to prevent any fly-aways."

[pagebreak]

Chloë Grace Moretz
Celebrity hairstylist Gregory Russell worked with actress Chloë Grace Moretz for her red carpet appearance at the 2015 Met Gala. Said Russell, "I wanted a sleek and modern low pony to complement Chloë's couture Coach gown."

Get the Look:
1. Said Russell, "Starting on damp hair, I used one pump of Kevin Murphy Smoothe Again through her ends. I then selected a center part and began blowing her hair out with a medium sized Harry Josh Round Brush. After each section, I used a duck bill clip to hold the root flat.
 
2. "Once hair was fully dry, I flat-ironed with my Harry Josh Flat Iron section by section. To polish the hair, I used R+Co Continental Glossing Wax to contain fly-aways and add shine to the hair. I then secured her hair into a low pony, tight to the nape of her neck using a bungee elastic.
 
3. "I applied Kevin Murphy Shimmer Shine to the lengths of her hair for high shine. Finally, I used double sided tape on the back of a piece of black velvet ribbon to cover the band and complete the look."
[pagebreak]
Allison Williams
Celebrity hairstylist Rebekah Forecast created a hairstyle inspired by "Old Hollywood glamor and 20's film stars" for actress Allison Williams. Youthful texture kept the look young and modern.

Get the Look:
1. Run L'Oréal Professionnel Mythic Oil Sérum de Force through the ends of hair for shine and moisture.

2. Apply L'Oréal Professionnel Perfect Texture around the entire hairline. Twist and pin back small pieces of hair, drying under a warm setting to create wave.

3. Pull hair into a ponytail using fingers. Then apply generously L'Oréal Professionnel Mythic Oil Séve Protectrice for shine and a healthy glow.

4. Shape hair into a sculptural messy bun by building the hair upwards and elongating the neck. Keep hair sleek at the sides for added drama.

5. For an un-perfect look, pull out a few pieces of hair to frame the face and apply L'Oréal Professionnel OR Graphic.

6. Finish with L'Oréal Professionnel Extreme Lacquer for hold.
[pagebreak]
Sofia Richie
Celebrity makeup artist Vincent Oquendo worked with Sofia Richie (second from left) for the 2015 Met Gala red carpet. Oquendo created a striking look that added a touch of drama to the eyes with Swarovski crystals, balanced with nearly-bare lips.

Get the Look:
1. Said Oquendo, "On Sofia's skin I used Charlotte Tilbury Light Wonder Foundation and on her cheeks I used the Charlotte Tilbury Cheek to Chic Swish n Pop Blusher in First Love.
 
2. "On her eyes, I first applied Charlotte Tilbury Colour Chameleon Eye Pencil in Golden Quartz on the lid, then the taupe (2) color from the  Charlotte Tilbury Sophisticate Eyeshadow Quad under the eye. Then I rimmed the waterline of the eye in Charlotte Tilbury Rock N Kohl Eye Pencil in Barbarella Brown. I finished the eye makeup with Full Fat Lashes Mascara in Glossy Black.
 
3. "To give the feeling of Chinese jewelry, I decided to add Swarovski crystals on Sofia's eyelids. I first applied Duo Eyelash Adhesive on her lash line as if I was drawing on eyeliner. I then applied two jade crystals on the inner corner of each eye. Next I used seven amber toned crystals in the middle of the lid and one small ruby-esque crystal on the bottom outer corner of the eyelid, creating a Dior liner shape. The colors of the crystals tied in beautifully with Sofia's jewelry.
 
4. "On Sofia's lips I used Charlotte Tilbury Very Victoria. I finished the look with the Charlotte Tilbury Airbrush Flawless Finishing Powder."
[pagebreak]
Jessica Alba
Hairstylist Davy Newkirk created a sleek, perfectly imperfect look for actress Jessica Alba at the 2015 Met Gala.
Get The Look:
1. Said Newkirk, "I started with her hair wet. She is a fan of natural products so we love the Matrix Biolage line because it is paraben-free. I applied a generous amount of Matrix Biolage Whipped Mousse on her hair.

2. "I blew it out with a round brush until dry.

3. "After that, I used a flat iron at the bottom of the hair. I turned tucked in some of the pieces under her hair, and flipped some of them out to give the look a lot of movement.

4. "I took some of the Matrix StyleLink Shape Switcher and mixed it with a few drops of Matrix StyleLink Volume Booster. I mixed them in my palms and put it evenly through Jessica's hair to give the texture and the hold that we were looking for.

5. "Then, I took the blow dryer to it and blew her hair around in all different directions to accomplish that windblown look and ruffle up the texture.

6. "To finish off the look, we used Matrix Biolage Freeze Fix Hairspray all over her hair to set in the look."

[pagebreak]
Jaime King
Jamie King stunned on the Met Gala red carpet in a bright dress and simple, yet luxurious, strands.
Get The Look:
1. Prep wet hair with Matrix StyleLink Volume Builder Mousse. Make sure that you apply from root to tip to ensure even volume throughout the look.

2. Lightly Spray hair with Matrix StyleLink Turbo Dryer Blow Dry Spray while hair is still damp. This will help tame frizz and expedite the blow-drying process. Blow-dry wet hair all until it is about 80% dry.

3. Use a 1-inch round brush to curl hair loosely. Wrap pieces of hair around the brush and apply direct heat to the hair.

4. Wrap 1-inch sections of hair around velcro hot rollers.

5. Keep rollers in hair until hair is completely cool.

6. Take rollers out of hair and spray Matrix StyleLink Texture Builder throughout dry hair. Shake can well and spray four or five inches away from roots.

7. Brush the waves out to give waves a "flowy" finish.

8. Tuck one side of hair behind ear and bobby pin to hold in place.

9. Finish the look with a few sprays of Matrix StyleLink Style Fixer Finishing Hairspray over the whole head to keep everything in place.
 
[pagebreak]
Kendall Jenner
Kendall Jenner stunned in a backless Calvin Klein gown and her simple, sleek middle part added softness to her striking silhouette. Celebrity Stylist, Andrew Fitzsimons suggested she wear her hair down and described her look as "a chic modern version of Cher circa the 70's.

Get the Look:
1. Apply Wella Professionals Extra Volume Mousse to damp hair for added volume.

2. Blow dry hair backwards using a round boar bristle brush to create volume at the roots.

3. Part hair perfectly down the center and flat iron from the mid-lengths to the ends.

4. Spray the hair with Wella Professionals Stay Essential Finishing Spray to tame flyaways and give the hair a little bit of weight so it stays in perfect position on the red carpet.

5. Finally, liberally spray the whole head with Wella Professionals LuxeOil Light Oil Shine Spray for a silky smooth finish. [pagebreak]
Gigi Hadid
To complement the deep v-neckline of Gigi Hadid's Diane von Furstenberg dress, Jennifer Yepez for Moroccanoil created a youthful, soft-textured style that perfectly balanced the gown's ultra-sexy red color.
Get the look:
1. Apply Moroccanoil Volumizing Mousse to wet hair from root-to-tip to create volume at the crown and give strands extra body and bounce.

2. Then, add a drop of Moroccanoil Treatment Light to the ends and blow dry hair smooth using the Moroccanoil Boar Bristle Classic Brush.

3. Create natural waves with a 1 ¼" barrel curling iron by wrapping sections of hair around the barrel in alternating directions.  

4. Work in a dime-sized amount of Hydrating Styling Cream through the mid-lengths to ends to give hair soft definition and piece-y texture.

5. Finish with a generous spritz of Moroccanoil Luminous Hairspray (Strong) for long-lasting hold and red carpet-ready shine. [pagebreak]
Bella Hadid
Hailey Baldwin
Makeup artist Rob Scheppy for Tweezerman Brush iQ created a more natural, yet still glamorous, look for both girls so as to not overshadow their custom Topshop dresses.

Get the Look:
1. Said Scheppy, "For this event we wanted to keep the girls' look super fresh, like they just got out of the shower. I started out prepping skin on both girls using WEI Kakadu Plum Whitening Sugar Mask followed with WEI Sirtuin Activator moisturizer. Both Bella and Hailey actually used the moisturizer all over the body along with a little bit of Charlotte Tilbury's Supermodel Body Slimmer Shimmer.
2. "For makeup, I used Chanel's Vitalumiere Satin Smoothing Crème Makeup and then dabbed on IT Cosmetics Bye Bye Under Eye Concealer to cover shadows. Instead of a traditional cheek color, I used several shades of Chanel Les Beiges to create warmth and depth to features. Using Tweezerman Brush iQ Mini Face Contour Brush Set, I blended Charlotte Tilbury's Film Star duo on cheekbones, brow bone and chin which added some highlights and just a little bit of bronze-y shimmer. I set the look with IT Cosmetics Bye-Bye Pores Silk HD powder. The girls' looks differed a little bit in the eyes and lips.

3. "For Bella, I used Tweezerman Browmousse to set her brows. Next, I lightly shadowed her eyes using L'Oreal Color Riche La Palette in Nude 1. For lashes, I applied House of Lashes' Iconic Strip and then Voluminuous Mascara. I used By Terry Baume de Rose lip gloss.

4. "On Hailey, I filled in her brows using Anastasia Beverly Brow Powder Duo and a Tweezerman Brush iQ Brow Brush. Then, I applied House of Lashes' Au Natural strip lashes and two coats of L'Oreal Voluminuous Mascara in black. We finished off Hayley's look with Marc Jacobs Beauty Le Marc Lip Crème in So Sofia."
[pagebreak]
Dakota Johnson
Dakota Johnson took the red carpet by storm in her sequined mini dress at this year's Met Gala. The Chinese-themed ball inspired the short Chanel mini dress. For Dakota's look, celebrity hairstylist Jen Atkin styled a short, wavy bob on the actress, which is quite a change from the star's usual long haired looks. See below for steps from Jen on how to get Dakota's look using KMS California.

Get the Look:
1. Jen created this look by first prepping Dakota's wet hair with KMS California ADDVOLUME volumizing spray to provide heat protection and boost volume in her hair. She then scrunched sections of the hair and clipped with duckbill clips all around head to create an S-shaped pattern.
 
2. Jen blew the hair dry with a GHD dryer using her fingers while keeping the clips intact. Afterwards, she removed the clips and curled 1" sections of hair alternating between a 1" flat iron to create waves and a 1 1/4" GHD curling iron, while keeping the ends straight.
 
3. Next, she rubbed KMS California HAIRPLAY messing creme between each section.
 
4. Jen finished the look by misting KMS California FREESHAPE 2-in-1 styling and finishing spray over hair for lasting hold and added shine.