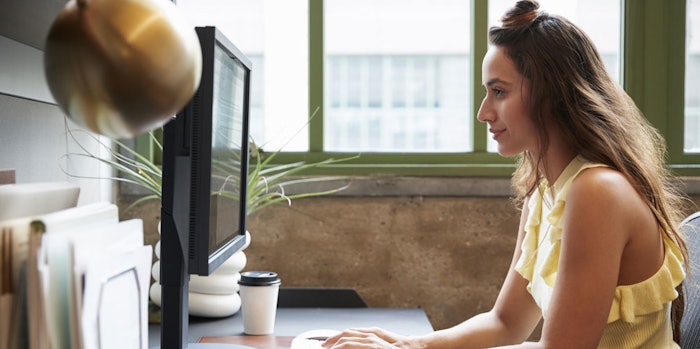 In honor of Hairstylist Appreciation Week, which kicks off on April 25, 2021, Cosmo Prof will host its first-ever Virtual Hairstylist Appreciation Week Event.
According to Cosmo Prof, the week-long event will offer complimentary classes focused on the needs of hairdressers—providing them with no-cost business solutions, product knowledge, technical knowledge and CE hours. 
Classes will be hosted by industry professionals from top brands like Rusk, BaylissPRO, Wella, Olaplex and the Cosmo Prof Artistic team.
The Details
Rusk x Cosmo Prof Artistic Team with Laura Gibson & Presley Poe
Join two industry icons for a 2 hour class packed full of education! In this class they will be covering all things blending and blonding as well as how to maximizing your time behind the chair and how to upsell your grey coverage services.
Sunday, April 25 12PM -2PM CT
CEU Eligible
BabylissPRO: BabylissPRO 2021 COLLECTION MediaJestic with Reggie Marcel 
The new approach in this collection is defined by sharp, confidant lines, soft velvety silhouettes, and shattered yet controlled textures, giving you the techniques to transform any traditional style into a modern look!
Sunday, April 25 4PM - 5PM CT
CEU Eligible
Olaplex: The Industry Gamechanger with Joe Santv
OLAPLEX raises the bar dramatically on all your services. We'll start with the basics and work our way through all the professional services. See how OLAPLEX will open the door for servicing clients that have compromised hair and are now able to get multiple chemical services. We promise that once you understand the multiple uses of OLAPLEX you will double your treatment, chemical service, with your existing clientele and build new ones!
Monday, April 26, 12 PM -1PM ET
CEU Eligible
Wella: Love Your Texture! Color with Diane Stevens 
At Wella, we are dedicated to build a more inclusive, equitable, and diverse community through our products. Just like you, we strive to use our craft to make people with all textures of hair feel great about themselves. Whether you are looking to Color Wavy, Curly, or Coily (Type 2, 3, & 4) hair, Wella NA Professional Beauty's vast portfolio of artistic tools has you covered! After this seminar, you will have a better understanding of the products and techniques that will support you on your journey with each guest regardless of texture.
Monday, April 26, 2 PM - 3 PM EST
CEU Eligible
John Paul Mitchell Systems Zone Tone with the DEMI & Crema XG with Colin Caruso 
Zone Tone to enhance your placement and effect for dimensional hair color services! Let's get creative in formulating with vegan, no ammonia Demi-Permanent that will radiate any tone and integrity of various hair fabrics.
Monday, April 26, 4 PM - 5 PM EST
CEU Eligible
Joico Technique Tuesday: Style with Joi
Elevate your style with forward-thinking products designed to protect hair from the daily effects of environmental exposure. Joico's Style & Finish collection lets you create the styles you love while helping to protect hair from damage-causing environmental factors, such as UV rays, particle pollution, humidity, and thermal styling. Join us to learn what's new in our styling line. Our artist, Vanessa Drozda, will demonstrate the amazing styling capabilities that Joico has to offer every stylist and client.
Tuesday, April 27 12PM - 1PM EST
Schwarzkopf Professional Upstyling - How Do I Get There? with Juli Waits 
Join Schwarzkopf Professional Educator and OSiS+ Style Team Member Juli Waits using her favorite NEW texture products as she demonstrates quick & fun upstyling techniques that will equip you to offer these on trend upstyle services to your salon guests.
Tuesday, April 27, 2 PM - 3PM EST
Goldwell/KMS Technique Tuesday: Styling Revealed with Melissa Lovell 
Come spend the next hour learning how to Up Style like a Pro. Learn techniques that will take your skills to the next level and give your client a customized look with the 3D braid, bubble braid, no pins updo and the Boulevard, to name a few. Featuring favorite Goldwell and KMS products that will support your style and make your client feel unique, fashionable and chic.
Tuesday, April 27, 4 PM - 5 PM EST
Kenra Professional We Love Color Wednesday: Trending Color Techniques with Kelly Murphy
In this class, stylists will walk away with color applications for trending looks that are true to Kenra's approach to hair color. These techniques are quick, easy to apply, and versatile enough for many color palettes.
Wednesday, April 28, 12 PM - 1 PM EST
STMNT Well Groomed Wednesday: Versatile Looks for Today's Male Clientele with Kelly Bileddo 
Immerse yourself into the world of STMNT Grooming Goods and gain the confidence to successfully use and cocktail products in your salon to meet your clients' individual care and styling needs. Learn versatile barbering and grooming skills as well as how to correctly custom-tailor products to fit every client's unique lifestyle.
Wednesday, April 28, 2 PM - 3 PM EST
CHI Technique Thursday: Two Strand Twists with CHI Aloe & Agave Nectar with Lauren Young
Learn how to rock out a two-strand twist on all your natural curly-haired cuties with Farouk Systems Creative Artist Lauren Young. Lauren will share her tips and tricks to the perfect two-strand twist using the CHI Aloe Vera with Agave Nectar Curls Defined Line.
Thursday, April 29, 12 PM - 1 PM EST