Celebrities have long been at the forefront of hair trends, changing their looks with every magazine cover and social media post. But never has there been a more exciting time for color. Today's hottest hues go far beyond blonde, brunette and redhead, conjuring a world of pigment where fantasy becomes reality and even seemingly basic shades become infused with previously unseen saturation.
We asked top colorists to share their favorite 2018 star styles.
Kissed by a Rose
Stars Behind the Shade: Kate Bosworth, Emma Stone
Why It's Hot: "I think of honey rose as the little sister of the previous rose gold trend," says Joseph Bogart, OYA Beauty lead international platform artist. The beautiful copper blend boasts more gold and less pink, thus taking it one dimension closer to natural. "It's great for a blonde searching for depth, or a redhead looking to go lighter," informs Maybe Saylor, Rusk colorist. According to Ivan Rodriguez, BioSilk styling ambassador, honey rose has become one of the most requested salon services. "Many clients have longed to try red at some point in their lives, yet feared this commitment to a tint that doesn't easily fade away," muses Colin Caruso, John Paul Mitchell Systems artistic director of professional color. "Honey rose offers the ideal happy medium."
RELATED: ​Blonding Techniques to Help Your Clients Look Their Best No Matter the Season
Faux Pas to Avoid: It's simple for this shade to clang copper, so maintain the correct balance in tones. "Start with a base that combines neutral and gold plus a pinch of copper—not the other way around," advises Cassondra Kaeding, Redken brand ambassador. Add more copper and pastel pink as you approach mid-lengths and ends, being careful not to overdo it, as excess copper changes the whole look. "You want the hair to be warm, but not brassy," clarifies Matrix artistic director Amanda Epstein. The darker the base, the deeper-saturated pink required. "Rose tones will fade quite quickly, and this look needs to have impact, so push it that bit further," Patrick Marrow, Crazy Color brand ambassador, urges.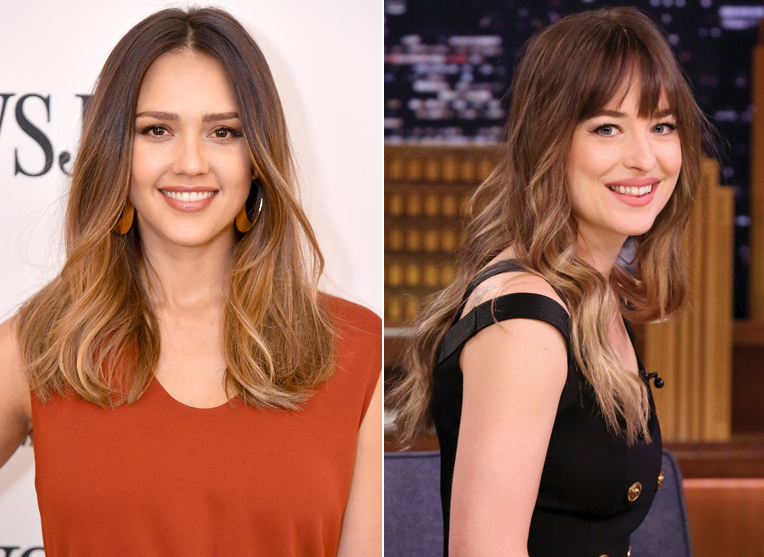 Coffee Fix
Stars Behind the Shade: Jessica Alba, Dakota Johnson
Why It's Hot: Called one of the season's most wearable colors, iced caramel latte is an ideal way for women to express themselves without splashing on a bright fashion shade. This new hue strikes an easy balance between warm and cool, notes Schwarzkopf Professional color specialist Michael Klomsue, and it's as comforting as your favorite cup of java. "Not too light and not too dark, the multifaceted pigment lets clients with a wide range of brunette and blonde tones maintain a soft, natural feel," explains Wendy Bond, Lakmé national director of education.
RELATED: Pre-Fall Red Alert From Schwarzkopf Professional's Maryl Velbeck
Faux Pas to Avoid: Over-lifting washes out blonde streaks and leads to fading. "Stylists also often make the final moment mistake of using a warm gold gloss at the sink, which kills that needed icy pop," laments Mike Petrizzi, Zotos artistic director. Saylor imparts a final note of wisdom: "Don't create bands in the hair, as this blend should appear seamless."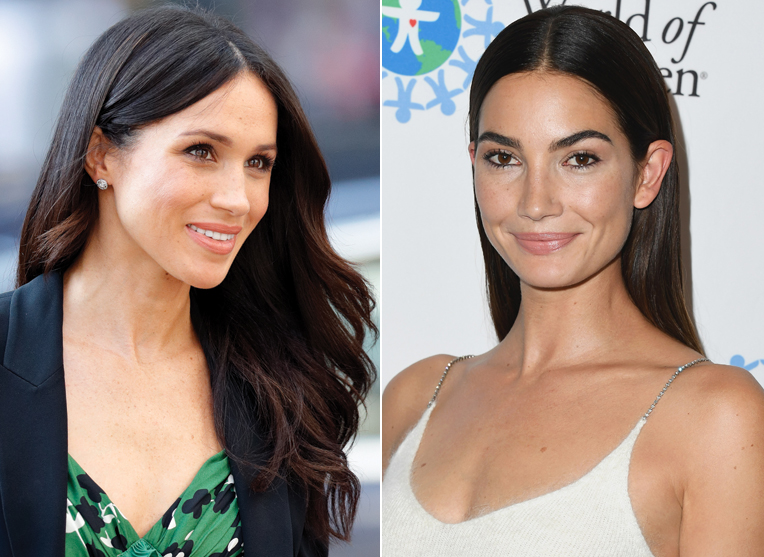 In the Dark
Stars Behind the Shade: Meghan Markle, Lily Aldridge
Why It's Hot: This year's brown is anything but boring. Called carob, the deeply intriguing shade packs a powerful statement-making punch. "Though mainly monochromatic, the color still flashes nuances of dark chocolate and clove," marvels Rebecca Hiele, Goldwell artistic director. Klomsue shares another perk: "This trend is super low maintenance." Regrowth touch-ups aren't needed, unless the base hue is red or blonde, in which case a quick rinse nixes fading. "Clients get healthy, shiny hair with nearly no chair time," says Rodriguez. Kaeding adds, "Stylists don't even need to use permanent color—semi or demi will do the job!"
RELATED: Celebrity Colorists Share their Most In-Demand Formulas
Faux Pas to Avoid: Don't be afraid of adding ash and gold to neutral brown. "Those tones will negate each other, producing more chocolate and increasing heat in otherwise bland brown," relays Petrizzi. Malibu C educator Amanda Harsche explains that formulation is the key to making carob work. "Strive to create a tone that's both warm and cool, working on both sides of the color wheel," she directs. Epstein recommends lifting to a level 5 or 6 as the perfect balance. Concludes Klomsue, "Final results must be rich and reflective, not flat or matte."
Feel the Blues
Stars Behind the Shade: Kylie Jenner, Fergie
Why It's Hot: Ultraviolet blue is a showstopper. "Here's a sure way to make yourself the focal point of any room," laughs Caruso. "It's vibrant, fun and feminine in a punk-rock kind of way." Harsche believes the blends of dark and neon blue make it wearable for all, whether sported as one solid color or as accent tips.
Faux Pas to Avoid: Natural inclination may be to apply this dye over a dark base, but that mutes the vibrancy of cobalt and indigo, unless hair is seen directly in the sunlight. "The trick is to actually pre-lighten to a golden stage, so as to maximize full impact and intensity," discloses Kristen Linares, Product Club colorist. Ditto for painting blue hues on hair not lifted high enough. "In order to create a true deep blue, you must lift the strands past yellow," says Epstein. Tammy Mixon, Farouk Systems global board artist, explains why: "If hair has too much yellow, you'll end up with a greenish cast, since yellow and blue make green."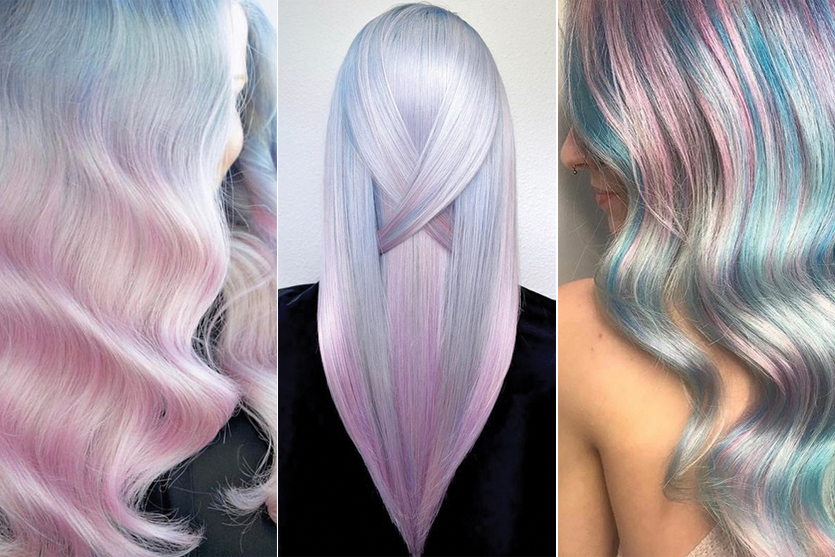 On the Verge: Opal Hair
Why Our Artists Predict Its Rise: Also known as unicorn strands, ghosted hair and a walking hologram, opal manes blend iridescent pink, blue, green or violet tints over a pearly base. "It's like gazing into a kaleidoscope," marvels Lisa Warren, Eufora national trainer. "The possibilities are endless." Consider it a natural progression from intense fantasy hues to a more mainstream version of that trend. "Overall effects may range from subtle to bold, which is another reason opal has become so popular," reveals Linares. Further, the versatile look fades easily back to blonde.
[Images: top three Getty Images; bottom two - Kylie Jenner, Fergie, @stylemehairdressingltd, @stylemehairdressingltd and @rossmichaelssalon on Instagram]