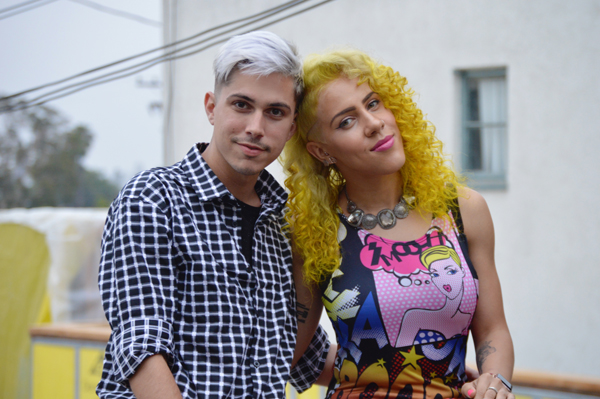 In the music industry, hair color is one of most popular ways in which performers express themselves. From Katy Perry to Lady Gaga, the list of musicians who are constantly switching up their hues is endless. Felize LaZae (@felicelazae), a Los Angeles-based singer and songwriter, loves to experiment with her look, whether it's for her latest music video, album cover or an upcoming performance. But behind every musician's hairstyle and hair color is an amazing hairstylist, and in LaZae's case, that special person who makes all of her magical looks come true is Jeffrey Allen (@jeffreydoesmyhair), a stylist at Marco Pelusi Hair Studio in West Hollywood, California.
Recently, they did a special Instagram takeover for Beauty Launchpad during one of LaZae's exciting color transformations. Watch the video below to see the amazing end result!
From neon yellow to maroon, LaZae has rocked a variety of bold and edgy colors. She credits having a great relationship with Jeffrey as being the key to creating a successful and rockin' look every time! Launchpad recently sat down with the dynamic duo, who spilled the details on everything from their creative process to favorite looks.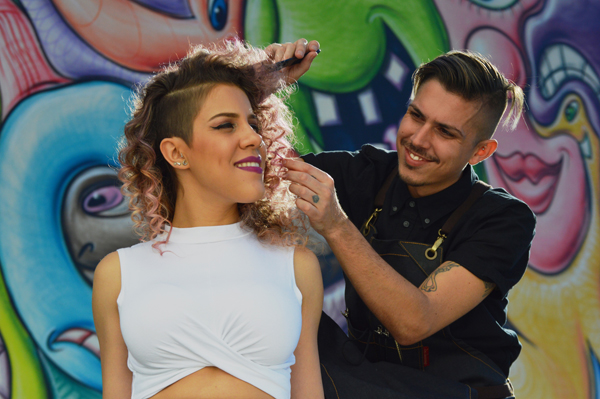 Q&A with Felice:
Launchpad: How did you and Jeffrey meet?
We met through a mutual friend who connected us through celebrity stylist Marco Pelusi at his studio in West Hollywood. I was looking for a stylist who really understood curly hair and was a wizard at color—Marco said Jeffrey would be the perfect match!
Launchpad: How long have you been going to see him?
A little over a year. We had our one year hair-versary in August. :-)
Launchpad: What do you love about Jeffrey as a stylist?
I love his creativity, especially when it comes to color, and he's so good at listening to what I want and making it a reality! And when I don't know what I want, he comes up with the most amazing ideas!
Launchpad: Describe your relationship.
From the first appointment, we knew it was the start of not only a stylist-client relationship, but a beautiful friendship. He's one of my favorite people in the whole world.
Launchpad: In the past, what have your relationships with stylists been like? Was it hard finding a good stylist?
Finding a stylist that was brave enough to try the color transformations I wanted to venture into on my curly hair has always been tough for me until I met Jeffrey. It's always hard to find a stylist who really understands curly hair and the complexity of protecting it while adding drastic color changes. Not to mention the importance of understanding curl shrinkage and my wave pattern to get the right cut.
Launchpad: What traits do you look for in a stylist?
Creativity, vision and innovation. I always wanted to get really creative with my hair color, but up until working with Jeffrey, I couldn't find a stylist who had the vision to plan how to take me there. From my first meeting with Jeffrey, he immediately understood what I wanted color-wise and came up with a plan to take me to a blonde color that would not only protect my hair, but helped revitalize and heal my damaged curls in the process.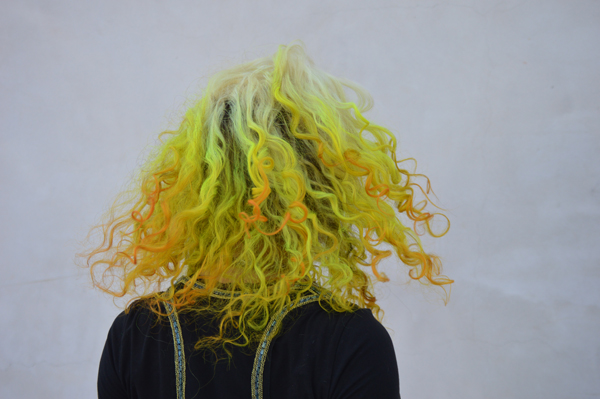 Launchpad: What's your consultation process like?
Jeffrey is really in tune with my career as a singer/entertainer and understands that my hair is a big part of my image, so the first thing we always consider when making a color change is how this next hairstyle is going to match my music and artistic direction holistically. I always wanted to experiment with bright, vibrant colors so we slowly eased into it with highlights in different colors until we got to this electro-yellow color that really matches my personality. And once I have enough fun with yellow, we'll approach the next color in a similar way.
Launchpad: What are some of the looks that Jeffrey has created on you?
Since working with Jeffrey, we've done traditional blonde highlights as he started lightening my naturally brown hair to blonde, we've added pink highlights, almost greenish yellow with fuchsia pink, until we settled on this electro-yellow color. Overall, my most recent hair journey with Jeffrey really represents my personality: a little edgy, but still bright; comical, but still deep with many layers.
Launchpad: What's been your favorite look so far?
I love my current electro-yellow color the most so far. I never would have thought of trying it without Jeffrey's vision. It's so different and really pops. I get stopped on the street all the time by people complimenting me on how unique the color is and I love that. I love having a unique hairstyle; I could walk out of the house in sweats and still look like I'm ready for the stage with this hair!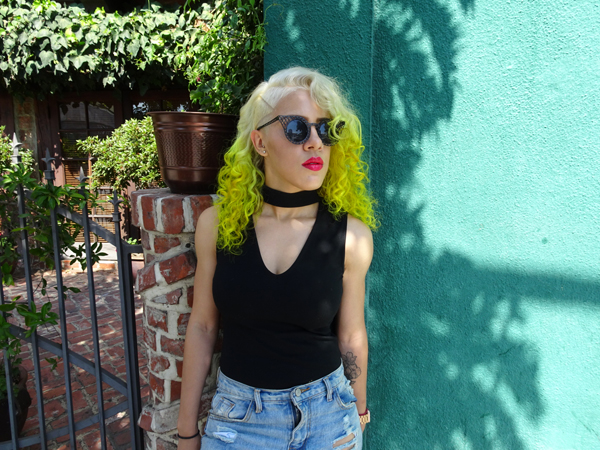 Launchpad: Any future hair plans or colors you want to try?
One day I would love to try shaving the other side of my head and doing a curly Mohawk! But nothing is concrete. My style is continuing to evolve so I'm excited to see where it takes me and Jeffrey hair-wise in the future. 
Launchpad: What's going on for you music-wise?
As a kid, I always loved singing and writing, so I started songwriting and producing my own music as a teenager. I started college early at 15 and studied classical/jazz voice and audio engineering. My first jobs in the music industry were interning and working in recording studios as an engineer. From there, I ended up in LA where I started performing at local venues while working with co-writers and producers on crafting my own sound as well as writing for other artists.
Last year, I released an EP which received some radio play along with receiving press in Noisy and Rolling Stone as a result of performing at The Killers' decennial anniversary celebration for their multi-platinum selling album Sam's Town, for which I was the cover model. Currently, I'm songwriting on a few projects for other established artists (which have resulted in over 40 million YouTube views this past August), writing songs for TV and film, and working on new music for my next album release in 2018.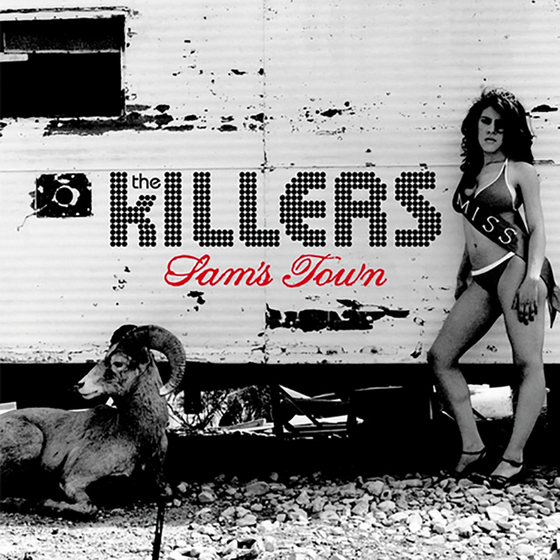 Q&A with Jeffrey:
Launchpad: How did you and Felice meet?
Felice and I were connected through Marco Pelusi at his studio in West Hollywood. As a singer/songwriter, Felice was looking for a new stylist that understood the direction she was going in with her career and could produce stage-ready hair. Marco knew I was the stylist to connect her with and after a brief phone call, we met the very next day!
Launchpad: Describe your relationship.
At this point, it's a total loving friendship! Our time together is effortless and I look forward to catching up with her; we even have a recurring lunch date following her appointment every month!
Launchpad: How do you decide what colors you're going to do on Felice?
Our main goal over the last year together has been restoring the lift to her natural texture and removing old color while working with an all-over blonde end goal in mind. When we started working vivid colors into the mix we did it slowly so that it wouldn't be a shock to her look, and also easy to transition back if we didn't love it. Highlights of soft pink, then a little more heavy with the color and so on. The feedback was so positive the further we pushed it, and once we hit the blonde goal, her canvas was ready for anything so that's how we got into the electro-banana blonde that is our current look.
Launchpad: Tell us about the consultation process.
When Felice comes in, we start with discussing her upcoming projects, performances, what the response has been to her current look, and then decide on our direction from there. Some appointments we are just refreshing the same color, whereas others we have shifted it completely. It's important to remember that any client in the entertainment industry is going to be recognized for their image, and being consistent is key when building a brand.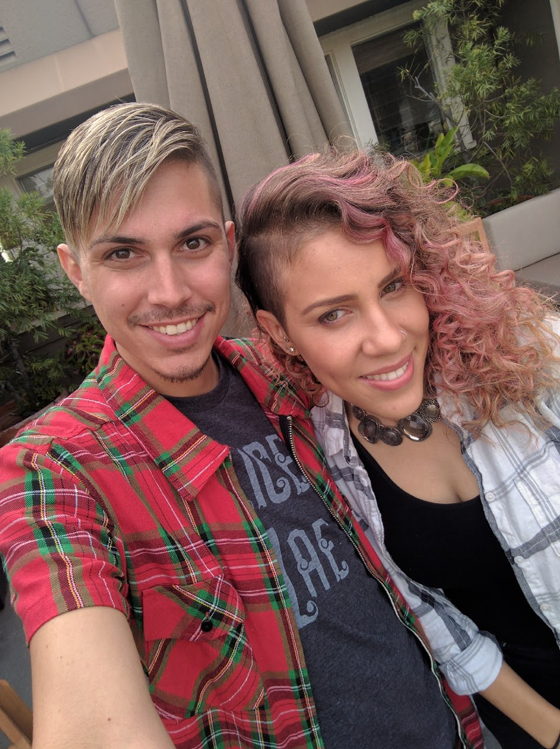 Launchpad: Favorite look you've done on Felice so far?
That's a tough question because every time we finish an appointment, the current 'do becomes my favorite, but when we first introduced the neon yellow into her blonde earlier this year, I was in love!
Launchpad: Any future colors you want to try in the future?
I'm buckled in for the continuing evolution of her look, whatever that may be—I have no doubt that we will continue to outdo ourselves!
Launchpad: Favorite product lines you work with?
All of Felice's color services couldn't be done without Olaplex! In the salon and at home, her routine consists of Marco Collagen Color Guard Haircare—the Anti-Frizz Leave-In is our go-to for perfectly defined, bouncy curls!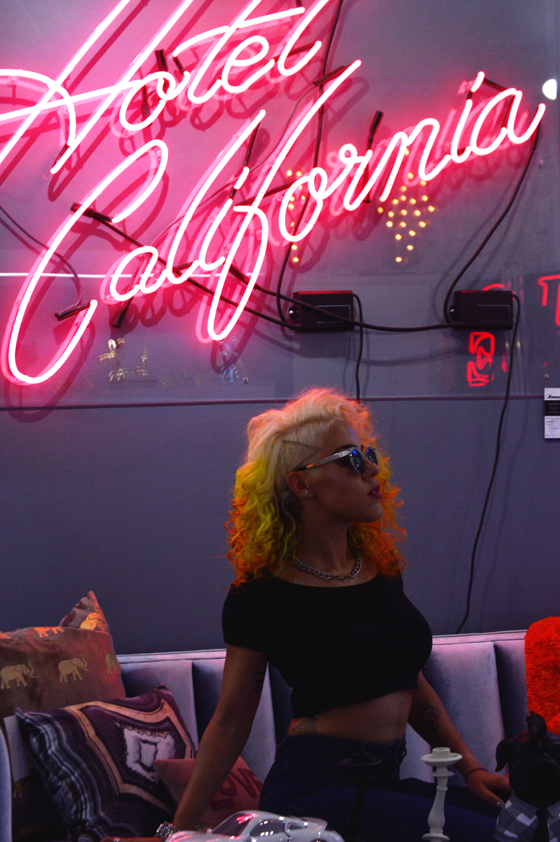 Launchpad: Any tips for stylists who want to recommend vivid colors to their clients?
It's important to take the client's complexion, maintenance schedule and hair care routine into account when considering vivid colors. You want to utilize tones that will be complimentary, fade nicely, and keep your client's hair looking beautiful at all times.
Launchpad: What advice do you have for stylists working with professional musicians?
Be very detailed with your consultation, be knowledgeable of the client's look and brand, and with your application always keep in mind the movement and life the hair is going to have when performing—it will be seen 360!
Launchpad: What else are you up to in your career as a stylist?
I've been working as a stylist based in the Bay Area for the last decade, splitting my time behind the chair at Indulge Salon in Walnut Creek, CA, and at the Marco Pelusi Hair Studio in West Hollywood, CA. I've always had a strong passion for color and I'm a lover of education, whether it be as a student or teaching. I'm constantly pushing to be better than I was the day before by surrounding myself with other passionate individuals.
I also have a love for set life and the team atmosphere that comes from working cohesively with other creative types. I've lent my hands to runway, print and TV work over the years with the hope to continue expanding my presence in the entertainment industry now that I'm spending more time working in Los Angeles!